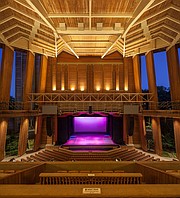 Celebrating its 50th year as a critical anchor to the Northern Virginia performing arts scene and after more than a year's hiatus in response to the pandemic, Wolf Trap is ready to celebrate its glorious past "and ready for its next five decades," said Lee Anne Myslewski, Vice President, Wolf Trap Foundation for the Performing Arts.
How so? With a major live event: "Fifty Years Together: A Celebration of Wolf Trap" brimming with powerful, diverse, intergenerational star-power and music energy.
"We are so excited to come together again," said Myslewski. "We wanted audiences to have an opportunity to take in brilliant performances by groundbreaking talent in a range of genres. And with healthy and safety provisions in place." And that is "Fifty Years Together: A Celebration of Wolf Trap."
The Wolf Trap 50th anniversary celebration is a multi-genre entertainment affair. It features an all-female cast including Grammy Award winner Cynthia Erivo, internationally-acclaimed soprano Christine Goerke, and pianist Joyce Yang with JoAnn Falletta leading the National Symphony Orchestra (NS0).
The grand concert pays homage to the vision and legacy of Wolf Trap Foundation's Founder, Catherine Filene Shouse (1896-1994). She was a champion of the arts and of the advancement of women. Ms. Shouse gifted one hundred acres of her own farm to the federal government, with the caveat being that the land be used for a center for the arts.
Given the pandemic, health and safety are "a paramount concern, for 'Fifty Years Together,'" said Myslewski. "The concert is not as originally envisioned several years ago before the pandemic." Given the pandemic and its aftermath, "Wolf Trap is taking extraordinary care." There will be pod seating and a significant reduction of available audience seating at the Filene Center. Pre-pandemic, there were about 7,000 seats available; for the "Fifty Years" event there will be seating for about 1,600. Tickets will only be available in socially distanced groupings of pods of 2 to 8 tickets.
The following two nights on Wolf Trap's Filene stage after the "Fifty Years Together" celebration there will be the musical theater masterwork "Sweeny Todd: The Demon Barber of Fleet Street in Concert." The iconic Stephan Sondheim musical will feature a nine-member cast from Wolf Trap Opera with music performed by the NSO.

Celebrate the summer season once again with Wolf Trap; open and live. That includes diverse children's performances at the Filene Center.
Where and When
Wolf Trap Foundation and the National Park Service present "Fifty Years Together: A Celebration of Wolf Trap" concert at the Filene Center, Wolf Trap, 1551 Trap Road, Vienna. Performance Thursday, July 1, 2021. Gates open at 7 p.m. Tickets start at $47. For details, go to https://www.wolftrap.org/. In addition to the performance, there will be special dinner packages available. Information about dinner packages at https://www.wolftrap.org/calendar/event/celebration-dinner.aspx. Note: With patron safety in mind, Wolf Trap will follow local, state, and federal guidelines for reduced capacity and social distancing. Admission opportunities will be limited. Tickets will be sold in socially-distanced grouping "pods" of 2 to 8 tickets. Pods must be purchased in their entirety. No single tickets are available. Patrons are limited to one pod purchase per artist performing.