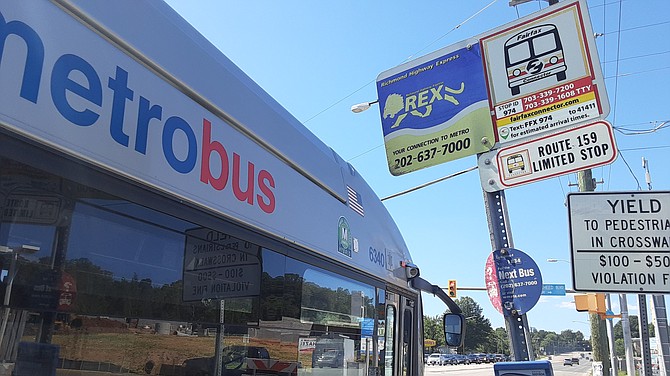 In Houston they have a highly-successful METRO BRT system that looks a lot like the BRT system that is being planned for Richmond Highway. It's a quicker, more efficient bus service to jobs, schools, shopping and leisure activities, and at least 35 cities around the globe are using that bus system as a model for their own makeovers.
The Houston BRT system, called METRORapid has features like a dedicated, bus-only lane to move through traffic, elevated platforms, like rail,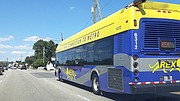 and easy access with wider doorways and level boarding, said Laura Whitley, a Houston METRO Media Specialist.
Similar features are being looked at for the Richmond Highway BRT system as well, which is also part of Supervisor Dan Storck's (D-Mount Vernon) Embark makeover. While the features on Richmond Highway may not be exactly like METRORapid, the system is still in the design stage, so officials are reaching out to the community to hear other opinions.
The Fairfax County plan is for the new BRT to replace the existing REX bus system, but not the other bus lines that travel on Richmond Highway, like the Fairfax Connector and the Metrobus. Along with providing for dedicated bus lanes and stations in the median of Richmond Highway, the project would provide continuous sidewalks and two-way cycle tracks on both sides of the road along with improved property entrances, improved sidewalks at intersecting streets, new turn lanes, and lighting and landscaping, the Fairfax County Department of Transportation said.
The system has been divided into five maps, and each will be displayed at the meeting and are available online.
• Map 1: Fort Belvoir Station, Woodlawn Station (Belvoir Road to Woodlawn Shopping Center).
• Map 2: South County Station (Woodlawn Shopping Center to Roxbury Drive).
• Map 3: Gum Springs Station, Hybla Valley Station (Central Avenue to Arlington Drive).
• Map 4: Lockheed Station, Beacon Hill Station (Camelia Drive to S. Kings Highway).
• Map 5: Penn Daw Station, Huntington Station (S. Kings Highway to Quander Road and S. Kings Highway to Huntington Station).
The proposed Richmond Highway BRT system is moving forward to their first bus rolling in 2024, and officials are eager to hear what the possible
Comments can be shared at the virtual meeting on June 30 at 6:30 p.m, or by sending comments via email to dotbrt@fairfaxcou.... The link will be on Supervisor Storck's website. Written comments can be sent to: Fairfax County Department of Transportation, Richmond Highway BRT Project Manager, 4050 Legato Road, Fairfax, VA 22033.
users think, FCDOT is seeking community input on the preliminary design. Through July 9, FCDOT is asking the community to review the current preliminary design and provide input. These suggestions will be compiled and shared with the County Board of Supervisors as part of their review of the Preliminary Design this summer.