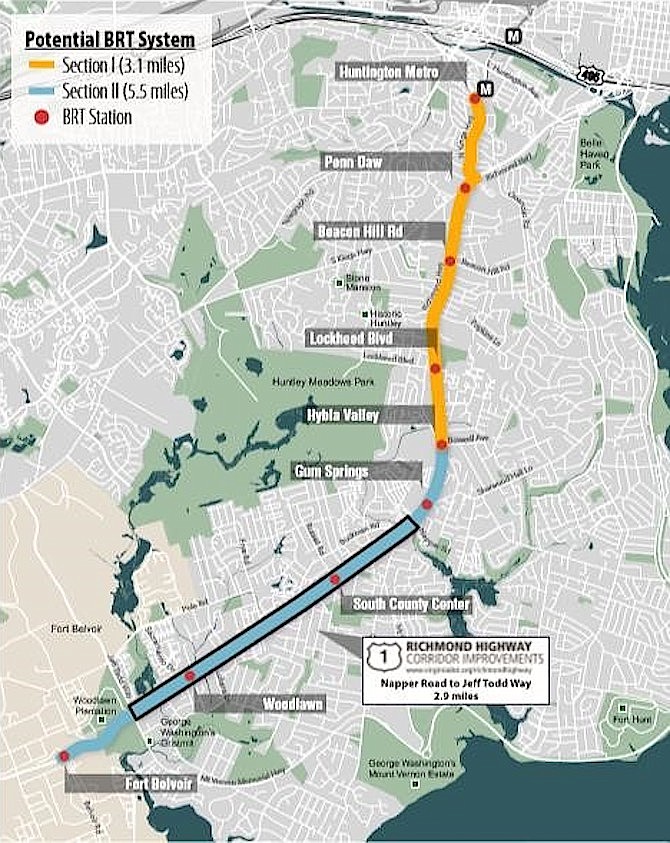 As part of Richmond Highway's complete makeover that's coming to fruition, a bus rapid transit system is being looked at for a needed transit option for the residents in the Mount Vernon District. This BRT system is going to run down the middle of the highway with modern, articulated buses that will operate on a transit signal priority, to provide a viable method of transportation between the community business centers that line the corridor.
Features will include wider crosswalks, paths on the sides and a user-friendly approach which "will be an uplift to the highway," said Robin Geiger, the head of communications at the Fairfax County Department of Transportation. The BRT will be built in two sections and the plan includes nine stations between the Huntington Metro Station and Fort Belvoir.
The Collard Street and Popkins Lane intersections will need to be modified and realigned into one intersection. For the station at Fordson Road, designers are considering "split station platforms," which feature a longer station between two side roads, and the bus lanes will leave the highway in Penn Daw and follow North Kings Highway to the Huntington Station.
"This will set the stage for future development," Geiger said.
That future development could include an extension of Metro's Yellow Line, which would take the place of the BRT system, running down the middle of the highway, similar to the way the Orange Line runs down the middle of I-66 in the western part of the county.
The first step towards making this BRT project a reality is the widening of Richmond Highway 2.9 miles from Jeff Todd Way to Sherwood Hall Lane. This is a $372 million Virginia Department of Transportation project that will widen Richmond Highway from four to six lanes, add separate bicycle lanes and sidewalks on both sides of the road, and "reserve median width to accommodate Fairfax County's future dedicated bus-only lanes," according to VDOT's website. Construction on these additional lanes is scheduled to last three years beginning in 2023.
Element of Embark
According to VDOT, the Route 1 Multimodal Alternatives Analysis in 2015 identified improvements needed to best meet the needs of both the community and corridor travelers. Key recommendations included a Bus Rapid Transit system constructed in three phases: long-term; a three-mile extension of the Metro Yellow Line to Hybla Valley; and short-term, widening Route 1 with bicycle and pedestrian facilities.
According to a presentation that Fairfax County held in September, the key elements of BRT systems often include:
− Service plans and frequencies that prioritize reliable, frequent, efficient service
− Dedicated lanes and traffic signal priority − Information technology systems
− "Rail style" stations with features that enhance rider comfort and convenience
− High-quality buses, unique graphics and name
This is part of the Embark Richmond Highway initiative that is focused on creating a multimodal future for Richmond Highway Corridor where residents, workers and visitors can walk, bike or drive to the places they want to go. One component is to assess and refine the recommendations of the Route 1 Multimodal Alternatives Analysis from Huntington to Accotink Village, Fort Belvoir. This includes looking at the land use density and mix for the areas within a one-half mile radius of proposed stations, corridor wide transportation systems, urban design, public facilities, and other elements supportive of Bus Rapid Transit, the Embark literature states.
Construction on Section l is scheduled to begin in 2023 and be completed in early 2027, while construction on Section II will span from 2025-2029. Phase III will extend the BRT to Prince William County but that's in the future and a schedule has not yet been determined.
There is another public information meeting planned for March 2020. To sign up for the email list, go to https://www.fairfaxcounty.gov/transportation/richmond-hwy-brt/