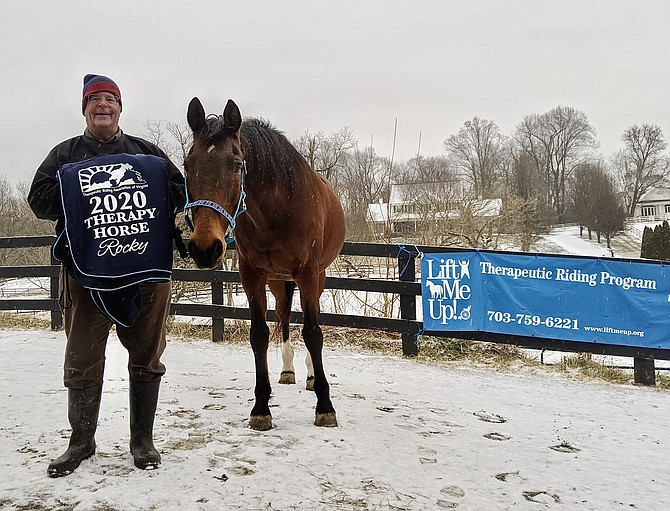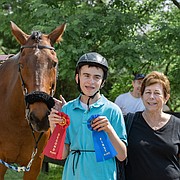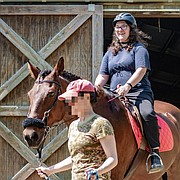 A therapeutic riding horse has a unique talent for taking care of their rider's wellbeing while building their confidence, trust and independence. Lift Me Up! Therapeutic Riding in Great Falls is home to many of these hardworking therapy horses, including a very special horse named RockStar (a.k.a. "Rocky"), who was named the 2020 Therapy Horse of the Year by the Therapeutic Riding Association of Virginia (TRAV).
Rocky, a beautiful bay Thoroughbred-Clydesdale cross, is a horse whose journey from the hunt field to the therapeutic riding arena is truly inspiring. Rocky's story begins with his bond with his owner Paula Michaels, who chose him to be her partner in the hunt field after seeing his calm and easy-going demeanor and his ability to size up any situation before him. In the hunt field, where other horses said "I don't think so," Rocky would say, "Let's check it out!" and with each challenging obstacle they faced Paula's trust in her horse grew stronger.
RockStar won countless prestigious hunt paces, including being a finalist in the North American Field Hunter Championship and winner of the North American Point-to-Point Race on the Flat. "That is a funny story," Paula remembers. "It was drizzling. I was wearing a borrowed helmet that kept dropping over my eyes. Neither one of us knew what we were doing. We started out at a trot. The other horses got way ahead of us at the get-go, but we picked up speed. From the first turn to the next, we were still behind, but at the final turn, I yelled at him 'What do you want? To live forever!' This was always his cue at paces that he could go as fast as he wanted. This fabulous horse found a sixth gear. I could feel the ground under my feet as he stretched out at the gallop to win the race."
Beyond being brave and smart, Rocky has always had a kind soul. Even after a hard day out on the hunt field, he was never too tired to give rides to young children. That's how Paula knew that Rocky could make a good therapy horse. After winning several major events, Paula realized that Rocky was starting to slow down. She knew that if they kept racing, her big hearted, brave boy could get injured. Paula decided to retire him, but Rocky had other plans, repeatedly jumping out of his paddock to visit the neighboring horses and get a change of scenery. It was clear to Paula that Rocky was not quite ready to be done with riding, and at that time she decided to bring him to Lift Me Up! to be a therapeutic riding horse.
During one of his first riding lessons at LMU!, Paula watched as Rocky's usual huge, bouncy stride transformed into the smallest trot steps he could manage as he and his young rider, Jake, went around the ring for the first time. It was clear Rocky was taking care of him. The pair went on to win the Division Grand Champion at the TRAV show, and later starred together in the 2017 documentary Life in Strides, in which they competed in Jake's first non-therapeutic riding competition.
To this day, Rocky has given many Lift Me Up! riders the gift of his bravery, kind-heartedness, and sweet personality. He is the official greeter as you enter the barn and connects with so many people, from the smallest toddler to first responders and veterans. Rocky truly lives up to his name; he is in every way a Rock Star!
Abigail Dawson is the Director of Communications at Lift Me Up! in Great Falls.