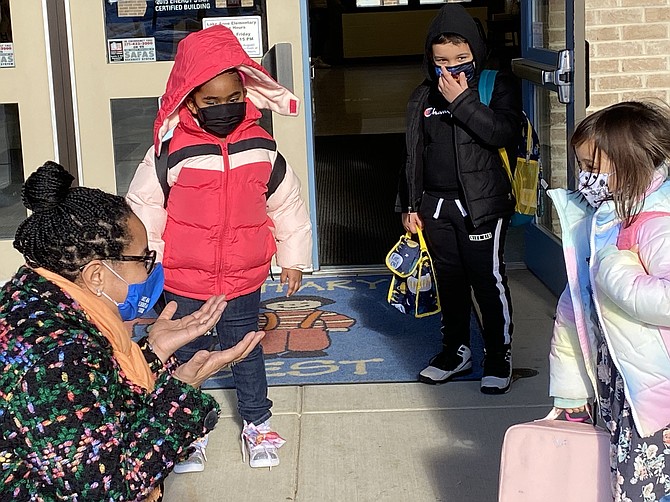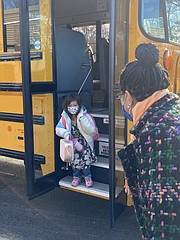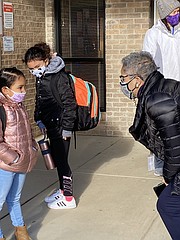 On Tuesday, Feb. 23, Fairfax County Public Schools continued to welcome additional grade levels and groups to school buildings for in-person learning as part of its Return to School plan.
At Lake Anne Elementary School in Reston, Group 5A, Kindergarten, Pre-K, and Special Education learners whose families opted for concurrent instruction arrived for their first day of in-school learning for School Year 2020-21. Under FCPS Return to School plans, all families had been presented a choice between either a concurrent schedule of two days a week of teacher-led in-school instruction and two days at-home virtual instruction or four days a week of teacher-led at-home virtual instruction. Mondays would be independent work.
"Students remain at the forefront of everything our teachers have done, and they are excited about today," said Jill Stewart, Principal, Lake Anne Elementary School in Reston.
Deputy Superintendent Dr. Frances Ivey joined Stewart, Assistant Principal Jihoon Shin, and teachers in welcoming students to the building. Time after time, Ivey bent down, getting on the students' levels. She shared positive words of encouragement, helping the young learners feel comfortable in the new environment. The scene at Lake Anne ES played out the same as any first day of school.
CHILDREN AND PARENTS exhibited typical emotions from joy to jitters. Most students arrived all smiles, sporting new backpacks and water bottles. Others momentarily froze on the sidewalk, looking back at their families, their new shoes not moving them forward. Buses arrived, but social distancing requirements limited capacity. One bus transported a sole child.
"We know that health and safety is our primary concern, and equally so, we also know that being able to offer in-person instruction to any new student and family that desires this at this point has been our goal," Ivey said.
According to Stewart, in 2019, kindergarteners came with a box of tissues, crayons, and markers to share. Now, instead of communal items, students would use their own labeled supplies. If students did not have the supplies the school would provide. "We want to be sure it is equitable…that all our dolphins have the same materials to use for learning, and that would be for those in-person, as well as at-home," Stewart said. Students also wore masks and carried something a little heavier in their backpacks: laptops.
STEWART said the school would no longer send home the traditional weekly "take-home folders." Instead, they converted it to News You Can Use in a digital format. It is available in Spanish and English and can be converted through a universal service in other languages. Lake Anne Elementary School serves a diverse population speaking 30 languages.
Shin added that all students could receive free breakfasts and lunches as part of school. "It is provided to everybody… who would like to participate…as a grab-and-go and eat it," he said.
Stewart explained that an "interesting challenge" afforded a growth opportunity. Teachers and administrators required that in-person and at-home students integrate as one class, with one community feel, environment, and function. "It started with changing mindsets about what 'school' meant and looked like for all students. Our teachers have done a phenomenal job of preparing instruction. They are creative. They include rigor, and they're making sure they're fun as well."
"Because there is not one space, better than the other," Stewart said.