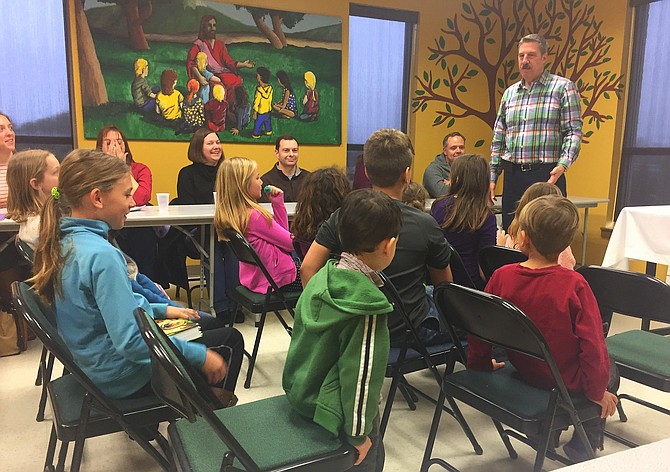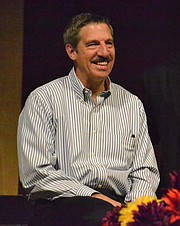 The Rev. Rob Bromhead has been a pastor for nearly 40 years – 31-1/2 of them at Centreville Presbyterian Church. But as a college freshman in Indiana, he was a biology major, before realizing he was on the wrong path.
"I had a relentless stirring in my heart and spirit that this wasn't the direction I was supposed to go in," he recalled. "So that spring, I said, 'God, I'll do whatever you want.' I then switched majors and colleges and enrolled in the Biblical Studies program at Wheaton College in Wheaton, Ill. I realized that theology and church were in my future."
Ordained in July 1979, Bromhead became associate pastor of Little Falls Presbyterian Church in Arlington, where he served for almost seven years. After that, he was the solo pastor for a church in southwest Philadelphia for 3-1/2 years.
"One day, Pete James, pastor at Vienna Presbyterian, called and told me the pastor position at Centreville Presbyterian Church was open and asked if I was interested," said Bromhead. "It was a new church planted by his church and was meeting at Cub Run Elementary."
He took the job, beginning in October 1989 with a congregation of about 30 people. "When I started, I thought I'd stay the average length of time for a pastor, five to seven years," he said.
TURNS OUT, he was there for more than three decades. Meanwhile, the church grew steadily and, in 1992, moved to the vacated Methodist Church building at the intersection of Route 28 and I-66 in Centreville.
"Fairfax County owned it, and we were told the building was slated for demolition [for future I-66 improvements] – and they'd give us a 90-day notice to vacate," said Bromhead. "The irony is that they only demolished it, a month ago, so we had lots of advance notice."
But it didn't matter because – eventually needing more space and a permanent home – Centreville Presbyterian left there long ago. In April 2003, it broke ground for its new church on Route 29 in Centreville, and the congregation of about 500 moved into it in December 2005.
"I didn't know how to plan for a new building or what was involved with fundraising, architects and engineering," said Bromhead. "At times, I thought I was in over my head; but through the travail, it all worked out."
His ministry was filled with countless highlights; but most rewarding, he said, was ministering to people in times of need and crisis. Although, he admitted, "I sometimes felt ill-prepared. For example, what do you say to a parent whose child has been murdered? And what do you say in the church service that brings true hope and help? You lean on God."
Bromhead recalled a young, local woman who'd died suddenly of a drug overdose. One of her friends was a member of his church, so he performed the graveside ceremony. "It's in those times that God filled the gap," he said. "And because of her death, a group of Centreville churches came together and held the Thriving Family Summit, the following year. County resources helped the families deal with the drug problem here."
And when two Westfield High graduates were killed in the 2007 Virginia Tech massacre, Westfield's administration asked to use Centreville Presbyterian's building for a prayer vigil. The church was in partnership with the school, and hundreds of parents and students attended this event.
Some happier memories of his time as pastor there, said Bromhead, were when the church had a community-theater program. Some of its most noteworthy productions were "Godspell," "Les Miserables," "Dirty Dancing" and "Sound of Music."
Regarding his sermons, he said two series particularly resonated with the congregation. One, called "Christ's Home," was based on Robert Boyd Munger's book of the same name.
"We represented the human heart as being made up of the rooms of a house," explained Bromhead. "Each sermon was given in one of the rooms, such as the kitchen, by decorating the front stage that way. And each message talked about what it's like to have Jesus in charge of that room, and how much He's in charge of what we feed ourselves via food, books, social media, TV and movies, etc."
The congregation even explored the hall closet because, said Bromhead, "That's where the skeletons are kept. It has a key, but we have to be willing to give Jesus that key to clean it out " The other memorable series – done over a whole summer – examined what heaven is like. It even asked questions such as, "Is there coffee in heaven?"
HIS TOUGHEST CHALLENGE came when Centreville Presbyterian had to make a significant and difficult change. "We didn't stand in agreement with some of the beliefs or doctrines of our denomination," he said. "[The rift] was over the authority of Scripture; we didn't believe the denomination was committed to using Scripture in making decisions."
So Centreville Presbyterian had to break from its denomination – and it was costly. "To leave the denomination with our building, we had to pay it $833,000," said Bromhead. "We thought it would take seven years to come up with the money, but our members raised it in six weeks."
As for his greatest satisfaction, he said it's "seeing God transform people's lives. That's by far the most rewarding – the Bible refers to it as a metamorphosis."
So why retire now? "I really believe the church is ready and in need of new leadership, fresh ideas and someone younger," explained Bromhead, 66. So for the past year, the Rev. Aaron McMillan, 45, has co-pastored with him to learn the ropes and receive his coaching.
"I was the church's organizing pastor, so it was important to have this transition time so people could get to know Aaron and see him as their pastor," said Bromhead. He and his wife have three sons and seven grandchildren, so retirement will enable them to eventually visit with them more often. He also enjoys playing pickleball and would like to travel to France, where his wife grew up. But Bromhead also plans to keep working.
"I'd like to coach pastors just starting out in planting churches and encourage them through their early years," he said. "I've done it before and found it rewarding. I also want to teach people in foreign countries preparing to be pastors, but without access to seminaries. I did that once on the Thailand/Myanmar border and in Moscow, and these folks are hungry for whatever resources you offer."
Bromhead said his career taught him "how few things in my life are under my control, and how so much of what happens – either in my life or my ministry – is the result of God's hand at work. And I realized that it's the only way you can be a pastor; you have to have a sense of being called by God."
In some ways, he said, retiring is like leaving his family, because that's what his congregation has become to him. "So that makes this a difficult goodbye," said Bromhead. "But I'm excited about the church's bright future under the able leadership of Pastor Aaron."
NEXT WEEK: Community Shares Memories of Retiring Pastor