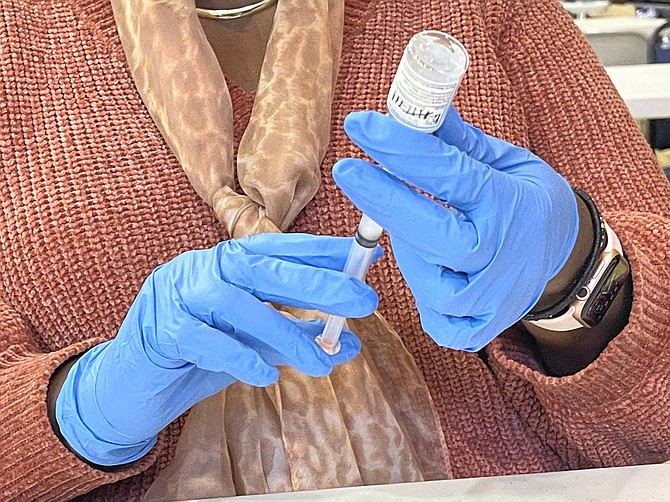 One year later:
More than 1,380 people in Montgomery County have died

63,898 have had Covid, some with lingering effects

Businesses face restrictions and tough economy

Many families are threatened by eviction
County Executive Marc Elrich chose to give his annual state of the county address last Friday, March 5, exactly one year since the first cases of Covid were reported in Montgomery County.
"That day, the Governor declared a state of emergency, and the state of emergency continues today," said Elrich. "Covid has shaken up everything in our lives, everything."
More than 63,898 Montgomery County residents have tested positive for Covid-19, some with lingering effects. More than 1,300 people have died. "We have lost too many of our residents to this virus, it has taken its greatest toll on our elderly population and communities of color," he said.
"The steps we have taken to protect public health have been hard on all of us. It has been difficult for our businesses, for our non-profits, our educators, our children and their parents. These restrictions have been painful but were necessary to save lives," he said. "Every decision that opened things up to allow more interactions between people also allowed more routes for the virus to spread, and minimizing that spread and its deadly consequences have been our goal."
The case counts in Montgomery County are lower than surrounding jurisdictions and jurisdictions statewide as well as nationwide. Some people have asked Elrich to reduce restrictions because numbers have lowered since the peak of the last wave.
"I try to remind them that those numbers are low because we implemented the necessary restrictions and they are low because of our residents who have been willing to follow the guidelines even as their lives have been severely disrupted," said Elrich.
Earlier in the week, during his weekly conference with health officer Travis Gayles, Elrich pointed to new variants from Brazil, South Africa, England, New York and California that aren't as responsive to vaccines. He urged people to refrain from travel during Spring Break, Easter, Passover and other holidays.
"Throughout this pandemic, you, our residents, have been reasonable, understanding and engaged. Even when you haven't agreed with some of the tough decisions that have been made, you have done your best to follow the guidelines and keep our community safe."
The county has provided more than $70 million in relief. "We've tried to help our many businesses who are struggling to keep their doors open," he said. And $50 million in relief for families who have lost income because of the pandemic.
But the need is greater than the county can provide alone, said Elrich. Help from the state and federal level is "imperative to ensuring that we were able to recover from the pandemic and rebuild our economy," he said. "Our businesses and hard hit residents need an economic stimulus in order to prevent business closures and evictions."
"Covid has demanded that all of us change the way we do things," he said.