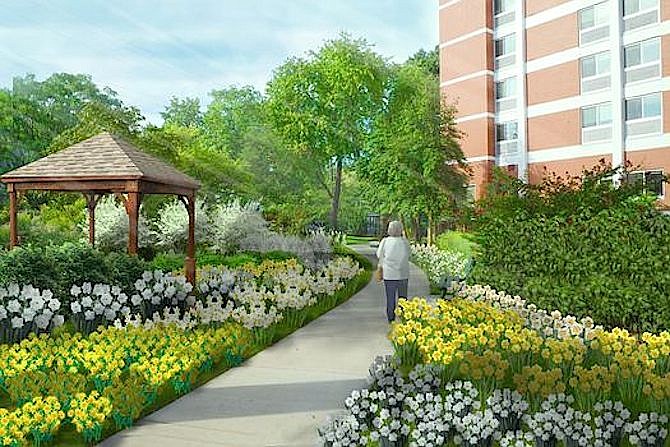 Things may be different this year, but 28,000 daffodils are waiting to poke their tendrils above ground and burst into bloom at Culpepper Garden this spring. Culpepper Garden, a nonprofit affordable senior living community located on five acres in the heart of Arlington, is holding a Spring Garden Walk to share the display with the public.
In order to maintain social distancing, these self-guided walks will be by appointment in 10-minute time slots the week of March 22 and the week of March 29 with the grand finale on April 10. Marta Hill Gray, Executive Director, says, "We will continue planting more daffodils in the fall, and more hybridized daffodils the next spring. It will be like a mini Cherry Blossom Festival."
Gray explains that when Charles Culpepper, a local botanist, sold his land where the current Culpepper Garden is located, he wanted his garden to continue. Culpepper was well-known around the neighborhood for his prolific displays of hybridized daffodils, which he had grown for 45 years. They spread through the woods in a tangle of sizes and colors. Culpepper cut the flowers fresh each day and sold them from a wheelbarrow for 50 cents a bunch. There are still daffodils, which he had hybridized, growing wildly along the edges of the Culpepper grounds.
The Spring Garden Walk is the first of planned annual events and initiates the beginning of Phase 1 of the six-phase plan to eventually include a pond, a pavilion with picnic benches and, of course, more daffodils. The project is scheduled to be completed in 3-5 years. To further this tribute to Culpepper, Culpepper Garden has launched the Daffodil Society with the goal to raise funds to continue the garden project.
The second phase, to begin next year, is Woodland Walk, which will connect the trails and complete the walking loop by leveling the path and preparing a surface that is safe and stable. Gray says, they asked the residents for input on what resonated with them on the landscaping plan.
She says in this time of COVID-19 the gardens have taken on an even greater significance for the fully vaccinated residents and staff who will have the opportunity to connect with the environment. "They just want to be outside and walk and walk and walk."
Gray says there will be naming opportunities for financial gifts that will allow a donor to name the koi pond, pavilion, walking trail, community beds, picnic tables, benches, and trees after a loved one, your company or organization.
Sign up for the Garden Walk at https://www.signupgenius.com/go/8050e4cabad2da5f58-spring