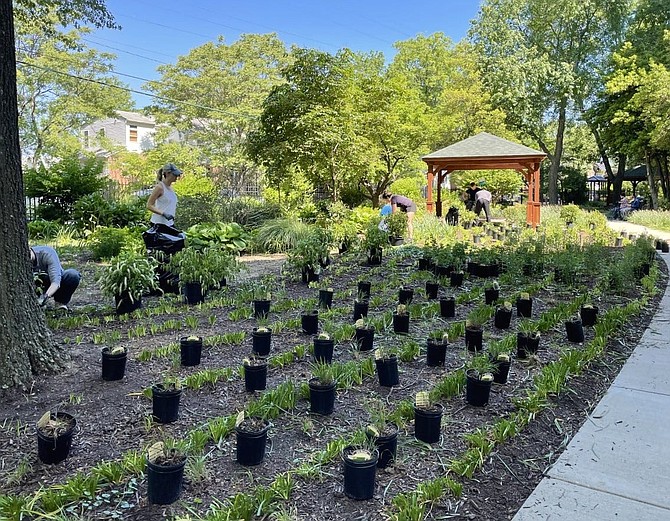 Marta Hill Gray, Executive Director of Culpepper Garden, stands with mud on her boots as she supervises the planting of perennials in their new community garden. Culpepper Garden has just received a $1,000 Green Grant from Keep America Beautiful which awards one grant each day through the month of June. This grant is for Culpepper's community beautification project.
Gray says, "With COVID we wanted to create something we could share with the community. "Gardens are part of our story, a postage stamp of what it was like 100 years ago. Culpepper Garden is really an extraordinary place."
Culpepper is Arlington's largest affordable senior community and the first low-income senior community in the U.S. to provide assisted living. Gray says some of their residents have only $500 a month, and "we always make sure they are taken care of."
Charles Culpepper owned the land where the current Culpepper Garden is located and was well known for his prolific displays of hybridized daffodils. When he sold his land, he wanted his garden to continue. This eventually led to the current six-phase plan at Culpepper Garden, which began with the planting of 28,000 daffodils and this spring's Garden Walk in late March.

"People were so enthusiastic this year. They were glad to get out. We had balloons and they came with their kids." Next year they plan to have a full-blown Garden Walk without assigned time slots and with the daffodils in full bloom once again.
Gray says the community garden will take over in the garden cycle after their spring daffodils have bloomed. The community garden has shrubs and native Virginia plants, and one section is a pollinator garden. "Residents who live here can sit outside and enjoy the new environment with their families. It is remarkable how quickly it changes."
The 3-5 year project will continue with a walking trail, more pavilions, picnic tables, benches, bird feeders and a koi pond that will allow donors to name a part of the garden after a loved one.
"My selfish goal is to make this like the cherry blossom festival in our little part of Arlington," Gray says.
"When people come to enjoy the gardens, they learn about who we are at Culpepper Garden. This garden feels like hope to me. It is a personal thing, and it is supporting the quality of the life of people who live here."