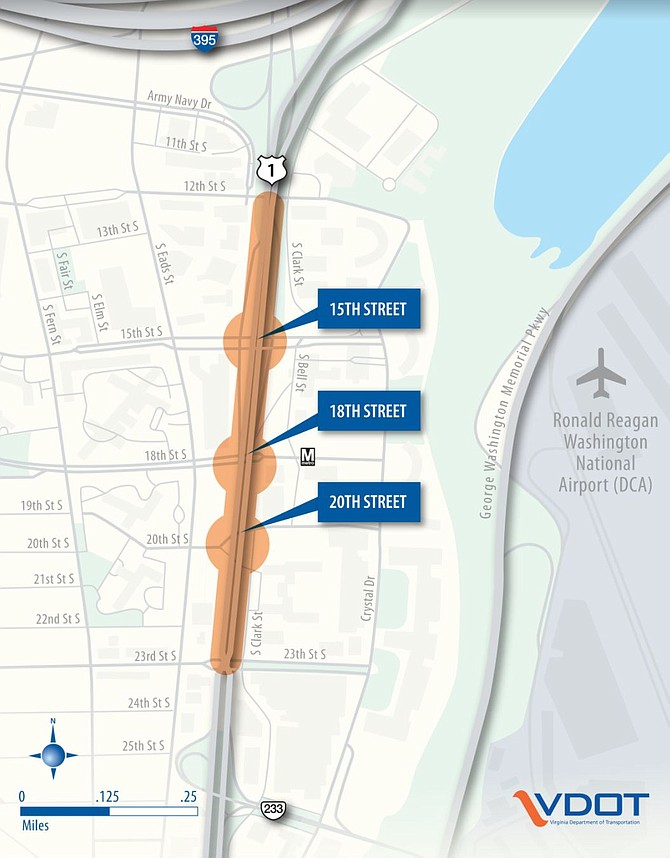 As part of the negotiations to bring Amazon to the area, the Commonwealth of Virginia agreed to make multimodal improvements to Route 1 in the Crystal City area that should improve safety, accessibility, and the pedestrian experience crossing Route 1. The Virginia Department of Transportation is leading that effort, conducting a multimodal improvements study to identify what is needed in this heavily built up and traveled area that is now known as "National Landing."
A series of public information meetings are being held remotely to gather information and look at the various ways VDOT can improve the three intersections where improvements are needed for pedestrian, bike and automobile access.
"There's going to be increased transportation demands," said Dan Reinhard, the VDOT project manager on the project. "Not all of these goals are likely to be met perfectly," Reinhard said before turning the meeting over to John Martin of the engineering company Kimley-Horn who has contracted with VDOT to finish the plans.
Currently, at the 15th Street, 18th Street and 20th Street intersections with Route One, there are disjointed ramps, crosswalks and side streets that are not pedestrian friendly, and for anyone going east-west from the Metro station and office buildings, it can be hazardous. VDOT laid out several scenarios for traffic, pedestrians and bike traffic to cross safely, keeping in mind that when Amazon fully arrives, they are expecting 25,000 more employees around that area.
"Livability22202" is a local group that consists of three civic associations, and they have been heavily involved with the plans. After the first public information meeting, Livability22202 wants VDOT to look at other options for Route One that will differ from bringing the road down to grade, they said on their website. "This is disappointing and we will continue to advocate for a variety of alternatives and emphasize safety issues for crossing Route 1 without making it a major highway," their statement read.
Doing any kind of road construction through the middle of Crystal City will exacerbate the congestion, and John Martin of Kimley-Horn didn't hide that fact. "There are a lot of construction challenges," he said. The area is very limited, and there is little room for cranes and bulldozers that frequently dominate a road construction zone.
The traffic entering Crystal City will have to be slowed down to around 30 miles per hour, and somehow that will have to be communicated with drivers with something other than police cars and speeding tickets. Crystal City is in Arlington, and in Arlington, VDOT only does work on the highways and main arterials, so a new dialogue with the officials at Arlington County has opened in this area. "We are working closely with them," said Martin.
Three scenarios they are looking at are a "Metroway," that will improve traffic flow, a Bus Rapid Transit, and a sector plan grid of streets. This will convert Route One into an "urban boulevard," Martin said.
Public comments are due by March 15, and there will be one more public information meeting before a plan is finalized.
Complete the comment form at virginiadot.org/route1multimodalstudy
Email route1multimodalstudy@vdot.virginia.gov or
Send by mail to Mr. Dan Reinhard, P.E., Virginia Department of Transportation, 4975 Alliance Drive, Fairfax, VA 22030.