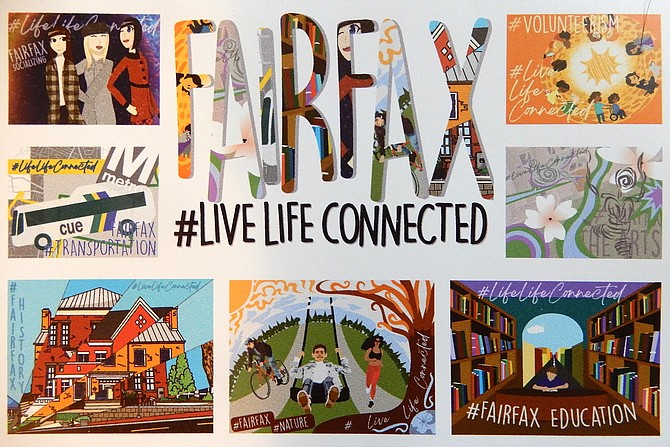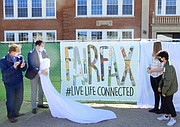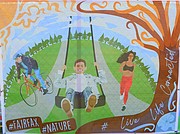 Multi-use development Boulevard VI is replacing the former Paul VI High School along Fairfax Boulevard in Fairfax City. And to honor the site's historic importance, plus the City's quality of life, developer IDI Group asked Fairfax High art students to create murals for its construction fence.
Guided by digital arts teacher PJ Naber – who collaborated on one mural – students Arian Assadzadeh, Rockett Beeson, Sarah Bird, Kaia Collins, Austin Eilbert, Isabela Colon Matthews and Sofia Mesa-Morales did just that. And during a special ceremony, last Saturday, March 13, their eight 6x8-foot murals were unveiled.
Sparked by the City's slogan, "#Live Life Connected," they designed original works depicting the many features that residents enjoy about Fairfax. They showed people connected by their city's history, nature, social life, schools, the arts, transportation system and volunteerism. The students' digital artwork was then transferred to 27 fabric murals, with each individual panel hung three times along 250 feet of construction fence.
NABER AND HER STUDENTS were there Saturday, along with IDI officials, Fairfax Mayor David Meyer, City Council members Sang Yi, Janice Miller, Tom Ross and Joe Harmon; City School Board members Carolyn Pitches and Mitch Sutterfield; and Carol Caputo of the Commission on the Arts. And Naber couldn't have been prouder of her students.
"They've been working on this since September," she said. "They were given a tall order but were invested in the quality of their work and in ensuring their voices were heard. Kaia's history mural even received a Scholastic Gold Key award and now moves on to national competition."
IDI also reproduced the students' artwork onto tote bags, face masks, large magnets and bookmarks, which both surprised and pleased Naber, as did the ceremony itself. "In my nine years of teaching at Fairfax High, I've never seen the Art Department get such a reception," she said.
IDI funded the artwork's creation and installation. The ceremony also marked the official start of construction of The Flats at Boulevard VI – the project's condos section. Planned are 144 condos, 115 townhomes and seven single-family homes. The front lawn facing Fairfax Boulevard will become a village green and host events.

The original, 1934 portion of the school building – which housed Fairfax High before Paul VI – will contain 12,000 square feet of retail. Another 20,000 square feet of retail elsewhere on the 18.5-acre site is slated for food, shops and services. Boulevard VI will also have five, additional, pocket parks; two playgrounds; an outdoor fitness area; a perimeter, biking/walking path; and signs detailing the site's history.
Reaching this point, said IDI Managing Director Enrico Cecchi, "took a lot of hard work from [IDI's] many different partners. And we could not have done this without the cooperation of the City's elected leaders and staff."
Regarding the murals, he said once IDI learned of Fairfax's signature hashtag, "Our PR consultant, Laura Nickle, suggested the idea for these artistic panels."
"We're happy to be here today to celebrate the hashtag, the artistic expressions of some of the City's most talented students and the kickoff of Boulevard VI," continued Cecchi. "And we're so excited about this display that'll be enjoyed by passersby and put a face on this project."
Noting how successful IDI's Enclave project in the City turned out, Meyer said, "IDI brings a great project to the market, and we're looking forward to [this one's] completion. And once people move in, they'll make it a community. We thank IDI for its support of Fairfax's students – and them, for bringing this place to life through creative expression."
NABER and her students were then recognized at the podium, where Cecchi gave Naber a $2,500 check, for Fairfax High, to continue investing in digital technology. "The vibrant colors and movement in everything the students created is beautiful," he said.
"This was an amazing opportunity and an exciting challenge for my students," said Naber. "I'm proud of the resilience they've demonstrated [during the pandemic] and the way they faced the unprecedented challenges of virtual learning and collaboration. Their works are a reminder of our sense of community and that art has a strong presence and role within the City of Fairfax."
Pleased, Cecchi added, "We got to breathe life into the Live Life Connected hashtag, the students got a real-life commission to create artwork under a deadline – and it couldn't have come out any better. As for Boulevard VI, we've already sold 60 percent of the first phase, and we can't wait to add this project to the fabric of the City."