For high school seniors, the month of May is time for friends and beach week, but this year is different due to the pandemic, and for Lake Braddock senior McKenzie Shedd, it's hard to believe they are even graduating from the looks of things this fall, with COVID-19 dominating everything in a negative way. "It's nice to be back in person, be able to talk to other people," she said. "I need to be 'in-person' to learn," she said.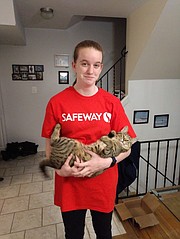 The year has been full of uncertainty in all the schools across Fairfax County, and when the officials felt it was safe to be in class – wearing masks, bumping elbows, and maintaining distance from each other – the students came back. It started as two days a week in early spring branching out to four days a week in May. The online classes were okay, but there were other factors.
"When you mix senior-itis and online school, it doesn't mix that well," Shedd added.
HER MOTHER Julie looked back to the fall too. "I'm pretty surprised as to where we are this year," she said. "Pretty amazing," she said, comparing things when her son graduated in 2017. "Senior years were certainly different," she said.
The Fairfax County Public School system scrambled though, and has all the graduation ceremonies lined up for early June at outdoor locations like the school football field, or at Jiffy Lube Live concert venue in Manassas. This does leave things vulnerable to weather, and every graduation has a rain date built in, but there will be many eyes glued to the weather app just to make sure.
Douglas Tyson, FCPS assistant superintendent of Region 1 is on a team led by Dr. Francis Ivy, deputy superintendent, and Mark Greenfelder to plan the graduations and monitor the weather.
"The weather gods are very fickle," said Tyson, and they will watch things with help from NOAA and various television meteorologists before calling the ceremonies off. Students will be limited to the number of family members who can come too.
It's been a challenging year and a "unique strain on all of us," Tyson said, and noted the seniors efforts have been "nothing short of amazing," he said. For the seniors, there still is the prom, graduation and the all-night grad party to go, and then it's on to adulthood.
The formal at Lake Braddock Secondary is called "Starry Night at Nats Park," where they are having a board game night on the ball field, and then the all-night grad party at St James and graduation ceremony at Jiffy Lube on June 10. McKenzie is looking forward to this, before she heads off to the Naval Academy in Annapolis, where she'll be on the rifle team. The event at Nats Park "will be a fun way to hang out with friends," she said.
All these restrictions gave birth to the car parade, which is one by-product of the pandemic that might stick around for years to come. Last spring, everyone got creative, decked the car out in all the graduation gala, and drove around in a parade, honking the horns and waving. "It's fun, gets the neighbors out," said Julie Shedd, looking back at all the creative things the school system has done to make it through the pandemic and providing an education. "It's turned from a 'loss' to a 'different', " Shedd said.
THE FCPS administrators are hoping to get back to classes five days a week, and they are watching the pandemic to adjust the schedule, but for
Graduation Schedule
Fairfax High School
Tuesday, June 1 at 9 a.m. at Fairfax High School Stadium. Rain date is Wednesday, June 2 at 10 a.m.
Hayfield Secondary School
Friday, June 4 at 10 a.m. at Hayfield Secondary School Stadium. Rain date is Saturday, June 5 at 10 a.m.
Lake Braddock Secondary School
Thursday, June 10 at 9:30 a.m. at Jiffy Lube Live
Robinson Secondary School
Friday, June 11 at 2 p.m. at Jiffy Lube Live
South County High School
Thursday, June 10 at 2 p.m. at Jiffy Lube Live
West Springfield High School
Tuesday, June 1 at 9:30 a.m. at Jiffy Lube Live.
now, that is the plan. They have changed from six-feet distances between students to a three-feet plan, which might be more realistic given the number of people inside a school building. "As long as students are wearing masks and adhering to all CDC layered prevention strategies, evidence suggests that three (3) feet is a sufficient physical distance for students to stay healthy and lessen risk of virus transmission in most circumstances," FCPS information stated.
"FCPS has a physical distancing plan that creates stability for FCPS students and families. Under the plan, changes in the rate of COVID-19 transmission in our community has less of an impact on the amount of physical distancing required in schools," it said on the FCPS website.