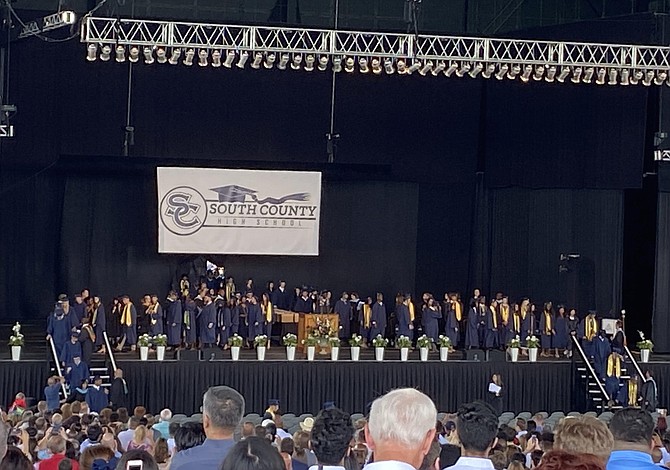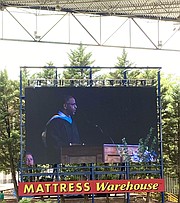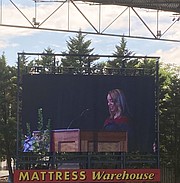 On June 10, the South County High School class of 2021 became one of the many Fairfax County schools to graduate at Jiffy Lube Live. Throughout the bright, sunny afternoon, speakers shared their hope for a future in the hands of these graduates.
The class of 2021 South County Treble Singers opened the ceremony with a recording of "The Star Spangled Banner."
Class Representative Marie Repczynski gave her acknowledgement speech about South County's third school color, silver, which outlines the school's blue and green logo.
"As a silver lining is a positive outcome of a not-so-great situation, I believe that we, as a group of 564 seniors, are the embodiment of the South County silver lining," she said. "When COVID hit… we first experienced a set of silver linings, as being at home every day reminded us of the beauty of a simpler life. May we all take the time in our future to appreciate the beauty of simpler moments such as those."
Repczynski later received the Principal's Award for her natural leadership and selflessness.
"It is easily one of the greatest silver linings that we have learned, if nothing else, that there is nothing quite like being physically present around others, and not just seeing them if only they turned on their camera," she said. "As we all gathered here together in person for the first time in over a year, and one final time to say goodbye, may we take a moment to appreciate what it means to be together. Congratulations to the class of the silver lining, the class of 2021."
Megan Pastino continued by delivering the Honor Graduate Address and introducing herself to the graduates.
"While it may seem a little bit counterintuitive to introduce myself to you all in a ceremony that will end in teary goodbyes… I know that I am introducing myself not to former classmates, but to future politicians, educators, artists, medical professionals, military service members, professional athletes, innovators and the builders of our future," she said. "When today is over, and the sun sets on our high school career, remember to live boldly, to speak up loudly and often for what is right and to lead with the confidence that you are making a difference."
In his address, Principal Gary Morris shared his thoughts about the graduates in the form of a letter to his young daughter "as words of hope for her future." He said that she will be in good hands, as the graduating class demonstrates four characteristics: courage, commitment, curiosity and lovingness.
"It will continue to take every voice, every person, every perspective to make this thing work," he said. "And if we do it right, it will be tough. It will be controversial. But to quote our very own Nathan Onibudo, 'Better will always be controversial. It always has, it always will be.'" Morris later presented Onibudo the Service Learning Award.
Award-winning journalist Ashlie Rodriguez delivered the keynote address, telling the graduates to remember the resilience they built up during the pandemic and to use it for the future. She shared her life experiences of moving to a foreign country during her senior year of high school and struggling to find a job after college.
"As I sat there in self-pity, I could feel that resilience fire up in me," she said. "I stand before you today as living proof that, no matter what setbacks come your way, the experience of the setbacks and challenges and hardships will make you stronger. Be thankful for them."
After more than a year of challenges and staying apart, the class of the silver lining turned their tassels and graduated together.