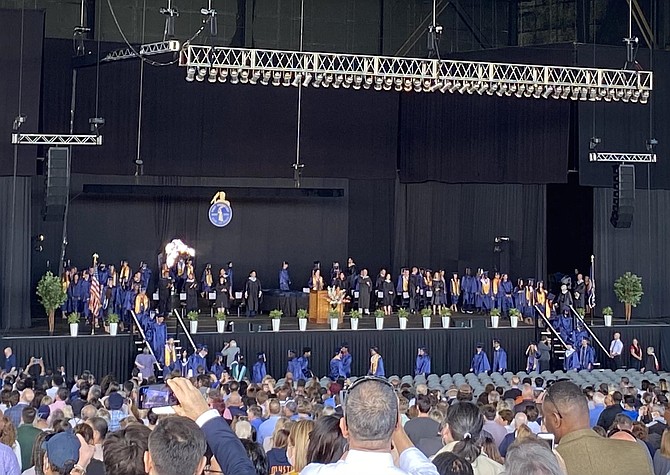 At 9:30 a.m. on June 1, West Springfield High School graduates emerged from backstage at Jiffy Lube Live to the tune of "Pomp and Circumstance" – a familiar song at an atypical graduation ceremony. West Springfield is the first of many Fairfax County Public Schools that will be graduating at the venue.

Each class of 2021 graduate and their six guests were allowed to go maskless if fully vaccinated against COVID-19.
Senior Class President Keyvan Montazami gave the opening remarks. He spoke about the perseverance of the class of 2021 through the school's heavy construction during their freshman year and the global pandemic during their junior and senior years.
"Congratulations, class of 2021," said Montazami. "Let's go build our future."
Principal Michael Mukai's address centered around the unique hardships overcome by the graduating Spartans. He also recognized the class of 2020 that was unable to have a formal graduation ceremony.
"We were never sure, when faced with adversity, how you would answer the call," he said. "One of the lessons I have for the class of 2021 is that you have faced that adversity. Your parents and I worry less because now I know wherever you go, wherever life takes you, you have the strength, you have the courage and you have the resilience that, when faced with adversity, you won't so easily surrender the things that are close to you."
Mukai also drew on the symbolism of cicadas' brief moments in the sun. "In 17 years, the next time the cicadas come, think about this moment, and think about where you are."
Senior Class Administrator Betsy Fawsett shared her gratitude and pride for the graduating students. "Always remember to take a little bit of orange and blue with you wherever you go," she said. "Dream big, work hard and be proud."
Senior Class Officer Andrew Poe was selected to speak on behalf of all the honor graduates.
"Fall down seven times, get up eight," he said, quoting a Japanese proverb. "When you leave this place today, I'd ask you to sing loud, play hard, write fast, change the world for the better, whatever you do, do it to your fullest. And when you fail, get back up and sing even louder, play even harder, write even faster, change the world even more for the better, because that's all you can ever ask of yourself. Get up the eighth time."
Mathematics teacher and coach Duke Baird gave the keynote address, speaking about how each student has their own unique gift and can use it to make positive change in the world.
"Our society, maybe more than ever before, needs you to find your gift and to use it to the best of your ability to make our world a better place," he said. "As daunting as this world can be at some times, do not think for one second that one person can't positively affect it."
After two unique school years filled with challenges, the class of 2021 turned their tassels and became graduates of West Springfield High School.
Viewpoints
What will you miss about high school, and what are your plans for the future?