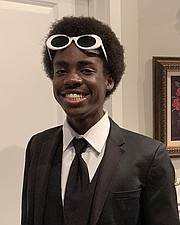 Chantilly High senior Ethan Luvisia has won first place in the Rotary District Youth Music Contest. The 18-year-old pianist represented the Rotary Club of Centreville & Chantilly (RCCC) and his award-winning piece was "Étude Op. 10, No. 12 in C minor."
Also called the "Revolutionary Étude," it's a solo piano work composed by Frédéric Chopin, circa 1831. Ethan was declared the RCCC's winner on March 16 and then performed the Chopin piece virtually for its members on March 30.
He now vies against another competitor from West Springfield to determine which one will advance to District level competition. Judging dates have not yet been set. Meanwhile, Wallicia Gill, the RCCC president, said, "We are so proud of Ethan as our local winner."

Luvisia, who has already been accepted to George Mason University, chose the piano as his instrument to play when he was around 12 years old and listening to Beethoven's works. "I always was fascinated with his 'Moonlight Sonata's' third movement, and his seventh symphony, and aspired to play the former as my ultimate goal," he explained.

After that, said Luvisia, "I begged my dad for the instrument and promptly began instruction at a facility called The Music Loft, and it all started there. I like the piano, specifically, because of its harmonic and dynamic capabilities."
He said that, when he plays piano, "I feel as though there are very few limitations – allowing for a boundless, creative experience that I didn't have when I played trombone and cello before. On my piano journey, I discovered works for the instrument by Bach and Chopin, and performances from the likes of Glenn Gould and Arthur Rubinstein, that really instigated a passion for the piano and the history of western music."
As for winning the RCCC's competition, Luvisia said, "I am grateful beyond words. I heavily appreciate the opportunity the Rotary Club has given to young musicians, such as myself, and I am honored to have been the recipient of the award. Regarding a potential career, I am looking to pursue a higher-level teaching job, or a career in performance – likely in jazz piano – at the Berklee College of Music."