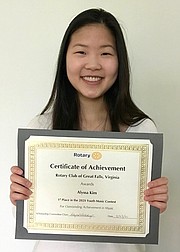 Rotary District 7610, which serves the top half of Virginia, made a daring decision during this year of the pandemic: it decided to start a music contest for high school students. Rigorous safety measures were invoked. Students had to present a five-minute video without accompaniment on a private YouTube channel. Then the organizers waited to see if anyone would take on the challenge.
Amazingly, they did, especially Langley High School. The school's music department recognized the special opportunity the contest provided for students sharing their music in a too-silent world. Langley produced half of the entire District's applicants, sending in a wide variety of talent spanning strings, woodwinds, brass, percussion and voice. The Great Falls Rotary then put together a team of independent judges. They evaluated the students on tonal quality, rhythm, style, creativity, and difficulty of the music.
Three top winners emerged. In third place was Lily Chopus, a sophomore. She sang "Burn" from Miranda's Broadway megahit Hamilton. Second place went to another sophomore, Sankrith Ramani. He offered up Rachmaninoff's Melodie in E for piano. First place went to senior Alyssa Kim, performing the opening movement from Tchaikovsky's Violin Concerto.
Kim began violin in third grade and has studied with DC teacher Lya Stern for the past seven years. She is a member of the American Youth Philharmonic, currently serving as co-concertmaster of their most advanced group. Kim ranked #1 in the 2021 All-Virginia State Orchestra. She went on to win third place in the Rotary District's competition.
Rotary District 7610 started the music contest, joining it to their high school speech contest and middle school essay contest, as another vehicle for reaching and celebrating the achievements of our youth.