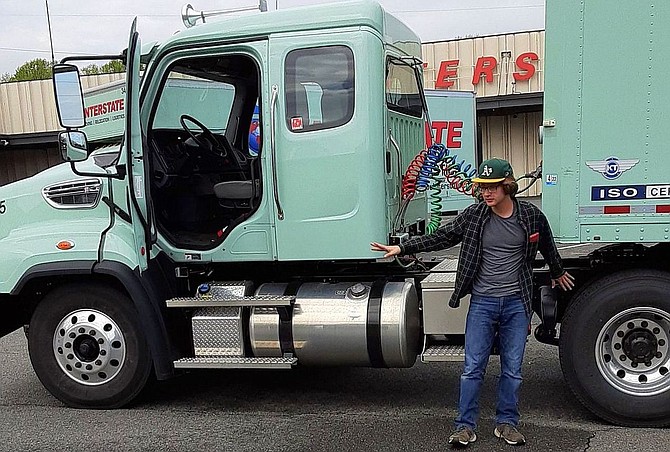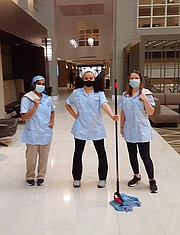 As everyone learned during the pandemic, America's workers play vital roles in keeping the country running. And Woodson High's spring musical, "Working," is a celebration of them all.
"So many people are struggling, trying to do their jobs," said Director Terri Hobson. "So this show honors the everyday worker." It's done via vignettes, monologues and songs, but each character is connected to the others. This play is also Hobson's last at Woodson, since she's retiring in June.
It'll stream, Friday-Sunday, May 14-16. For the link and ticket information, go to http://www.wtwdrama.org/index.html. The cast and crew of 30 have rehearsed since February, and on-location filming has occurred at sites including Hamrock's Restaurant in Fairfax City, Interstate Van Lines in Springfield and the Fairfax Marriott in Fair Oaks.
"I love my talented cast," said Hobson. "They've really stepped up and taken on this crazy, new challenge of on-location filming to make this show unique. They've produced art in a way nobody was used to. But giving them directions and trusting them to do the filming within the play's overall vision speaks to the strong tradition of Woodson High Theater and its community."
Sophomore Rachel Sper portrays Freddie, a teen who delivers fast food. "This is her first job," said Sper. "It's not exciting, but she does it to help support her family. Her father refuses to work, while her mom works double shifts. But Freddie likes making deliveries on her bike, because then, she's not under the watch and control of her family or her manager. She's just on her way."
Sper said Freddie's extroverted and enjoys interacting with the customers. "Her job lets her separate from her homelife and be in a happier place," she explained.
HER FAVORITE NUMBER is "Delivery," in which Freddie describes how she feels while doing her job. "It was written by Lin-Manuel Miranda and is really upbeat," said Sper. "I like how it creates a story within a few minutes. I enjoy playing Freddie because, as a teen, I can relate to her. And I just applied for my first job, so it's an exciting role for me." She said audiences will enjoy the creativity the cast and crew put into this show, as well as Hobson's, for having it filmed in different places, instead of before a blank screen.
Playing Maggie, a cleaning woman, is sophomore Hana Kewaisy. "Her goal is to set up her daughter for more success than her," said Kewaisy. "She comes from a whole line of domestic workers but hopes her daughter will break that cycle. Although she doesn't like her job, she's spunky, bubbly and soulful."
Kewaisy sings the song, "Cleaning Women," with two other actors; and in it, she's hopeful about her daughter's future. "The music style is Motown, soul and upbeat," she said. "I like playing Maggie because of this song and her positive personality and because it's my first musical at Woodson. Filming brought out the perfectionist in me because I'd redo the scene until it was to my liking."
Senior Katelyn Bonaccorsy was one of a small crew of videographers, as well as the stage manager and screen manager. "We asked people to meet at the locations and record on both phone and video camera," she explained. "And some students filmed at home, by themselves. We have a massive folder on Google, and everyone uploaded their videos." Then West Springfield theater teacher Maeve Nash edited them all, with Hobson's input.
Bonaccorsy did all the tech work. "I was able to sneak in aspects of live theater – adding special lighting whenever we filmed onstage," she said.
THE HARDEST PARTS, she said, were communication and coordination via posts and emails and "making sure people understood what I was trying to get across to them, instead of talking to them in person." The best parts, said Bonaccorsy, were "the times we were able to film people on location and in person."
"It was a great way to show the community around us because we were telling real stories, so using our community was really fun," she continued.
Playing flight attendant Terry Mason, plus two other roles, is senior Rachel Furr. "Mason's interesting because you think of flight attendants as particular about their looks, and acting a certain way," said Furr. "But she comes from a small town and tells how her job's a lot less glamorous than people think. There's a lot more grit work."
She described Mason as "easygoing, friendly and bubbly – a fun person. She's an average person, but a real one with a lot to say. I enjoyed playing her. These aren't your typical characters in a play; they're more like real people with diverse personalities."
In this show, said Furr, "Personalities come through without big costumes and special effects. It's more raw and real; you may not like everyone, but you can identify with them. And in this format, we had to let our own acting and emotions reflect the characters, without relying on an ensemble to help us. It was about what we expressed to the camera. It was more difficult, but our acting got to shine through."