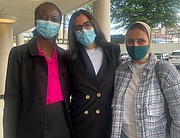 Elected officials from throughout the region gathered in Alexandria's West End May 8 to celebrate the opening of two new Inova Health System community health clinics that will focus on women's health and medical evaluations for sexual assault and human trafficking survivors.
"We are honored to be able to expand into the Alexandria community," said Inova Health System CEO Dr. J. Stephen Jones. "Our presence here will allow us to serve the greater population of the entire region regardless of anyone's need or ability to pay for their health care."
The new Inova Cares Clinic for Women will provide obstetrics and gynecological services for uninsured women. Additionally, a new Inova Ewing Forensic Assessment and Consultation Teams department (FACT) will provide expert medical evaluations and forensic evidence collection for survivors of human trafficking, sexual assault, child abuse and domestic violence. Both clinics are located next to the current Inova Cares Clinic for Families and Inova Transitional Services at 4700 King Street.
"I am proud of the services Inova is providing because they are so comprehensive," said state Sen. Barbara Favola (D-31). "A patient who comes here will get a complete evaluation and comprehensive array of services, which is just what we need for the most vulnerable in our community."
Clinical technician Dana Ismail, who was born and raised in Libya, became a patient of the Inova Cares Clinic for Women when she was diagnosed with endometriosis and subsequently needed surgery.
"The doctors went above and beyond to manage my health and to ensure I had a strong support system to help with the recovery process," said Ismail, who was a guest speaker at the event. "The experience changed my life, leading me to a career in healthcare and now as a volunteer at the clinic in Falls Church. I gained a unique perspective into the field of women's health and the need for services for our underserved populations."
Other Inova Cares Clinics for Women are located in Falls Church, Herndon and the Mount Vernon area of Fairfax County.
"We are lucky to have Inova in this region," said Virginia State Senate Majority Leader Dick Saslaw (D-35). "These clinics will provide a lot more facilities than we already have in this area."