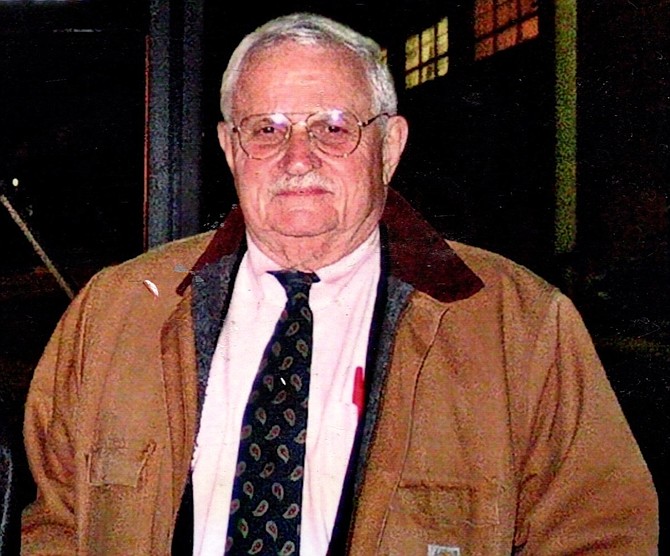 Nicholas M. Horrock, a distinguished journalist for many of the nation's great newspapers, died of heart failure on Sunday, April 18 at his home in Alexandria, Va. He was 84 years old.
Born in New York City, the only child of a Polish immigrant and a women's rights activist from Montana, he covered seven Presidents and six wars, travelled the world, won prizes, and exposed corruption and malfeasance. Oddly, his journalism path all started as a scholarship kid at a prestigious preparatory school when he was tossed out for abysmal grades and smoking behind the gym. The teenager found work as a clerk for the advertising department in the old New York Times tower in Times square and he fell in love with life in the newspaper business. He earned a GED at night and later earned a degree from the school of Foreign Service at American University by taking classes at night.
Eventually Horrock became a reporter and editor for The New York Times, working in both New York and the Washington bureau. For 10 years he was the Washington Bureau chief for the Chicago Tribune. He worked for Newsweek Magazine, the Baltimore Sun, the now defunct Washington Daily News, United Press International, and before he retired, he signed on as the Managing Editor for the Washington Examiner.
As an investigative reporter for the New York Times he wrote dozens of front page stories about Watergate. He delved into government burglaries, assassination plots, illegal drug experiments on humans and domestic spying. He investigated the Central Intelligence Agency, the Federal Bureau of Investigation and the Internal Revenue Service, all tension-filled assignments. Yet he was not a fearless man, but he was brave and did things that scared him because they were the right thing to do, recalled one of his colleagues. He learned much of his courage as a private in the Marine Corps. He always gave credit to the Corps that taught him to fight and persevere even in the face of difficulty or danger. To his final days, he listened to the Marine Corps hymn to give him strength and guidance, especially when times were tough.
Perhaps the best example of his courage came in 1968 when he was trying to expose problems in the prison system. His head shaved, he went undercover as an inmate at the Maryland State Penitentiary. With only the warden and the governor aware of why he was truly there, there was no special protection from either the inmates or the guards. He survived unscathed, he wrote, he won accolades and prizes but he was awash in fear when he was doing it. The American Bar Association honored his work by giving him a Gavel Award.
Horrock also won a Sigma Delta Chi award for exposing waste and fraud in the Pentagon's $100-billion-a year weapons procurement program after many months investigating General Dynamics with James O'Shea. In 1981, as Investigations Editor at the New York Times, he led a team that won a Pulitzer Prize for a series on the immigration system in the U.S.
During the Iraq War, he smuggled himself across the Turkish border to get a story by hitching a ride with aid workers.
When he was covering the war in Vietnam, he spent Christmas away from his family to eat roast dog around a campfire with South Vietnamese soldiers which was particularly difficult not just because of the bullets, but because he loved dogs. He was gruff, famously difficult at times, and fiercely competitive. In between, he loved to laugh, and tell stories of his harried moments in the business, like the time he investigated wrongdoing at the IRS.
At a time when he was raising small children and feared financial ruin or worse from the IRS, but for many months he skirted all around Washington late at night, in secrecy, using phone boxes to talk to "Mr. Paul," a source he never met, but who always gave him accurate information, leading to accurate reporting.
A voracious reader with a steel trap mind, he had no difficulty recalling the head of the Likud party in 1952 or the details of an obscure 14th century battle in Serbia. His colleagues teased him for saving small mountains of documents and reports that crowded his work area. Amazingly, if needed, he could quickly tweeze out exactly the right piece of paper so important to a story.
Horrock always invited cats and dogs to live with him, two at a time, sometimes more. Friends, colleagues and even a Senator or two, would find it necessary on occasion to pull cat hairs off his coat jacket during interviews or meetings.
Ill suited for retirement after his reporting career, he volunteered for nine missions in Bosnia, Belarus and Serbia as an election supervisor.
Horrock joined the Alexandria Gazette Packet and its sister Connection Newspapers, winning awards for investigative reporting and more in 2012 and 2013.
Horrock was the son of Erwin Horrock, a translator who spoke eight languages and worked on a Cunnard ship. Docked in New York one night, Nick Horrock's father found a great party and he literally missed the boat, becoming an illegal immigrant in the United States. Nick's mother, Berta Crone, a strong, resourceful woman, helped him straighten out the problem so they could get married. Both were intellectuals who worked hard, she as an editor and he as an art dealer, but they never made money. For most of his young life, Horrock lived with his family in a one bedroom apartment on the upper west side with a window that opened to an air shaft. Horrock's mother, like her mother, Ella Morton Dean, were suffragettes. Berta Crone once chained herself to the White House gates to protest for a woman's right to vote and on another occasion she was jailed for speaking about suffrage to a group in New London, Ct.
Horrock co-wrote three books. With Evert Clark, a Newsweek correspondent, he wrote "Contrabandista", a nonfiction account of heroin smuggling into the United States. Under the pen name, Henry Horrock, he wrote two murder mysteries, "Blood Red, Snow White" and "Potomac Fever" with his wife, Diane Henry.
Nicholas Horrock loved women and married three: Mae Seward who preceded him in death; Mary Ann Kuhn of Little Washington, Virginia; and Diane Henry in Alexandria, Va. He had three children, Christopher Horrock, a philosophy professor in Ventura, California; Timothy Horrock, a chef in Las Vegas, Nevada; and Victoria Horrock, a legal aid lawyer in Richmond, Virginia. He leaves four grandchildren, Andrew Horrock, Thomas Horrock, Sally Mata and Zoe Mata.
A service will be held once the pandemic is under control.