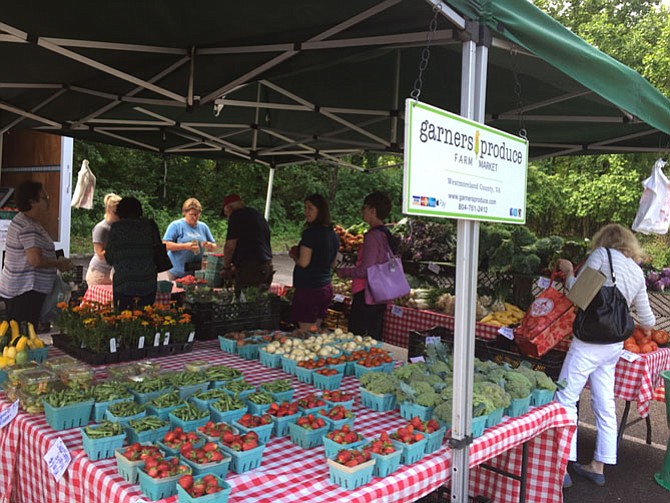 Vienna — Located outside the Oak Marr Rec Center, the Oak Marr Farmers Market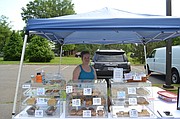 began its 2017 season May 3 and will continue through the summer and fall. From 8 a.m. to noon on Wednesdays, the market boasts a variety of vendors, with products ranging from produce to garden advice to scones.
Shoppers at this market can expect a neighborly atmosphere and a positive experience with vendors and other shoppers.
"The interaction is polite and friendly," said John Adams, a vendor representing Stallard Road Farm. Most of the farm's products are made by Adams' wife, a registered herbalist.
Other vendors agree with Adams' assessment.
"This is a great market. I get along really well with all my fellow vendors. I have a really nice customer base that I keep up with all through the year through an email list I do," said James Bourne. Bourne sells eggs, meats, and cheeses at his stand, The Lamb's Quarter.
Meg Cooksey, of Ginger Cakes Bake Shoppe, sells sweets, including scones and cookies. "Everybody's so friendly and helpful," she said. "It's been nice."
"It's just a very friendly environment," said Mary Kay Claus, Market Manager for the Oak Marr Farmers Market. "There's very little turnover with our vendors, so I think we have a lot of customer loyalty and vendor loyalty." Only one new space was open for vendors this season, a testament to the positive ties vendors have to this market.
Garner's Produce has been coming to the market for around 15 years. Niquita Dowell describes the selection of seasonal produce the farm offers. "Our big sellers are normally our tomatoes, watermelon, and corn, which obviously come during the summer, but during the winter we do have a lot of greens and beets as well." In the coming weeks, Donwell says that customers can look forward to tomatoes, which are starting to come in a bit early.
Karen Jaynes comes to the Oak Marr Farmers Market every Wednesday for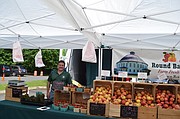 her business, Smoothie-Licious, and personal shopping. "I'm buying strawberries for my business," Jaynes said, "but personally I come in for my lunch."
Sharon Cartwright comes to the market most weeks to purchase produce and meat. This season, she has found the strawberries to be particularly good.
Havilah Vangroll has recently begun coming to the Oak Marr Farmers Market. She buys fruits and veggies. "The golden beets are to die for," Vangroll said. She also recommends the cauliflower.

The market will continue to meet weekly on Wednesdays until Nov. 15. For a full list of vendors, visit Fairfax County's Oak Marr Farmers Market page at www.fairfaxcounty.gov/parks/farmersmarkets/viennamkt.htm.