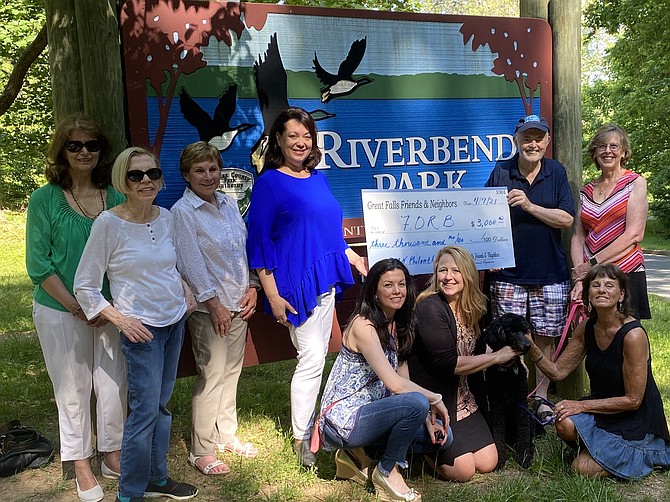 Great Falls Friends and Neighbors Philanthropy Group presented a donation check on Friday, May 21, 2021, for $3,000 to the Friends of Riverbend Park (FORP). It is a non-profit organization. June Kelly, Vice President of Philanthropy on the Great Falls Friends and Neighbors Board of Directors, said that the group was pleased to provide the funds to Friends of Riverbend Park.
"As a women's club of Great Falls, we focus on supporting charities for women and children. Our emphasis is on helping those in need within our community and Fairfax County," said Kelly.
To raise funds for the year's three charities to support, Artemis House, GFFN Scholarship Fund, and Friends of Riverbend Park, the group held two events last year, the Harvest Tea in October of 2020 and the Eagles and Bluebells Walk in April of this year. Despite the pandemic, both events reached maximum capacity, generating much-appreciated funds. The group also sold official White House ornaments.
On behalf of the Friends of Riverbend Park, Hugh Morrow III, President, said that the organization was "extremely grateful to Great Falls Friends and Neighbors (GFFN) for their very generous donation of $3,000 this year."
According to Morrow, GFFN has been a strong supporter of FORB and Riverbend Park for many years, but this year's contribution was the most significant amount ever received by FORB from GFFN. "The organization plans to use the donation as it continues to support environmental education, awareness, and stewardship for the young, a primary goal at Riverbend Park," Morrow said.
"FORB plans to fund the cost of the interns who will help Riverbend Park staff run its summer camps and programs, which are aimed primarily for ages under 18. We will also continue to support Field Trip Scholarships for Title I school children, thereby enabling kids who might not ordinarily have experiences in nature the chance to do so. Finally, FORB will continue to support Boy Scout Eagle Scout projects and Girl Scout Gold Awards programs… carried out at Riverbend Park. All of these activities and programs are focused on educating and creating environmental protection, awareness, and stewardship in the next generation of the Park's caretakers," said Morrow.
Friends of Riverbend Park (FORB) is a 501(c)(3) non-profit citizens group dedicated to the responsible stewardship and preservation of the undisturbed natural beauty at Riverbend Park on the Potomac River and to safeguarding this Park as a natural "classroom" for the inspiration, enjoyment, and education of all park visitors. Riverbend Park is located at 8700 Potomac Hill Street, Great Falls. Visit https://www.fairfaxcounty.gov/parks/riverbend-park/ to learn more about its programs, facilities, rentals.