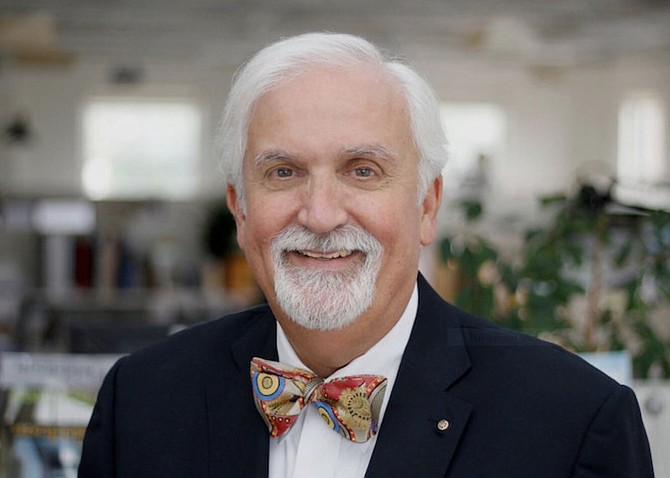 Steve Gresham was known for many things: his intellect, his wit, his love of classic rock and the vast collection of his trademark bow ties. But the renowned architect and community leader was also a private man, rarely letting on to even his closest friends that he had his pilot's license, was a member of Mensa, and in the midst of the pandemic, that he had been diagnosed with pancreatic cancer. On April 29, Gresham died following a year-long battle with the disease. He was 70 years old.
"Steve had just one request of me for his memorial," said Sally Gresham, his wife of nearly 47 years. "He wanted people to know that he loved his wife and family dearly and from time to time tried to make the world a better place."
Stephen Wells Gresham was born Jan. 19, 1951, in Norfolk, Va., to Wells Gresham and Jane McMurren Gresham. He attended the University of Virginia, graduating with a Bachelor of Science in Architecture in 1974. He began his career at Baskervill, one of the nation's oldest architectural firms, in Richmond, before earning a Master of Architecture from Georgia Institute of Technology in 1979. Gresham received his Executive Master of Business Administration from Georgia State University in 1988.
"I last sat with Steve in his home on April 17," said fellow Georgia Tech classmate and friend Kevin Cantley. "We remembered fondly our four decades together and he told me how much he hoped that the places he had the opportunity to touch were left better than before he touched them. I assured him just how many lives had been touched and changed because of him."
Gresham was a partner and founder of the Washington, D.C. office of Niles Bolton Associates, where he served for 38 years. As Principal-in-Charge, he led The Blair Towns in Silver Spring, Md., the first LEED Certified multifamily project in the country, and The Trellis House, the first LEED for Homes Multifamily Midrise project to be awarded LEED Platinum Certification in Washington, D.C.
Gresham lectured on various architectural-related subjects and testified at Congressional subcommittee hearings on the Construction Safety, Health & Education Improvement Acts of 1990 and 1991.
As a community leader, Gresham was active in the Rotary Club of Alexandria, where he served as President and Assistant Governor and received numerous chairman and special recognition awards at the club and district levels.
"I first met Steve in the early 1990s," said former Rotary District Governor Sandy Duckworth. "I was blown away by his ability to organize and cooperate with others to achieve a super outcome. It was abundantly clear that Steve believed and lived the Rotary motto of 'Service Above Self.' He was a leader and intricate member of every committee and project with which he was involved."
Gresham's design work ranged from country clubs to condominiums and senior housing projects. He opened the Alexandria office of Niles Bolton Associates in 1987.
"Steve joined the firm in 1982 and was employee number 15," said founder Niles Bolton of his longtime friend and partner. "Today we have more than 1,200 employees and Steve was instrumental in our company's growth. He worked on over 559 projects and assignments and loved being in the role of a counselor to his clients."
During a virtual memorial held May 22, friends and family shared their recollections of Gresham over the years.
"My first mistake with Steve was thinking I could match wits with him," said longtime colleague and friend Dan Meacham. "There was no subject too small, no subject too large, no conversation too short for Steve to contemplate in his studious and sarcastic fashion. Steve was loyal to a fault to the people, places and things he cared for. I was blessed to be one of those people."
Gresham's widow recounted their 67 years together.
"Steve and I have known each other since we were kids growing up in Norfolk," said Sally Gresham. "We have been best friends, cohorts, soul mates, lovers, and incredible life partners in our years together. He was kind, talented, humble, analytic, witty, and a loving husband, father, son, and grandfather."
Added their son Christopher, who goes by C'Pher, "My dad's dedication to his family was ever flowing and as unstoppable as the tides. He loved my mom so much – an amount that cannot be put into words – and he taught me to be kind, considerate, honorable and to live to the beat of my own drum."
Gresham is survived by Sally W. Gresham, his wife of 46 years; son, Christopher "C'Pher" Gresham; daughter-in-law, Morganne Rosenhaus; and grandson, Emerson Gresham. Additional survivors include his mother Jane Gresham, and sister Kathy Dungan. In lieu of flowers, contributions may be made to the Rotary Foundation [raise.rotary.org] or the Architecture School at the University of Virginia [givecampus.com].
"Up until the end he was unmovable, unflappable – a foundation of granite in our lives," C'pher Gresham added. "Remember him as a man of great integrity, a man that left the world a better place than how he found it."