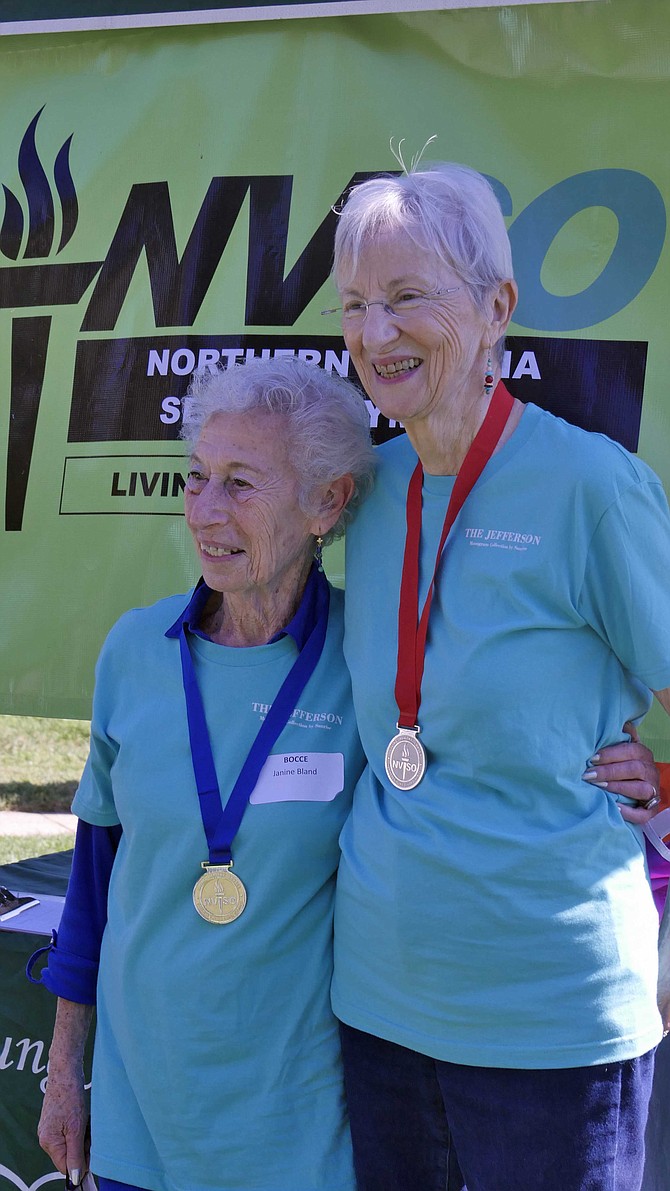 The tossing, swinging, splashing, thinking and sweating is over for one more year as the 39th Northern Virginia Senior Olympics winds down on Thursday, Sept. 30 with the final events. Hundreds of competitors have challenged themselves and each other in more than 60 events from swimming, tennis, football throw, croquet, crossword puzzles, to the final horseshoes and bocce competition at Fairfax City Senior Center Green Acres. 
Fifty three competitor
s have signed up for horseshoes and 45 for bocci. The brackets are in ten year age groups from 50-100+ years old with male and female divisions.
A cool had warmed up to shirtsleeve weather by the time the 90-99 year women's bocci match took off at 10 a.m. Janine Bland and Barbara Scholtz, wearing matching T-shirts from the Jefferson retirement community where they live in Arlington, led off the competition. Scholtz says she just started playing bocce a few months ago.
Bland takes the gold with a score of 7-4, and Scholtz the silver. Scholtz had won two gold medals earlier in the games in the 800 and 1600 meter walk. After the ceremony Scholtz chats with Nick Garito who is waiting to play his match in the 90-99 years men's age group. 
But it turns out there aren't any other competitors in this age group for men. "Three of my regular opponents have died," he explains. They officials inform Garito they will pair him up in the 80-89 year age group and, "it will be a surprise."
Meanwhile Herb Levitan from Arlington and Nicholas Frandis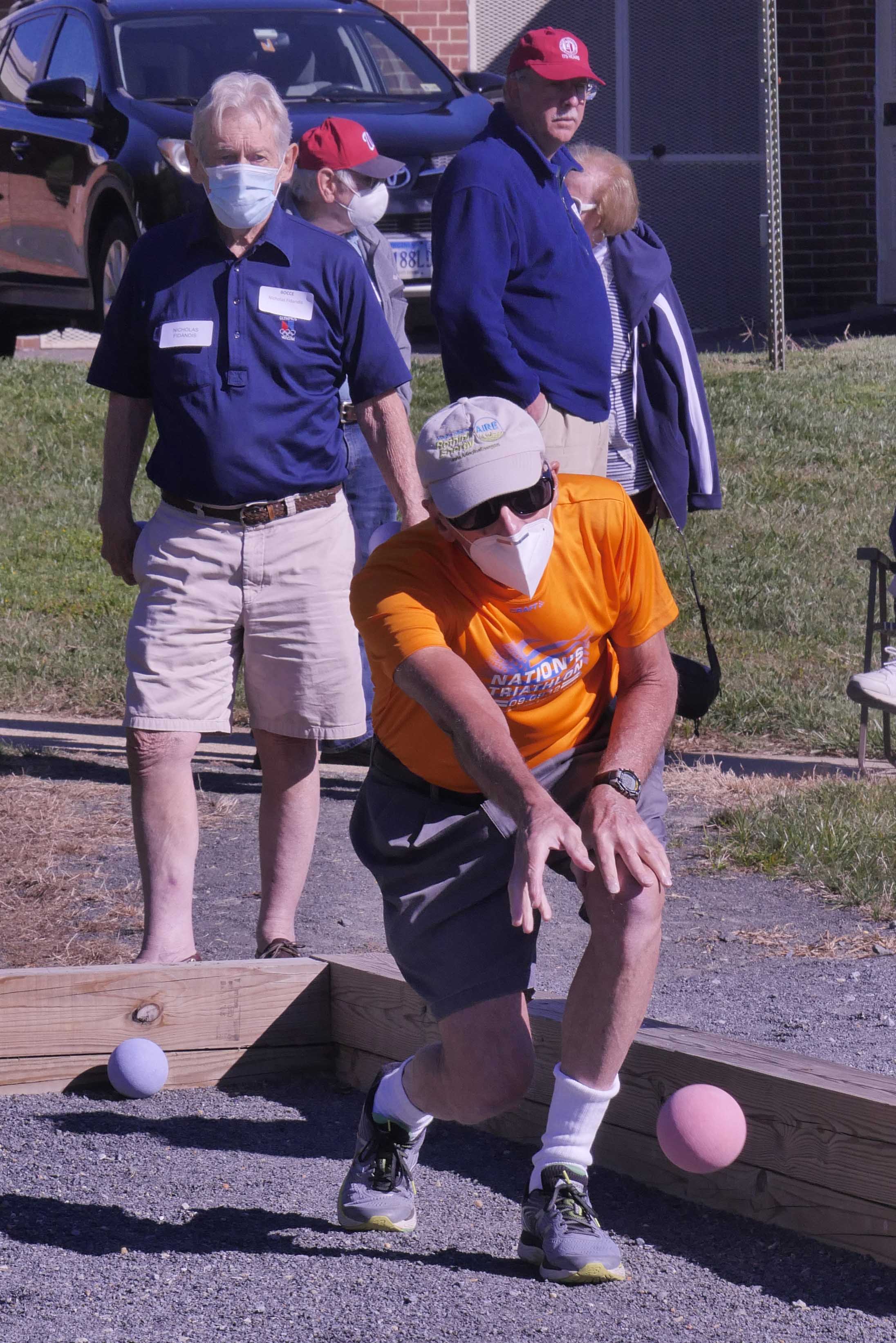 Herb Levitan, Arlington, competes in the bocce ball 70+ age category at the Northern Virginia Senior Olympics against  Nicholas Frandis (back left) from the City of Alexandria.from the City of Alexandria pair up in the adjoining bocce court. Each player gets four balls, and they play a single elimination match to 7 points. The bocce ball is rolled to get as close to the pallino (target) ball as possible. When a ball touches the pallino and a dollar bill cannot come between them, it equals two points.
"Blue is the closest, red throws." At one point the billfold gets pulled out to see if the pink ball is touching the pallino. The referee says,  "But you have to agree. Do you agree?"
Competitors have their cheering sections standing along the sidelines. "Ohhh, nice throw." An observer is heard to explain, "Some people roll the ball, others, lob and others almost throw."
Nearby horseshoe competitors are practicing before the matches set to begin at noon.  They hope for a ringer (3 points) or maybe a leaner (2 points) and a pone point 6, inched away is better than nothing. Stephen Neal from Chantilly in the 50+ age group throws alongside Jack Katosh from Arlington in the 70+ age group.
Some competitors will put their medals in the drawer until next year while others will take a short breather and then begin practicing for next year, or to go on to nationals.