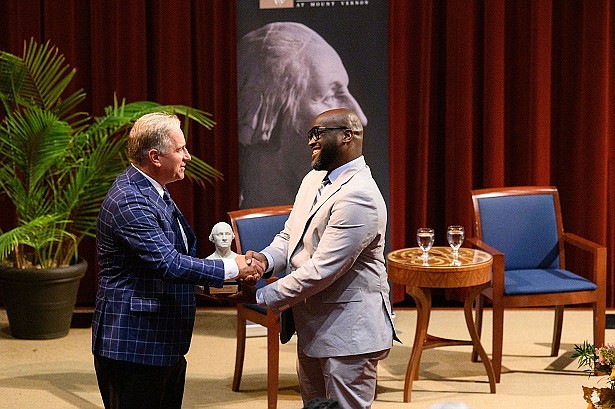 There's a sound studio of sorts in Sean Miller's history class to capture the student's creativity, whether it be a song, poem or other forms of expression his student's use to learn the lessons in history. It's this type of interactive teaching that earned Miller the 2021 History Teacher of the Year from George Washington's Mount Vernon.
"I like to pull the student's diverse creativity," Miller said, "I play off their day-to-day conversation," he added.
Miller helped design and teaches the new African American History elective at South County, and was part of the team that developed the course through the FCPS African American History and Culture for Educators professional development course. FCPS Culturally Responsive Pedagogy Specialist Deborah March has worked alongside Miller for three years and commends his empowering and welcoming approach to learners of all ages. He stressed that it was a team that developed this.
"I'm part of a team that tailored our Fairfax County Public School's curriculum," he said.
Being in Northern Virginia helps. There is George Washington's Mount Vernon, all the historic sites in Fairfax, Washington, D.C. and Laurel Grove School in Franconia which he hadn't known about in the past. "I drove past that building so many times," he said.
With the students learning history while using their artistic capabilities, it makes it almost seem like more fun than 'hitting the books,' as they say. "They get a touch of the rich history that's literally in our backyards here in Northern Virginia," he added.
The Mount Vernon History Teacher of the Year Award is presented annually to a Washington, D.C. Metro area History or Social Studies teacher who brings creativity and passion to his or her classroom; instills a love of learning in students; and deepens student understanding and appreciation of history, according to Mount Vernon.
The Mount Vernon History Teacher of the Year receives a cash award of $5,000 and a fully funded field trip to Mount Vernon for their students.
The award review panel was made up of teachers from around the country who serve as Teacher Facilitators for George Washington Teacher Institute, programming that supports Mount Vernon's mission and vision in schools across the country. Fairfax County Public Schools is happy about this year's awardee.
 "FCPS is thrilled to have one of our amazing teachers recognized as History Teacher of the Year by George Washington's Mount Vernon," according to FCPS. "Mr. Miller's work developing curriculum and professional learning projects increases access to meaningful and consistent learning experiences about Black history. The mission of Fairfax County Public Schools Social Studies is to empower learners to take informed action in their communities, nation, and world. Mr. Miller embodies this mission, and his work in our school division has ensured that those words do not merely live on the page, but in our classrooms and schools," said an FCPS spokesperson.
This year marks the 13th anniversary of the Mount Vernon History Teacher of the Year award, provided through support from the Robertson Foundation. In 2020, the award was not given out due to COVID, but in 2019, Mount Vernon named Antoinette Dempsey-Waters, a history teacher at Wakefield High School in Arlington, as its 2019 History Teacher of the Year.