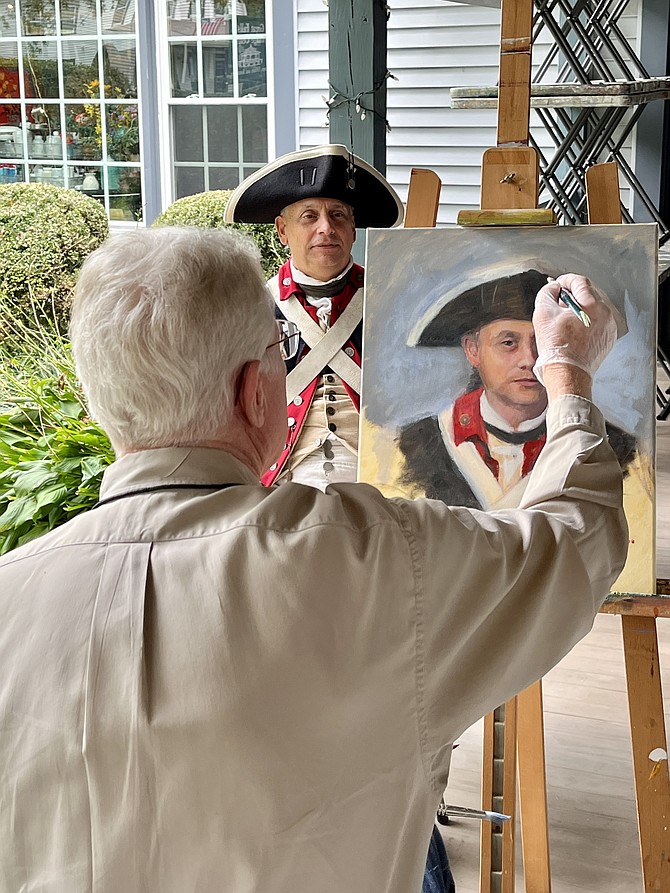 Great Falls Studio produced a much-needed breath of visual arts activities and opportunities the weekend of Oct. 15 to 17. Patrons of the arts, those looking to support artists by purchasing pieces for their homes or offices, and folks simply looking to soak in creative energies had the opportunity at the 18
th
 Annual Great Falls Studio Art Tour.
An interactive tour map traced a path to locations throughout Great Falls for demonstrations in various mediums, including wood carving, painting, quilting, the century-old hand cranking of a lithographic press and participation in artistic activities.
Tobias Webster, 13 of Great Falls, visited the Atelier Studios, a stop on the tour, with his mother, Erin. The artists in residence at the Artists' Atelier lease their spaces from the Arts of Great Falls. The non-profit arts organization provides affordable, shared studio spaces as one part of its mission.
Tobias does not paint but likes to look at how artists create. "It's inspiring … that people can make these amazing pieces," he said, looking at works by artist Jill Banks. "This one is the best example. When you look at the people, their faces are so well done. But they are not clear. It allows you to see yourself there, associate with memories." 
Atelier artist Walter Lawrence of Great Falls is a photographer and favors the birds of Great Falls. "There are so many different varieties of birds you can get from your backyards to the parks … I keep discovering them." Lawrence told of a local "rookery," an area where herons breed on an island in the Potomac River off Riverbend Park filled with sycamore trees. Lawrence said he hires a guide from the park to run a boat so he can "fish with his camera." He catches images of great blue herons, egrets, cormorants, and eagle fledglings in their nests.
Cindy Grisdela of Reston is also an artist at Artists' Atelier, as is John Francis McCabe of Great Falls. Grisdela is an award-winning fabric artist specializing as an "organic, intuitive artist." I generally have a rough idea of what I want. But the process evolves as I work through it," she said. "The colors and the shapes interact with each other and the lines."
For painter McCabe, his work is not organic. McCabe paints in oil following the classic realism tradition. On Saturday, he demonstrated his skill by painting a portrait of Mark Casso dressed in his 1st Virginia Regiment Revolutionary War uniform.
Not all artists on tour proved professionally trained. Lalo, no last name, has no formal art training, according to Arlee Barnes of Great Falls Physical Therapy. His wood carvings of birds, horses, and rabbits stood outside an office building in the Great Falls Village Center. A native of Costa Rica, it appeared Lalo carved the vast majority of artwork out of single pieces of wood. 
Inside the office-turned art gallery for the weekend, a different kind of sculptural work could be viewed. Ronnie Jolles' primary medium is paper. She uses hundreds of types of paper from across the world to create her artwork. Each could be called a collage, but they are more a sculptural art form in paper. Sections and images rise off the two-dimensional surface creating shadows and depth facilitated by her use of paints to enhance the images.
In 2006, the Connection featured a story about photographer Walt Lawrence. Asked his personal goals at the time, Lawrence said, "to develop my collection of images of Great Falls, and another is to help Great Falls Studios find a permanent location in the community." He said one of the organization's goals was to find a facility where the artists in the village could work, teach and display their work to the public. "Great Falls has the potential to become the art center of Northern Virginia, and I want to work towards making it a reality."