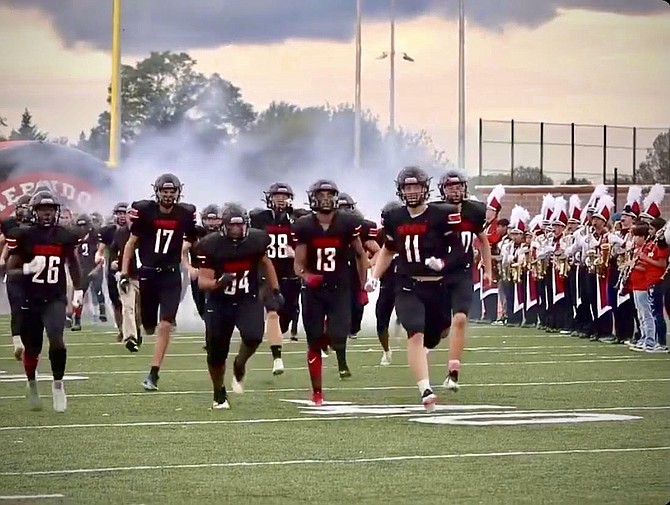 Herndon High School's varsity football team played their annual Homecoming game Saturday against the Washington Liberty Generals. The Hornets recently came off a close loss against the Yorktown Patriots, and were looking to bounce back. The Hornets got off to a quick start, scoring in their opening drive with an 80-yard touchdown run. Washington Liberty had an answer, scoring in their opening drive making the score 7-7. This back and forth battle continued with Washington Liberty starting to gain momentum as this high-scoring first half brought the score to 28-15 W&L. The Hornets converted a crucial 4th down play with 0:37 left in the half, leading to a one-yard touchdown run by quarterback Liam Willson. This kept the Hornets within striking distance at half, as Washington Liberty led 28-21. 
By halftime, the weather conditions became a huge factor with steady rain and wind; both teams were forced to use their run game in the second half. Herndon tied the game with another run making the score 28-28 with 6:20 remaining in the 3rd quarter. Washington Liberty fired back as they scored with 0:13 left in the 3rd quarter, leading 35-28. A costly fumble to start the 4th quarter by the Hornets led to a Washington Liberty touchdown, extending their lead to 41-28. (Hornet special teams blocked the extra point kick). 
The Hornets were able to score again with a run at 6:02 remaining in the 4th quarter, but it was too late, as Washington Liberty hung on to a 49-35 victory. Despite this tough loss, the Hornets are trending in the right direction with back-to-back close contests. The Hornets take on the McLean Highlanders at home on Oct. 22.