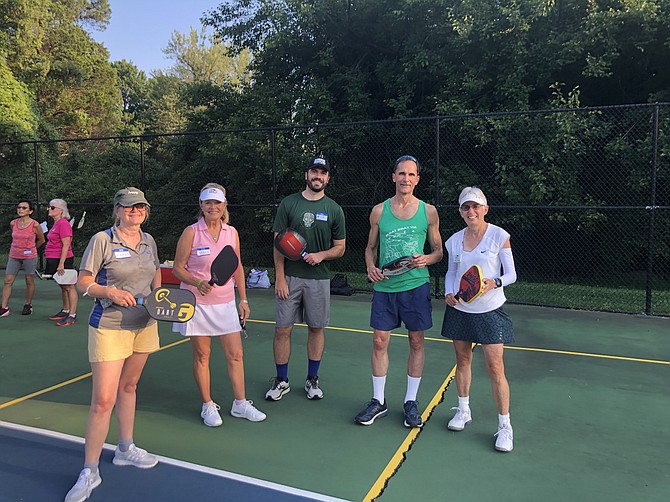 Pickleball enthusiasts gathered on Aug. 25, for a well-attended pickleball event at Collingwood Park. The Fairfax County Advocates for Pickleball hosted Mount Vernon District Supervisor Dan Storck; Fairfax County Park Authority Board Member Linwood Gorham; and Fairfax County School Board Member Karen Corbett-Sanders. The officials were given an "Introduction to a Pickleball" by Helen White, facilitator of Fairfax County Advocates for Pickleball camp and USA Pickleball District Ambassador.
Over 40 pickleball players in the Mount Vernon District demonstrated how they enjoy Community Play, set time where anyone can drop in with or without partners to take turns to play with whoever shows up.
Typically 12-40 players participate, depending on the number of courts. This is the reason that so many players are asking for clusters of 6 or more pickleball courts at selected venues around the county.
That said, the Mount Vernon District is proud to have more courts striped for pickleball (on tennis courts) than any other district, thanks to the support pickleball has from our representatives. For example, the Park Authority striped four pickleball courts on tennis courts at Collingwood Park and Fort Hunt Community Park, and provided rolling nets for pickleball.
Advocates from around the county took a survey and submitted comments over the past year in support of pickleball only courts in each district.
In addition they pointed out the need for:
Repair and resurfacing of existing courts

Converting under-utilized used tennis courts to Pickleball only courts (e.g., GW Rec Center) or at a minimum stripe each of the four courts for two pickleball courts with portable rolling nets

Courts with lights at one-two facilities in each district

Designated days and times for pickleball only on shared venues

More designated times for pickleball at indoor facilities
Background on FCAP:
A group of pickleball advocates joined together to form the Fairfax County Advocates for Pickleball (FCAP) with the primary purpose being to work with and urge the County to do more to support the growing interest in the sport. At this time Fairfax County has no outdoor courts dedicated to pickleball (i.e., not shared with tennis) although a couple are in the pipeline. Even pre-COVID Fairfax County had very few indoor court hours. The Park Authority (FCPA), along with the County's Neighborhood and Community Services department, has recognized the growth of pickleball and has recently completed a study to identify the needs of the pickleball community, determine how to address it, and identify potential locations where dedicated courts and other improvements can be developed.
The activity at Collingwood Park on Aug. 25 showcased the need for more pickleball courts in Fairfax County prior to the release of the final draft of the Park Authority's Pickleball Study at https://www.fairfaxcounty.gov/parks/planning-development/pickleball-study . The Fairfax County Park Authority will hold a virtual public meeting on Sept.14 at 7 p.m. Comments will be accepted from Sept. 1 to Oct. 3, and may be submitted during the virtual meeting or any time during the comment period by emailing G4274@publicinput.com or contacting the Public Information Office at parkmail@fairfaxcounty.gov or 703-324-8662.