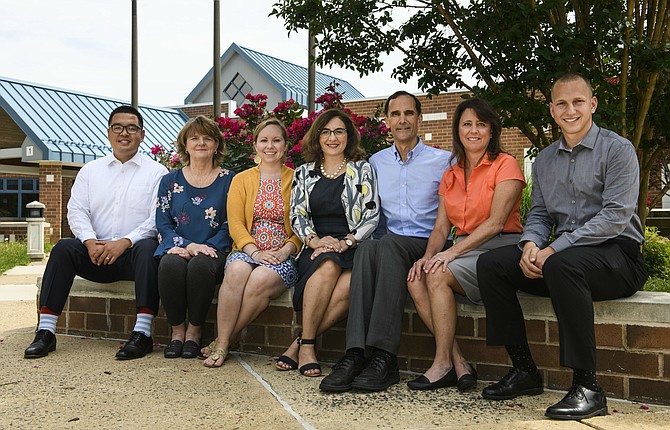 Dear Mount Vernon District Newcomer:
Welcome to the best place to live, learn, work and play in Fairfax County! My name is Dan Storck and I am pleased to serve as your Mount Vernon District Supervisor. I hope you agree that Fairfax County is one of the best places in the country to live – full of intellectual energy, great schools, diverse communities, varied employment opportunities, vast recreational activities, and abundant opportunities for cultural enrichment. Mount Vernon comprises wonderful people, abundant resources and a rich history. First and foremost, I would like to invite you to stop by my office to meet Team MVD (me and my staff). We'll be happy to talk with you about our community, answer your questions and provide information about Fairfax County and its many opportunities. We are located in the Mount Vernon Governmental Center at 2511 Parkers Lane with the Mount Vernon Police Station, next to the Fire Station and the Mount Vernon Hospital. For more information about living in Fairfax County, check out the County's Welcome to Fairfax Guide: https://www.fairfaxcounty.gov/topics/guides/moving-to-fairfax.
My number one priority is always you! I strive to engage deeply and frequently with the people of Mount Vernon. Team MVD provides timely constituent service as we continue to build the ideal community in which to live and thrive. We are committed to performance standards that ensure we are a responsive, transparent and informative office. We will respond to your communications within two business days or less, advise you of your staff contact and connect you with the County or community resources you need. We are here to make a difference for each and every resident and to get things done! With extended office hours on Thursdays and the second Saturday of each month at the Lorton Library and the Mount Vernon District Office, we welcome your concerns and compliments. Walk-ins and appointments welcomed.
My priorities as Supervisor continue to be to increase funding and support for our schools, accelerate Richmond Highway's revitalization, increase jobs and economic opportunities, improve our roads, provide more transit options, ensure our public safety, and continue to strengthen our quality of life.

In Mount Vernon, we are fortunate to have many wonderful parks, recreational opportunities, historical sites and community events to enjoy. You can start your day with a round of golf, horseback riding, kayaking, tennis, or a walk in a tree-lined park or neighborhood; enjoy brunch at our more than one hundred local eateries; boat, bike, or walk to one of our many heritage sites and then relax at a craft brewery; to round out your evening, you can see a local play, musical or concert. The following are some of my favorites.
George Washington's Mount Vernon Estate and Gardens: One of the nation's most visited historic sites, Mount Vernon offers an authentically interpreted 18th century home, lush gardens and grounds, intriguing museum galleries, immersive programs, and first-rate dining and shopping. Hop on a bike and ride on the nearly 18 miles long and fully paved Mount Vernon Trail that follows the Potomac River's Virginia shoreline. You can also enjoy the nearby Distillery and Gristmill. (http://www.mountvernon.org)

Gunston Hall: Built for George Mason IV, the author of the Bill of Rights, Gunston Hall is located on Mason Neck where we also have a state park, a regional park and federally protected land The mansion and museum provide history and context to colonial Virginia and revolutionary America (http://www.gunstonhall.org)

Woodlawn & Frank Lloyd Wright's Pope-Leighey House: The Woodlawn and Pope-Leighey Houses are sites of the National Trust for Historic Preservation, located on the same historic grounds. Visitors are encouraged to explore the contrasting architectural and historical backgrounds of these two unique homes. (http://www.woodlawnpopeleighey.org/home/).

Woodlawn Estate is also home to the Arcadia Center for Sustainable Food and Agriculture. Arcadia is a nonprofit organization dedicated to creating a more equitable and sustainable local food system in the Washington, DC area. Arcadia manages four distinct program areas that address a specific need in the community, while collectively engaging consumers, farmers, schools, and institutions. (www.Arcadiafood.org)

Workhouse Arts Center: In addition to over 150 of the region's finest artists, art classes, exhibits by national and international artists, exciting comedy and musical performances, this nationally recognized former correctional facility played a key role in turning the tide to secure a woman's right to vote. Plan to spend a day exploring the history of the Workhouse, visit artist studios, ask questions about their work, purchase their wares, and even participate in programs in which you can create your own masterpiece. (www.workhousearts.org)

Dyke Marsh Wildlife Preserve: Located just a few miles south of Alexandria, Dyke Marsh is one of the largest remaining freshwater tidal wetlands in the Washington metropolitan area. Dyke Marsh is viewed as a national treasure that holds extensive value not only for plants and animals, but for its recreational, educational and cultural purposes. It is estimated that the southern marsh has existed for 2,200 years, and the northern marsh has existed for 500 years. In July, U.S. Army Corps of Engineers began restoration of Dyke Marsh. Construction of a 1,500 foot breakwater is expected to take up to 18 months and will help protect the marsh from erosion, shield the marsh from storms and encourage the accumulation of sediment, which is necessary for marsh regeneration.

Vast Recreation Opportunities: Mount Vernon is an outdoor enthusiasts playground, with two recreation centers, the Mount Vernon RECenter located near the Belle View Shopping Center and the George Washington RECenter located across from Mount Vernon High School; two off leash dog parks, one at West Grove on Ft. Hunt Road and one at Grist Mill Park located on Route 235; and multiple parks, golf courses, bike and hiking trails, and boat launches.

Tour de Mount Vernon: On Oct. 27, the Mount Vernon District will host the 3rd Annual Tour de Mount Vernon, a community bicycle tour of the Mount Vernon District.
Again, I welcome you to the Mount Vernon community and sincerely hope you enjoy living in the finest district in Fairfax County. We are a community of the past, present, and future where you can grow, play, and work. We host hundreds of small and large growing businesses, many recently renovated schools, and the Fort Belvoir Army Base with more than double the employees of the Pentagon. Taking care of your health can also be accomplished locally at our two major hospital centers — Inova Mount Vernon and the Fort Belvoir Community Hospital.
Visit our website www.FairfaxCounty.gov/mountvernon to sign-up for our regular Mount Vernon Advisor newsletter for the latest happenings in your community. I look forward to meeting you out and about in our great community. It is an honor and privilege to serve you!
Respectfully yours in public service,
Dan Storck
Supervisor, Mount Vernon District
Fairfax County Board of Supervisors
www.fairfaxcounty.gov/mountvernon