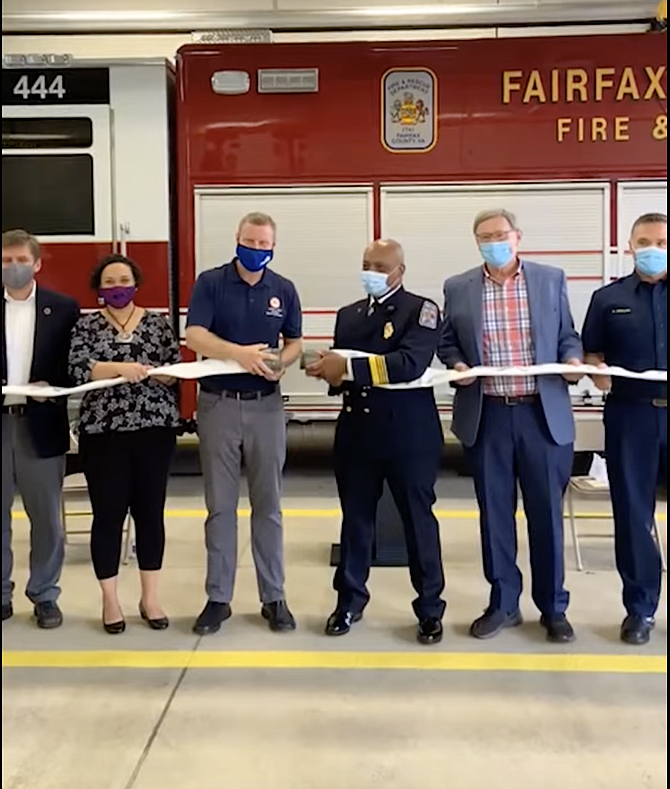 The new Fairfax County Fire and Rescue Department, Fire and Rescue Station No. 44 Scotts Run, located in western McLean near Tysons, officially opened on Saturday, Sept. 18, 2021, with a "hose uncoupling." Built as part of a development condition to meet growing needs for emergency services in the Tysons area, crews broke ground in September 2019.

During the grand opening celebration, Jeffrey McKay, chairman of the Fairfax County Board of Supervisors, said the station had been planned for

over a decade. "Some counties have one, two, maybe three fire stations. This is the thirty-ninth fire station in Fairfax County serving our residents. I think it is indicative of the investments and importance of our board and our residents placed in public safety in Fairfax County."
Station No. 44 is located at 1766 Old Meadow Lane and will provide some relief to Tysons Station No. 29 at 1560 Spring Hill Road and Dunn Loring Station No.13, which also serves the Tysons area. The two-story above-grade, 15,150-square-foot building features three single vehicle bays, administrative offices, operational support areas, and living quarters for up to 12 crew members per shift.
According to the Construction Journal, the estimated value of the facility is $6,250,000. Cityline Partners LLC funded and built it as a proffer for its Scotts Run Station South redevelopment project, which provides residential, office, commercial, and hotel uses.
Fire Chief John S. Butler said the area had seen increased demand from newly built high-rise residential and commercial buildings in the densely populated area with "unique challenges for our first responders."
"We are deeply grateful for this new station. It allows us more effectively to respond to all fire and rescue needs of this community," Butler said.