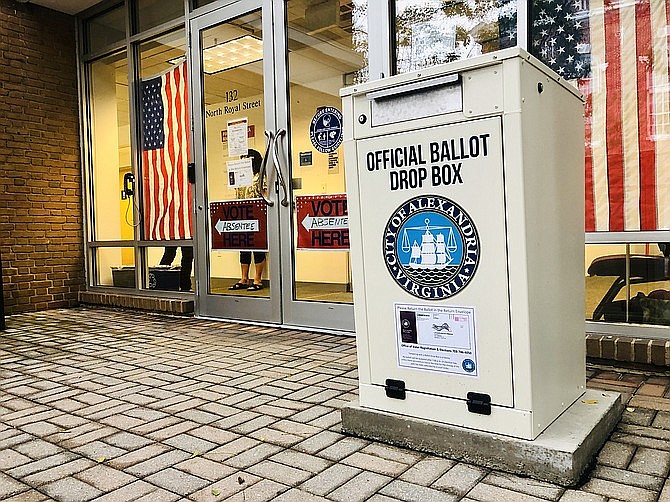 Alexandria — Today is, essentially, Election Day. And so is almost every day leading up to Nov. 2. That's because of a series of significant changes to how elections work in Virginia, one of the first orders of business for the new Democratic majorities in the House and Senate last year.
Gone are the excuses voters used to have to give to cast an absentee ballot. Gone is the requirement that voters have to show a photo ID to vote. These days, anyone who registers for a driver's license is automatically registered to vote. And Election Day is a new state holiday, replacing the racist salute to insurrectionist generals Robert E Lee and Stonewall Jackson. Like the old Confederate statue that once stood at the intersection of South Washington Street and Cameron Street, the roadblocks to voter participation have now been removed to allow for unobstructed access to the ballot box.
"Voters should familiarize themselves with the ballot," said Alexandria Registrar Angela Maniglia Turner, adding that sample ballots are available on the city's website. "There are several contests on the ballot, and when voters get into the booth they're ready to make a decision."
More changes to voting are on the way. Next year, people will be able to register to vote and cast a ballot on the same day. Democrats in the House and Senate approved this change last year, but added a delayed enactment to make sure registrars across Virginia had the right kind of software to make sure people weren't casting ballots in multiple locations on Election Day. Currently newly registered voters have to wait five days before they are able to cast a ballot. The bill to allow for same-day registration next year was introduced by Del. Hala Ayala (D-51), who is currently a candidate for lieutenant governor.
"Same-day registration is one of the easiest ways to make voting more accessible to all Virginians," said Ayala. "Voter registration cuts off disproportionally younger voters and people of color because these voters move more frequently."
RECENT ELECTIONS have seen so many changes to voting that it's hard to keep track of them all. One of the more recent ones prohibits guns at polling places. That was a bill introduced by Del. Mark Levine (D-45), who took on the issue of gun-violence prevention as one of his signature issues during his time in the House of Delegates. The new law prohibits buns within 40 feet of the door to a polling place, and the maximum penalty is a year in jail or a $2,500 fine.
"It applies to polling places, counting centers and recount centers," said Levine in February after his bill passed the House. "There were a couple of Virginians who went to Pennsylvania when they were counting the ballots to try to intimidate people with firearms and were arrested there because they have that law there."
When the pandemic hit last year, the League of Women Voters filed a lawsuit challenging Virginia's requirement that every voter filling out an absentee ballot must open, mark and refold their ballot in the presence of a witness. The requirement for a witness signature was dropped temporarily for the 2020 election, but that requirement is now back in effect for 2021. Also, the addition of drop boxes last year has rewritten the rules for get-out-the-vote operations. Republicans have raised worries about what they call "ballot harvesting," but Democrats dismiss those concerns as overblown. .
"Nobody has to hand their ballot over to anybody if they don't want to. It's the voter's decision," said Del. Marcus Simon (D-53). "If somebody comes along and offers to help get their ballot where it needs to go, it's up to each voter to decide whether they want to trust that person to take the ballot or if they want to do it themselves. We're trying to make it as easy as possible."
VIRGINIA'S HISTORY of odd-year elections for governor dates back to 1851, the first year that voters were able to have a say in selecting a governor. Previous to the adoption of the 1851 state Constitution, the General Assembly selected the governor. The first election for governor featured Democrat George Summers versus Whig Joseph Johnson. According to the Alexandria Gazette, the Whig candidate won Alexandria with 62 percent of the vote. But the Democrat swept most of the commonwealth with 53 percent of the vote overall. It was the first time Virginia allowed for people who were not landowners to cast a ballot, although voting was still restricted to white males.
"In the 1851 Constitution, they do, at that point, reach something like universal white male suffrage," said A.E. Dick Howard, a constitutional law professor at the University of Virginia. "And at the same time as the on the other side of the coin, they're saying, 'Well, let's be careful now, there's still some people that don't belong.'"
These days voting has become high tech and socially distanced as the pandemic has scrambled the geography of two polling locations in Alexandria. Two of the city's voting precincts are in senior centers, which need to be moved considering health concerns. Voters who normally vote at the Ladrey Senior Center will instead vote at the Charles Houston Recreation Center. And voters who normally vote at the Hermitage will instead vote at John Adams Elementary School. In addition to that, voters who normally vote at Macarthur Elementary School will be voting at the George Washington Masonic Memorial while the school is under construction.
"Voting is the most fundamental right, and it's important that there aren't barriers to voting," said Sen. Adam Ebbin (D-30). "The new Democratic majority is committed to making participation in our democracy as easy as possible."
How to Vote Early
Registered voters can cast an early ballot at the registrar's office at 132 North Royal Street from now until the last day of early voting, which is Oct. 30. Starting Oct. 22, voters have an option. They can vote at either the registrar's office on North Royal Street or the satellite voting location at Beatley Library. Sunday voting will be available for the first time ever on Oct. 24 from 11 am to 3 pm. The last day for election officials to receive a request for a mail-in absentee ballot is Oct. 22 at 5 pm.