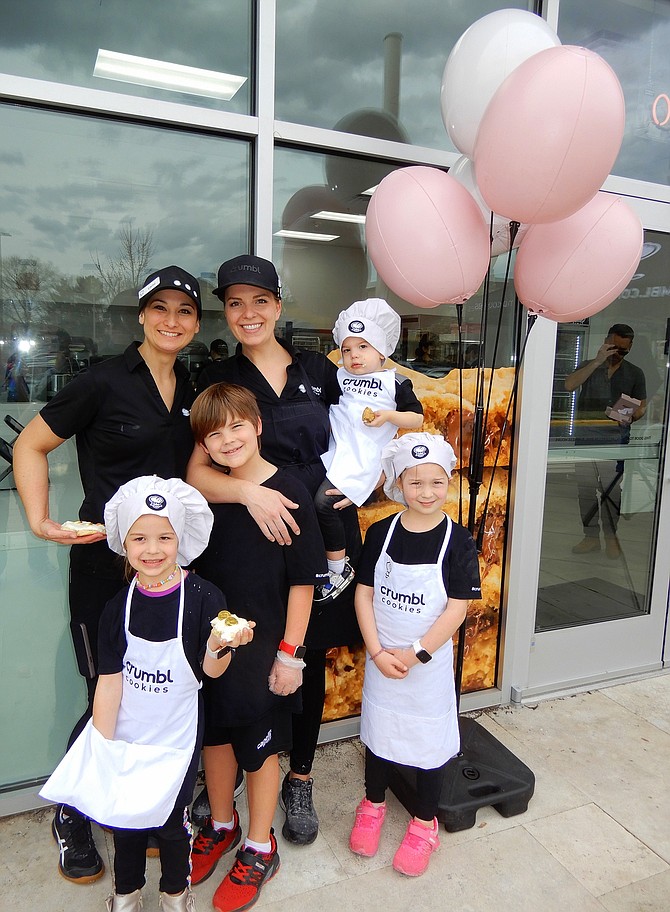 So many people know and love Crumbl Cookies that, when the nationwide sensation opened its newest store in Chantilly, customers flocked there eagerly. And even those experiencing the huge, thick, freshly baked cookies for the first time were quickly won over.
"We are so excited," said Centreville Farms resident Karen Johnson, who went there with her children. "We've been waiting – and counting down the days on our calendar until this store opened – because we've been going to the one in Vienna."
The new Crumbl is in the Field at Commonwealth shopping center, off Westfields Boulevard, at 14337 Newbrook Drive, between Cava and Pueblos Tex Mex Grill. It's open Monday-Thursday, 8 a.m.-10 p.m., and Friday-Saturday, 8 a.m.-midnight. And its grand opening – complete with a deejay and pink balloons to match Crumbl's cookie boxes – was March 18.
There are more than 350 Crumbl Cookies locations throughout the country, with about 15 in Virginia. The Chantilly and Bristow stores are owned by Cami Fairbanks and Alli Bohls.
"We're both full-time moms, and this is our side job," joked Fairbanks. Happy to have a shop in Chantilly, she said, "We were just so drawn to this area because of the modern vibe and the community support. Several schools and other places have already reached out and want to get involved with fundraisers and partnerships."
"We've received a wonderful reception," she continued. "Everyone has been so warm and welcoming. People are excited we're here, and so are we. It's so much fun, and we're grateful for everyone's support."
What sets Crumbl apart from other snack spots, said Fairbanks, is that "We have gourmet cookies baked on site daily with high-quality ingredients, such as real butter and chocolate chips. And Crumbl rotates its flavors every week, so there's always something for everyone."
The new lineup is posted on the Crumbl Cookies app, Sundays at 8 p.m., and may also be seen on Facebook videos. During opening week, the flavors were: 
Lucky Charms, with white chocolate chips and vanilla marshmallow frosting topped with colorful, Lucky Charms marshmallows; Peanut Butter Cookies & Cream, a combo of both flavors; Sea Salt Toffee, featuring both toffee and chocolate chips; Mint Brownie, a chocolate-chip brownie cookie topped with green, minty frosting and chocolate ganache; Sugar, adorned with vanilla frosting and a gold chocolate coin; and classic Milk Chocolate Chip. Some flavors, like Mint Brownie, were served chilled, while others, including Chocolate Chip, were served warm from the oven.
Fairbanks said the most popular flavor – and the only one offered every week – is chocolate chip. "We bake our cookies fresh daily, so whatever we have left at the end of the day goes to the local fire and police stations, as well as to hospitals and other nonprofits," she said. "That way, we can give back to the community."
On opening day, the customers kept coming in a steady flow, and they enjoyed choosing which cookies, and how many, to get. But, of course, the best part was the eating. 
"My favorite flavor so far is milk chocolate chip," said Karen Johnson's son Asher, 7-1/2. "The cookies have a sweet taste." His sister Ellie, 5, said she liked the Lucky Charms cookies best.
"There are so many different flavors, so we always get to try something different," said Johnson. "Today we got sea salt toffee, Oreo peanut butter, Lucky Charms and mint brownie. We love the taste and the warm cookies, and they hold up well at home for a few days."
Sitting outside the store, munching on a cookie and chatting with two girlfriends was Westfield High senior Deepika Reddy. "I'd heard about Crumbl, but never went to one before, so this is my first time to have their cookies," she said. "A lot of my friends at Westfield said they're either working here or had been here, so I wanted to check it out."
So how did Reddy like the Mint Brownie cookie she chose? "I love it," she said. "It's really good and is definitely something new. I'll come back again because of the cookies. And it's a nice place to hang out outside with friends, and it's close to school."
Meanwhile, Kait Roddy drove from Fairfax Corner for the grand opening and bought six cookies, including one of each flavor. "I've had Crumbl before and they're good," she said. "I've been going to Vienna, and this is closer. I like how big the cookies are and that they change the flavors every week. My favorites are the S'Mores, Key Lime Pie and Sugar Cookie. I also like that some are chilled, some are warm and some have toppings – and that's fun."
Crumbl Cookies does delivery and catering, too, and it sells half pints of ice cream, also in rotating flavors. On opening week, they were Brownie Fudge, Cookie Dough Crunch, Peanut Butter Brittle, Raspberry Cheesecake, Snickerdoodle and Vanilla Bean.