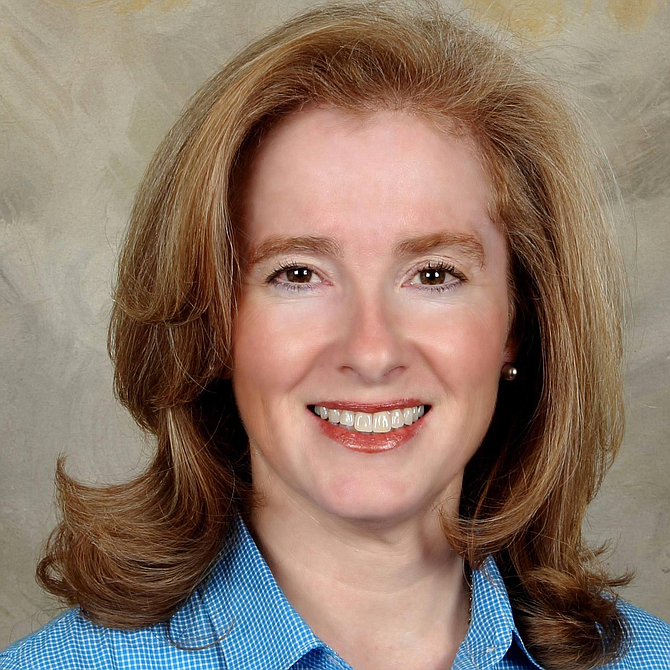 <36hd>Community-Building Skills and Passion for Service
Tara Ruszkowski is The Lamb Center's new executive director.
<1b>By Bonnie Hobbs
<2b>The Connection
After serving as The Lamb Center's interim executive director since September 2021, Tara Ruszkowski is officially this nonprofit's new executive director. The organization's board of directors unanimously selected her, and she became The Lamb Center's leader on March 30.
"Tara takes the reins as the ministry enters its fourth decade providing fellowship, support and empowerment to people on the margins," said Lamb Center Board Chair Cathy Liverman. "Her extensive background in nonprofit communications and management, leadership capabilities and deep heart for this ministry will ensure that, as The Lamb Center expands, it continues its compassionate outreach to our most vulnerable neighbors." 
From 2018-2020, Ruszkowski served as chairperson of The Lamb Center's Board of Directors. During that time, she founded innovative, workforce training and development programs with the City of Fairfax and Fairfax County. 
And now, as TLC embarks on further efforts to help the homeless, the Board believes she's the perfect fit for the job. Said Liverman: "Her community-building skills and passion for service make Ruszkowski the ideal choice to lead the center as it moves forward with an initiative to build supportive housing." 
Pleased with her new position and looking forward to The Lamb Center's future, Ruszkowski said, "While we've seen dramatic growth over the years, The Lamb Center's community ethos is the same. I'm humbled to be working with an amazing team who wake up every morning and pour their hearts and souls into serving our guests." 
Besides her past work with The Lamb Center, Ruszkowski brings with her decades of experience in community engagement, partnerships and nonprofit management. For more than 20 years, she ran a strategic public affairs and communications practice serving both corporate and nonprofit clients. 
She replaced TLC's former executive director, John MacPherson. "John faithfully served The Lamb Center for 12 years," said TLC spokeswoman Anna Howell. "We appreciate him and all the incredible work he did for us."
***
The Lamb Center is a daytime drop
‐
in shelter for individuals experiencing poverty and homelessness in Fairfax. This ecumenical Christian ministry provides breakfast, lunch, showers, laundry service, Bible study, workforce development and training, AA meetings, and medical and dental services. For more information, go to 
www.thelambcenter.org.