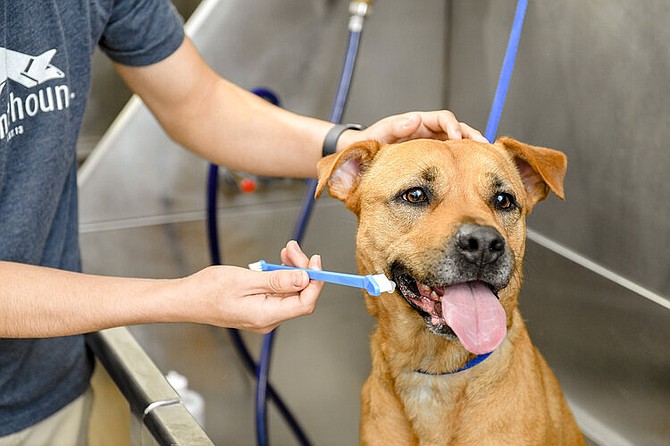 A wellness-based dog-grooming and routine-care service, Scenthound's goal is to keep dogs happy and healthy. And on Jan. 19, it opened its first location in Fairfax City at 9448 Main St. in the Pickett Shopping Center. 
Scenthound takes a wellness-based approach dedicated to improving the quality of life for dogs. As embedded in the first five letters of its name, Scenthound focuses on the five, core areas of maintenance – Skin, Coat, Ears, Nails and Teeth – and employees are fully trained to give each dog the care it requires.
Photo Courtesy of Domino Arts Photography
This cheerful dog is getting dried off after a bath.
CEO Tim Vogel founded Scenthound in 2015 after spending more than 10 years running both a mobile grooming business and a local grooming business called Scenters. He says that doing so enabled him to witness firsthand the shortcomings within a booming pet industry and the lack of education surrounding dog care.
He then began a mission to give dogs and their owners "a fast, easy and affordable solution that not only keeps dogs clean and looking great but maintains their overall health and wellness."
"There's a lack of understanding among dog parents that we intend to change," explained Vogel. "Many dog parents don't realize that only about 10 percent of dog breeds require regular haircuts, but all dogs need routine, preventative care to stay healthy and comfortable."
"We started Scenthound to provide basic grooming services for all breeds," he continued. "And as we expand nationally, we hope to educate as many people as possible to make sure their dogs get the routine care they need."
The new Fairfax location is the first of 20 Scenthounds that local franchisee Dean DeGood intends to open throughout Virginia and Maryland. The next one is slated for Alexandria. A Virginia native, DeGood has previous experience working in the pet industry and is excited to bring this business to the Fairfax community.
"Scenthound brings safe and affordable pet care from a trustworthy, experienced dog care team," he said. "We hope to remove barriers so that people can love and connect with their dogs every day." 
Prior to joining Scenthound, DeGood owned and operated an award-winning, dog-walking company, DoggyWalker.com, for 17 years. And seeing the need for quality pet care, he wanted to help bring Scenthound's offerings to pets around the country. It currently has 113 locations open or under development across 12 states.
The business also has a Monthly Care Club with three membership options. 
These items are packaged so dog owners only pay for what they need, when they need it. And Scenthound keeps them informed by providing regular health checks and technology-based, wellness tracking.
Hours at the Fairfax location are Monday-Saturday, 8 a.m.-5 p.m.; and Sunday, 9 a.m.-4 p.m. For more information, go to www.scenthound.com/fairfax-va-001 or call 703-688-3150.