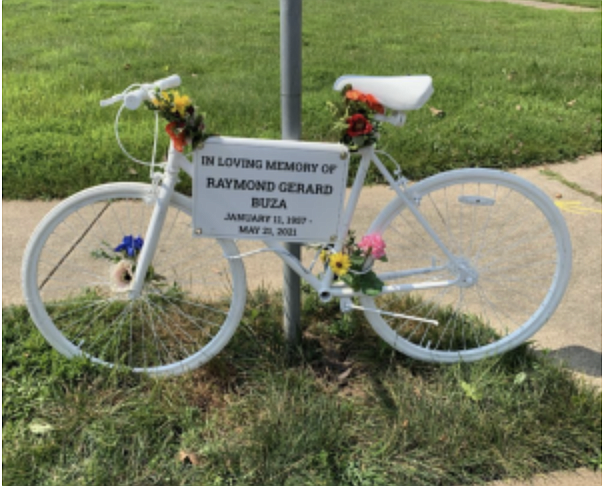 atthew Jaeger, 33, of McLean, was struck and killed Wednesday afternoon, Dec. 29, at the intersection of Dolley Madison Boulevard (VA State Rt.123) and Ingleside Avenue in McLean.
Detectives with the Fairfax County Crash Reconstruction Unit determined that Jaeger was eastbound on Ingleside Avenue at the time of the crash.
The driver of a 2014 BMW 328xi traveling south on Dolley Madison Boulevard struck him in the road as he entered the intersection, according to police reports.
The driver of the BMW remained at the scene. At this time, it is believed that neither speed nor alcohol played a role in the crash, police said. Jaeger was transported to a hospital, where he died due to his injuries.
The crash investigation is ongoing, and the Commonwealth's Attorney's Office will review the findings.
Police were also still investigating a fatal pedestrian crash that occurred Thursday night, Dec. 30, 2021, on Chain Bridge Road, just south of Tysons Boulevard in McLean.
Detectives determined initially that the victim, Filadelfo Ramos Marquez, 74, of Annandale, was crossing in the 1900 block of Chain Bridge Road from west to east just south of Tysons Boulevard without using a crosswalk.
The driver of a 2010 Toyota Camry traveling south on Chain Bridge Road struck Ramos Marquez in the roadway. The driver remained on the scene. Marquez was taken to the hospital, where he died from his injuries.
Speed and alcohol do not appear to be factored in the crash, police said. This is the County's 14th pedestrian fatality in 2021.
Anyone with information about this crash should call FCPD's Crash Reconstruction Unit at 703-280-0543. Anonymous tips can also be submitted to Crime Solvers by phone -1-866-411-TIPS (866-411-8477)
Bike Advocates React
Cyclists and pedestrians continue to die or be injured on Fairfax County roads as they attempt to traverse the area without getting into a car, bus or train. In response to the death of a McLean bicyclist struck and killed by a vehicle on Dec. 29, the Fairfax Alliance for Better Biking (FABB) released a statement on their Dec.30, 2022 blog beginning with condolences to the family and friends of Matthew Jaeger, 33, of McLean for their loss. Jaeger is the third bicyclist killed in Fairfax County in 2021. 
The 2021 bicyclist and vehicle collision deaths of Ray Buza, 64, of Centreville, Fatima Del Carmen Alvarez Romero, 24, of Alexandria, and Jaeger are the first bicycle fatalities in  Fairfax County in more than five years. FCPD reports that the driver who struck and killed Buza was charged with infliction of injury on a vulnerable road user on June 3.  
FABB's End of Year Review, dated Dec. 15, 2021, before Jaeger's death, said that the new laws that went into effect in July 2021 are not enough.
According to FABB, Jaeger's death occurred at a type of intersection they believe was "inadequately designed and dangerous." FABB called it, "emblematic of how many fatalities are the result of designs that undervalue the needs and rights of vulnerable road users."
Steve Ward of Mclean is a FABB Board member. In an interview on Jan. 2, Ward said that even though FABB is a bicycle advocacy group, they increasingly emphasize the term vulnerable road users. 
"One, it is in the law; and two, we are increasingly finding you can't separate bicyclists from pedestrians and from other people who move over the ground on wheels," Ward said.
According to the National Safety Council, "The term vulnerable road user (VRU) is used mainly to describe those unprotected by an outside shield, as they sustain a greater risk of injury in any collision with a vehicle and are therefore highly in need of protection against such collisions." The definition can include but is not limited to pedestrians, road workers, and people operating wheelchairs, personal mobility devices, electric scooters, and other nonmotorized vehicles. Motorcycle operators are also vulnerable road users.
"Ingleside Avenue is an important connection between downtown McLean (and a McDonalds) and the Dolley Madison Library, McLean Community Center, and surrounding residential areas," FABB said. Only a marked crosswalk crosses Rt. 123 at the Ingleside/Dolley Madison intersection. FABB urges bicyclists and walkers to use the nearby Elm Street crosswalk due to the current dangers of this intersection. 
The first of FABB's major concerns with the intersection is that left-turn lanes in the south and northbound lanes have barriers leaving no travel lane across Dolley Madison due to left-turn lanes with barriers in both directions. Second, bicyclists approaching from the northwest must change lanes on Ingleside from right to left to reach the crosswalk.
FABB also says that Fairfax County should adopt "Vision Zero" similar to nearby jurisdictions, which recognizes that injuries and deaths among vulnerable road users can be avoided. Vision Zero policies aim to reduce traffic fatalities and serious injuries to zero to improve everyone's access to safe, healthy, and equitable mobility.
According to the Vision Zero Network,  the strategy first implemented in Sweden proved successful across Europe. 
"For too long, we've considered traffic deaths and severe injuries to be inevitable side effects of modern life. While often referred to as 'accidents,' the reality is that we can prevent these tragedies by taking a proactive, preventative approach that prioritizes traffic safety as a public health issue," the policy information stated. The Vision Zero program is listed in 52 U.S. communities, including local jurisdictions Alexandria, Montgomery County, Md. and Washington, D.C. 
FABB also urges state legislators to pass legislation allowing the use of crash reconstruction reports and evidence in court, making complete crash reports available to the public with redacted names and sensitive information for use in driver and rider education, and repealing Virginia's contributory negligence law.
FABB requests that VDOT install pedestrian-activated flashing yellow lights at the Ingleside Avenue crosswalk over Rt. 123 to alert drivers in both travel lanes of incoming pedestrians and other vulnerable road users. It is also necessary to place signage reminding drivers of the law requiring them to stop and yield right of way to pedestrians. Finally, FABB urges the FCPD to enforce the law more aggressively.