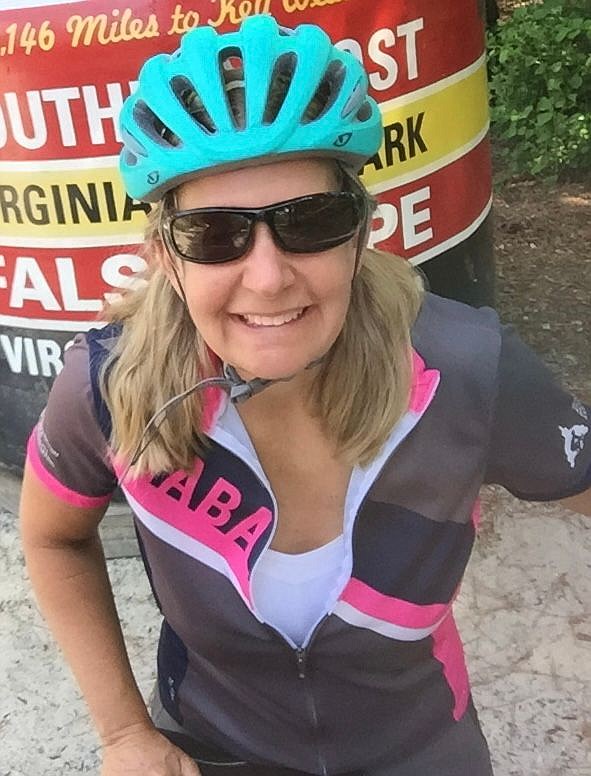 Springfield resident Bethany Usher recently joined the Fairfax Alliance for Better Bicycling board of directors, and brings with her some cycling experience she gained from living in Denmark where nine out of every 10 Danes own a bike.
"They build with bike safety first, and design intersections to make them safe," Usher said, looking at the on-road trails around here that are just divided by a paint stripe on the pavement. Here there is "No protection from traffic," she added.
She knows this because she bikes from her home in South Run near Lake Mercer, to work at George Mason University where she is the Associate Provost for Undergraduate Education. When Usher got the job at GMU, the first thing she did was lay out the Fairfax County Bike Map to plan a bike route to work, and found one, but it has some gaps. Sometimes at the trail end, it's not that easy to get to another bike venue or a safe route to continue. 
"It's a good start but we need to create safe infrastructure to encourage people to use it," she said.
Usher loved the biking facilities in Denmark but she wasn't there to bike. She was studying medieval cemeteries, and one in particular that dated back over 600 years ago. It seemed to have been forgotten, and she was studying it in the name of preservation. Just being in a bike-dominated country like that rubbed off, though, and prompted her to become involved with FABB. "I've been a supporter of FABB for a number of years," she said.
Year of the Bike in Denmark
In January 2022, the Danish Ministry of Transportation announced that 2022 is "The Year of the Bike," said the Visit Denmark website. As part of this, they are investing $458 million in new cycling infrastructure. The first $64 million are to be used in 2022, mostly for the establishment of new bike lanes across the country, and Copenhagen leads the way. 
In the 2022 Tour de France this summer, riders will depart from Copenhagen, which was named World's Best Bike City in 2019. Nine out of every 10 people in Denmark own a bike and "cycling in Denmark is more than a hobby and a way of transporting yourself. It's a way of life," the Tour website said.
According to Katinka Friis from VisitDenmark, they are developing "cycle superhighways," a network between their municipalities and the Copenhagen region with a focus on better conditions for commuter cyclists across municipality borders. The cycle superhighways focus on accessibility, directness, comfort and safety. Bikers with access to safe bike highways take 6 million more bike trips annually, 1 million fewer car trips annually, and have 30 percent lower mortality for adults that bike every day. This equates to 40,000 fewer days of sick leave annually in Denmark.
BRUCE WRIGHT, the FABB president here is looking at the improvements planned for the county to link bike trails in several locations. Along I-66 there is a parallel trail opening soon that will provide major trail links along that corridor. 
FABB is working with the Capital Trails Coalition to advocate for completion of the Route 50 trail that will connect the City of Fairfax with the Merrifield area, Seven Corners, and Arlington County as well. In the southern part of the county, the Richmond Highway widening project will include some bicycle facilities, and the Braddock Road Multimodal Project will include shared use paths along Guinea Road just east of George Mason University to Ravensworth Road inside the Beltway in Annandale.
Although Usher does not have any big plans to launch in her first few months on the board, she's glad to be promoting bicycling, and the group is glad to have another enthusiastic cyclist supporting the effort. 
"The FABB board looks forward to Bethany's wisdom, energy, and experiences in making bicycling better in Fairfax County," FABB said.