Get ready for a new and improved Braddock Park, now that the Fairfax County Park Authority Board has approved a revision to the park's Master Plan. While retaining this popular park's character as a primary destination for adult softball, it also adds new elements to balance the variety of uses there and better serve the community, now and in the future.
Following public meetings, plus a survey and comments from area residents, the Board decided that the revamped park will contain a concessions/refreshments service, central plaza serving as a focal area to include family gatherings and children's play areas, one-mile walking loop, pickleball court complex, and a potential dog park or community gardens.
"Braddock Park is an important park, a great softball complex and something people have cared about for a long time," said Springfield District Park Authority Board member Mike Thompson. "This plan allows us to build on what's here, look at current trends and expand the uses for the future."
The 61-acre, district park is at 13451 Braddock Road, bordering both Centreville High and Twin Lakes Golf Course. It currently has six natural-turf softball diamonds; one synthetic-turf rectangular field; a batting-cage area, picnic pavilion and restroom.
The original 1981 Master Plan also contained a social plaza, tot lot, volleyball courts, an area for table games, plus trails for walking and running. But these things were never built, and 5.32 acres of the park are still undeveloped. So the Park Authority collaborated with residents to determine how Braddock Park should be updated. It planned to offer both passive and active recreation there, while preserving the site's natural resources.
At an in-person meeting shortly before the revised plan was adopted, Park Authority Project Manager and senior landscape architect Doug Tipsword gave an overview and summary of this conceptual development plan. He then encouraged the public to comment on it prior to its draft being finalized and approved by the Board.
Also addressing the attendees was Supervisor Pat Herrity (R-Springfield). "We've been through a long journey, and I thank the Park Authority and all the people involved in it," he said. "I live in Little Rocky Run, and this park is near and dear to my heart. In the '80s, I played rugby there."
"I think the Park Authority has come up with some good ideas," continued Herrity. "They're going to fix the parking, and I'm especially excited about the loop trail. I know that's one of the things people really like about Burke Lake Park, and I thank you all for participating in this process."
Now, said Tipsword, Braddock Park is "primarily an active-recreation park, and a resource-protection area runs along its western end." However, big changes are on the horizon. And residents heard about them when Tipsword presented details of the new park design incorporating the items requested by the nearly 1,000 park users responding to the Park Authority's survey. 
Passive-recreation elements to be added include dining pavilions, restrooms and concessions in the center; shaded social plazas; a new picnic pavilion with eight or more picnic tables; and an open-space area.
One of the new features for active recreation will be a 325-foot softball diamond. It'll be slightly larger than the existing one, said Tipsword, "to provide a premier athletic experience and for tournament play." 
There'll also be an accessible, ADA-compliant playground and game area; six dedicated pickleball courts in the southwest corner of the site; a dog park or community gardens in the VEPCO easement area in the northwest part – contingent on resident needs or available funding; and a 1-mile, perimeter trail loop with an ADA path to Centreville High at the park's western edge. 
"The trail will provide circulation not existing today," said Tipsword. And when he told attendees the present dirt trail between the park and school would be paved, several of them applauded.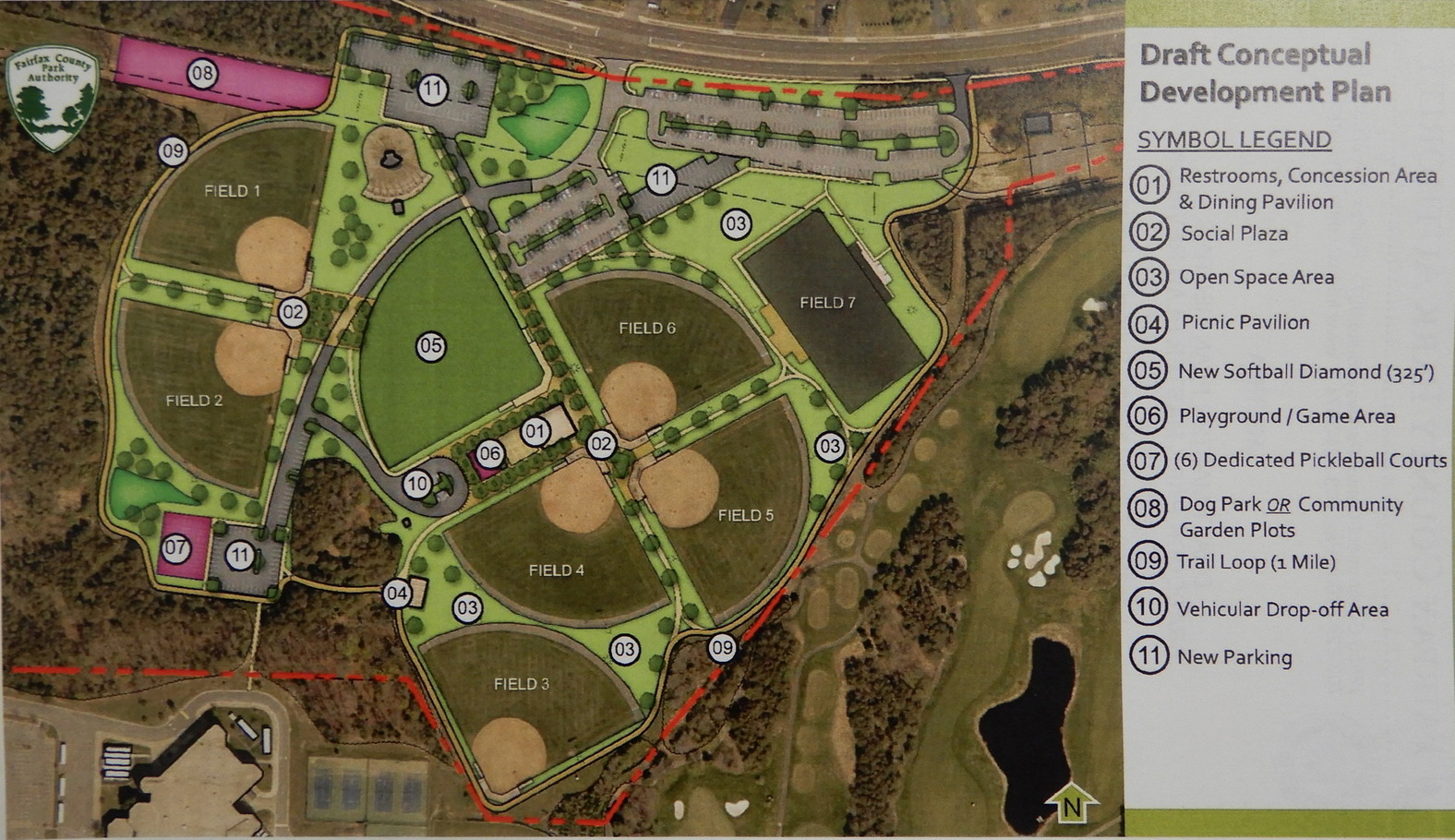 Also planned are a stoplight at the park's entrance, plus a secondary right turn in, and right turn out, on the eastern side of the northernmost parking lot. Another parking lot would be added between the two existing lots to create one large parking lot. Furthermore, a parking lot would be placed in the VEPCO easement area in the north – as well as a lot in the southwest portion of the site, near the pickle ball courts, so people could easily access the fields in the southern area of the park.
A vehicle drop-off area will be in the center of the park adjacent to the dining/concession/playground area. Tipsword said it'll be beneficial to "ADA vehicles, firetrucks and buses dropping off athletic teams."
During the meeting's question-and-answer section, resident Maryann Fellows asked, "Are you going to take down the old concession stand and restrooms and rebuild them?" Tipsword replied affirmatively. She also asked if the pickleball courts would always be open, and Park Planning Manager Anna Bentley said the specifics will be determined later.
Joe Maurice, president of Fairfax Adult Softball, asked why the softball field will be 325 feet, instead of 300 feet. "The larger outfield makes for a more competitive experience," explained Tipsword. "Less homeruns, more balls in play."
Erin Mays, president of Braddock Dogs, said, "I want to put in a plug for the dog park. It would be really nice to have a dog park that's easy to get to after work and before nightfall." Ryan Stewart, chief of long-range planning, told her that guidance from the Park Authority's newly completed dog-park study would be added into Braddock Park's plan.
Lastly, Christina Voss, also of Fairfax Adult Softball, asked if field five will be at the same level as fields four and six because "There's a gully there now."
"We've had several long conversations about the site's topography," replied Bentley. "And we'll look at this issue when there's funding [to implement the new Master Plan]."
Voss further noted that "It would be nice if there's a sign with a map of where everything is." 
Answered Tipsword: "That's definitely something to consider – and a very good point."
However, Park Authority Board member Mike Thompson reminded everyone that "We're talking about what we envision that park could be in the future. That doesn't mean we have the money to do it. It could take a number of years. This [plan] establishes the baseline, and your comments to your supervisors will help get this funded."