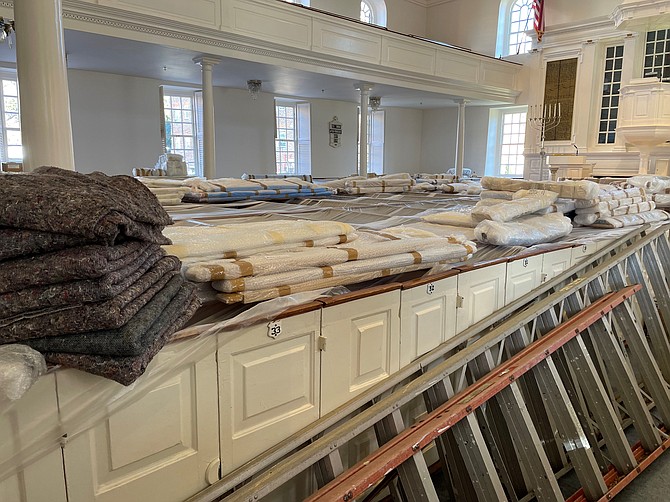 A years-long process at Historic Christ Church has culminated with the installation of a new pipe organ, only the sixth instrument to be installed in the church since the building was first constructed in 1773 and George Washington sat among the congregants.
Designed by the prestigious organ building firm Harrison & Harrison of Durham, England, it took several months for the organ components to clear customs in Baltimore en route to Alexandria. Once delivery was made in November, it took another three weeks for the painstaking installation construction to be completed.
"Once the organ was assembled, we still needed an additional three weeks for voicing, or fine-tuning, the pipes," said Christ Church music director and organist Jason Abel. "Now that it is completed, the instrument will be used for services and recitals at the historic church which boasts a large and vibrant music program."
Christ Church is now home to one of only a handful of Harrison & Harrison organs to be installed in the United States. The venerable firm, founded in 1861, has built instruments for such notable venues as Westminster Abbey, King's College Cambridge, Coventry Cathedral and others.
"The new Bromley organ will not only bring beauty in our musical offerings but also bring beauty to our physical space."
— Christ Church parishioner Dave Riggs
"We have waited two years to receive this organ and are thrilled it is here," said Christ Church member Anne Shine. "During these uncertain times, we were not sure of any certain arrival date, and now we are in a flurry of preparations for its debut."
According to Abel, the dedicatory recital will be held on Sunday, Jan. 30, and will feature international performer Nathan Laube, professor of organ at the Staatliche Hochschule für Musik und Darstellende Kunst in Stuttgart, Germany.
"The organ will be known as The Bromley Organ, in appreciation for the generous donation made by long-time Christ Church parishioners Cap and Marilyn Bromley which made this project possible," Abel added.
The previous pipe organ at Christ Church was installed some 40 years ago.
"The new Bromley organ will not only bring beauty in our musical offerings but also bring beauty to our physical space," said congregant Dave Riggs. "I believe the Bromley organ is a new element to enrich our worship services."
A pipe organ produces sound by driving pressurized air through the organ pipes selected from a keyboard. Each pipe produces a single pitch and pipes are provided in sets called ranks, each of which has a common timbre and volume throughout the keyboard compass.
Said parishioner Riggs,"I believe that the new Bromley organ demonstrates two things. First, that this congregation is keeping faith with the generations that came before us to preserve Christ Church, against tremendous odds through almost 250 years. And second, that we have faith that Christ Church will continue to be a vibrant and important part of Alexandria for generations to come."