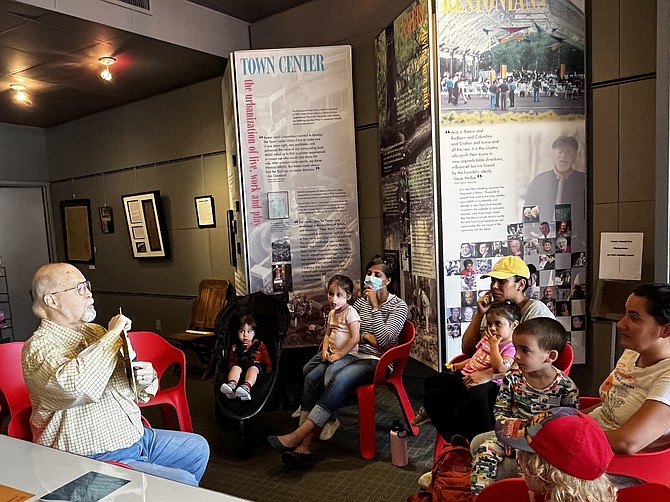 This summer marked the beginning of the second annual Storytime for Little Historians, a half-hour program at Reston Museum in partnership with Reston's Used Book Shop. Until August 26, every Friday at 11 a.m., young children accompanied by their parents or guardians can listen to a story based on one or more of Reston's founding principles. 
On July 8, children piled into the big red chairs set up in the museum to listen to "Mr. K" (Kinzer) read "House in the Meadow," written by Shutta Crum and illustrated by Paige Billin-Frye.
"Over in the Meadow," a popular counting poem by Olive A. Wadsworth, inspired the 32-page book that "Mr. K" (Kinzer) slowly read. He told about a spring wedding attended by ten best friends and counting down the days until the community gathered "when spring arrived again" to build a home for the couple. Mr. K's deep voice and the story's cheerful, vibrant collage and cut paper graphics held the interest of youngsters aged 3 to 5. Afterward, the children received a small gift to take home.
As in Reston, the story's community was made of people of many ethnicities and ages who worked side by side, enjoying the excitement and pleasure of building a house. The story also featured female construction workers-plumbers, roofers, and electricians.
The program is offered free of charge. No registration is required.
Visit https://www.restonmuseum.org/ to learn more about the organization and its many events, including its upcoming Cardboard Boat Regatta, a fundraiser held on Saturday, August 13. The museum is located on Lake Anne Plaza at 1639 Washington Plaza N, Reston, VA. It is open Tuesday- Sunday, 11 a.m. to 4 p.m.