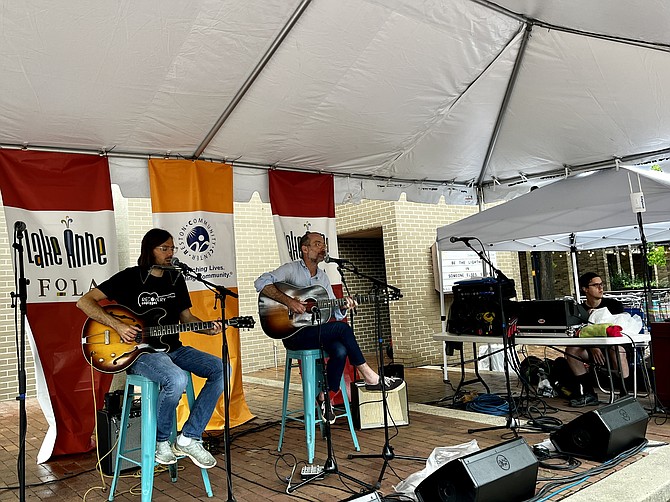 The Roots Music Festival on Lake Anne Plaza played it by ear on Saturday morning, July 9. The rain continued to fall periodically but was reduced to a light shower just after the 1 p.m. start time. As live music rocked the Plaza in Reston, located at Village Center Drive and North Shore Drive, no one seemed to mind the standing puddles.
Reston residents Wen and Mick Rooney sat on stools at one of the many high boy tables beneath a large communal white tent soon filling up with people. Others gathered on covered staircases and under umbrellas. They all appeared to appreciate American folk music, a genre that blends early blues, country, folk, rhythm & blues, and rock elements.
The availability of beer and wine on the plaza and takeout lunch from one of the local eateries contributed to the laid-back atmosphere.
"It's a good environment," said Wen Rooney as she sipped her beer and listened to the performers. "It's a good environment to get out of the house with a little one," she reiterated, looking down at her baby "chill'n" to the music. Nick, her husband, agreed. "It'll be a relaxing Saturday with beer and music," he said.
The Reston Community Center, Fairfax County, Friends of Lake Anne, Lake Anne Brew House, and Lake Anne Washington Plaza sponsored the six-and-a-half-hour event, which featured six performers.