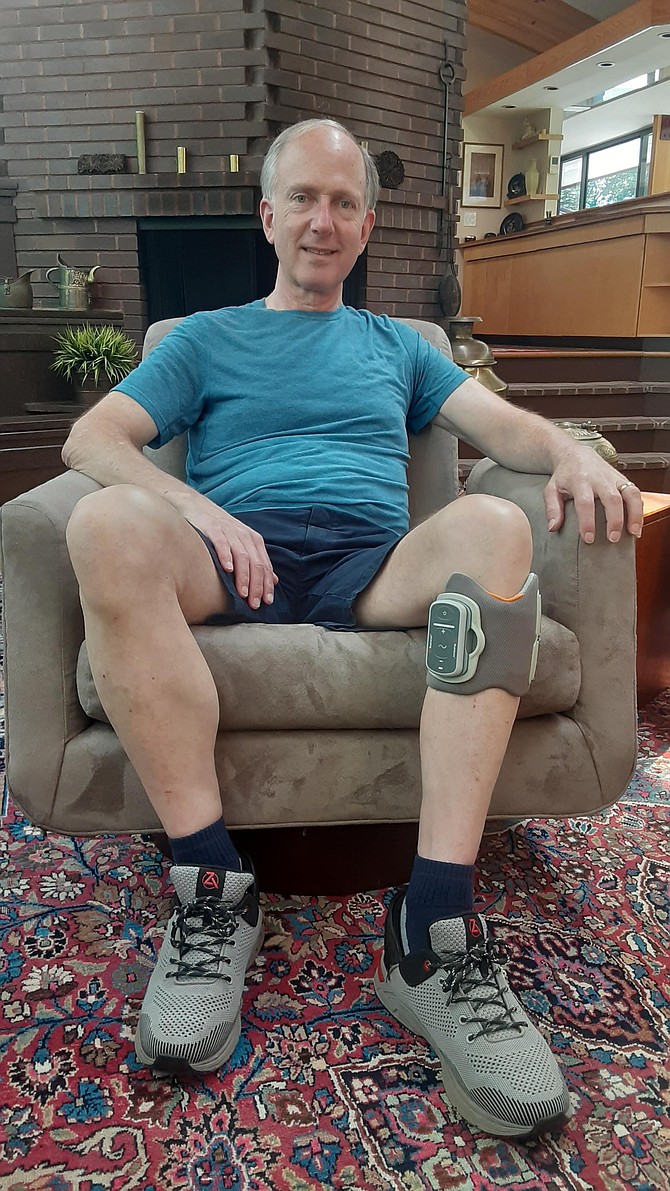 Since his house was close to the off-road bike trail at Fountainhead Park, mountain bike enthusiast Mark Gottlieb rode the trail a bunch of times in recent years until one day when he had a crash on the trail and broke his neck. He was paralyzed from the neck down and there was a question whether he'd ever walk again. But he credits extensive physical therapy, determination, and the help of an innovative piece of technology called the "L300," to help him get up and around again.
The Bioventus L300 is a functional electrical stimulation system capable of producing measurable mobility improvements for patients with foot drop and/or knee instability caused by an upper motor neuron disease or injury such as a bike accident. It is made by BionessRehab, and uses electrical impulses to send signals to certain muscles, they said.
It looks like a modified Ace bandage with a computer attached. "It zaps the muscles in my left leg," said Gottlieb, and this enables the leg to raise just a bit when walking so that it clears the floor and he won't trip. "This thing helps it go from barely clearing the ground to clearing the ground," he said, and that little bit makes a difference.
Every night he hooks it up to the computer so it recharges, similar to a cellphone, and it has an app which was downloaded beforehand. "I feel a jolt every time my leg moves," he said. Gottlieb can now get around his house and even drive, which is a big change from when he first had the accident. It didn't happen overnight though.
It took a little of everything to get him walking though and he also credits therapy from Advanced Physical Therapy in Tysons for his recovery and the determination of therapist Valerie Gibson who he still sees once a week. "That's the most advanced therapy place around," he said. They have an exoskeleton which goes around the whole body to help paralyzed individuals walk again.
The L300 is something he uses on a daily basis. "It is a really great alternative to an ankle and foot orthosis device, as it allows for individuals to have far more mobility and way less rigidity and pain," said Sara von Remus of Next Step, a company in the medical field that works with ankle and foot orthosis devices. "Basically, it allows you to use and train your motor function instead of just controlling spasticity and preventing the 'foot drop' that is commonly associated with neurological injuries and diagnoses," she said. Ankle and foot orthosis devices are so inexpensive and technically a "solution" for foot drop, she added. Gottlieb agreed. "It gives you a little edge to walk better, every little bit helps," he said.
The L300 was so successful, Gottlieb has gotten back into the rhythm of his daily life and most hobbies except for biking. He got rid of the bicycle but still has his bike helmet that was cracked open in the accident. Gottlieb remembers that day back on the mountain bike trail.
"I've had lots of scrapes and bruises on that trail through the years, but this time nothing moved and I couldn't breath either," he said, "I just laid there." Someone came along and found him, and the rescue squad sent an ambulance and helicopter, but there was no place for the helicopter to land so they took him out on a stretcher.
He was taken to Inova Fairfax where he remained for 40 days and a few operations putting rods in various places where bones were broken. His right side started moving after about two weeks, but the left side was not as healthy, and it took longer. 
"I believe I'm getting there," he said.
One of his big hobbies is photography, and in March he took a trip to Africa. He's taken some exotic trips around the world and captured each with photos and video and put together a series of books he has in his living room. "In the fall, my son and I are going to the Amazon," he said.