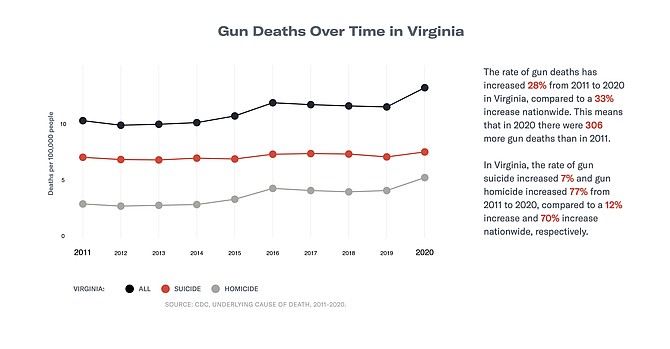 All those school security measures to harden your local elementary school add up. So do trips to the emergency room and the multiple surgeries needed to address gunshot wounds. While the human tragedy of gun violence often grabs headlines, the economic toll continues to mount with each mass shooting. According to Everytown for Gun Safety, the annual cost to Virginia is more than $14 billion a year.
"We will pay this price tomorrow, the next day and every day thereafter until we, as a nation, decide to address this epidemic," said U.S. Rep. Don Beyer (D-8). "From health care to education, business development to housing, the toll of gun violence is borne by survivors, their families and our entire economy."
As chairman of the Joint Economic Committee, Beyer recently led a hearing titled the "Economic Toll of Gun Violence: How Our Nation Bears the Cost." The hearing examined how the increasing scourge of gun violence in America is a financial drain on school systems and emergency rooms, diverting money away from other priorities to respond to the immediate crisis posed by the increase of mass shootings.
"If you talk to any school superintendent, mayor or trauma surgeon in a town that has experienced a shooting, they can produce a long list of costs that extend far beyond the immediate items we are counting," said Sarah Burd-Sharps, senior director of research at Everytown for Gun Safety Support Fund. "These include costs to address the trauma of children who don't want to return to school, costs to neighborhood businesses and home values."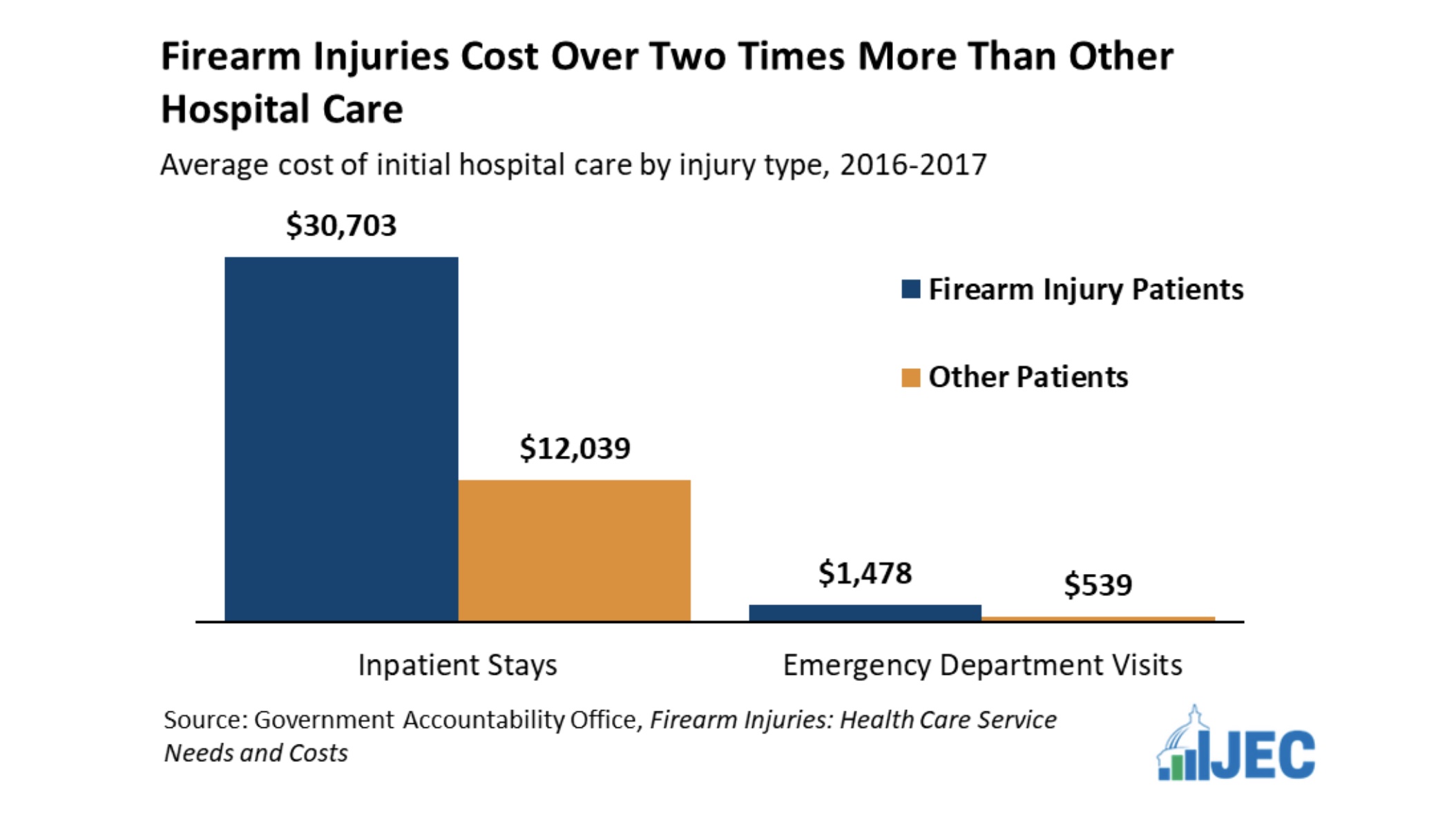 GUNSHOT WOUNDS pose a significant challenge to emergency rooms, and the long term strain on health-care premiums is spread out across the system. A recent study from the Government Accountability Office found that firearm-related injuries account for 50,000 emergency room visits each year with an average cost of $1,500 each. And that's just the initial visit. Those emergency room visits are followed by 30,000 more hospital stays at an average cost of $31,000 each. Total cost: more than $1 billion.
"Unsurprisingly, treating gunshot wounds is far more expensive than treating other kinds of violent injuries, such as stab wounds," said Dr. Chethan Sathya, director of the Center for Gun Violence Prevention at Northwell Health. "Patients who require long term care because of their firearm injuries see skyrocketing costs, and the cost is borne by both public and private insurers."
In his testimony to the Joint Economic Committee, he pointed out that the initial costs of firearm injuries are three times more expensive than other injuries. He pointed to studies showing firearm injuries are five times more expensive than motor-vehicle injuries, and children with gunshot injuries are more likely to need expensive medical imaging than those with other injuries. He also presented research showing that the cost of caring for serious gunshot wounds is increasing in part because fatalities after surgery are increasing while admissions for gunshot wounds are increasing. 
"As other parents are helping their kids get ready for school in the morning, picking them up from soccer practice in the afternoon, and cooking them dinner at night, my fellow doctors and I will still be here, rushing to meet ambulances," said Sathya. "We'll continue to do everything in our power to save as many children as possible, one surgery at a time."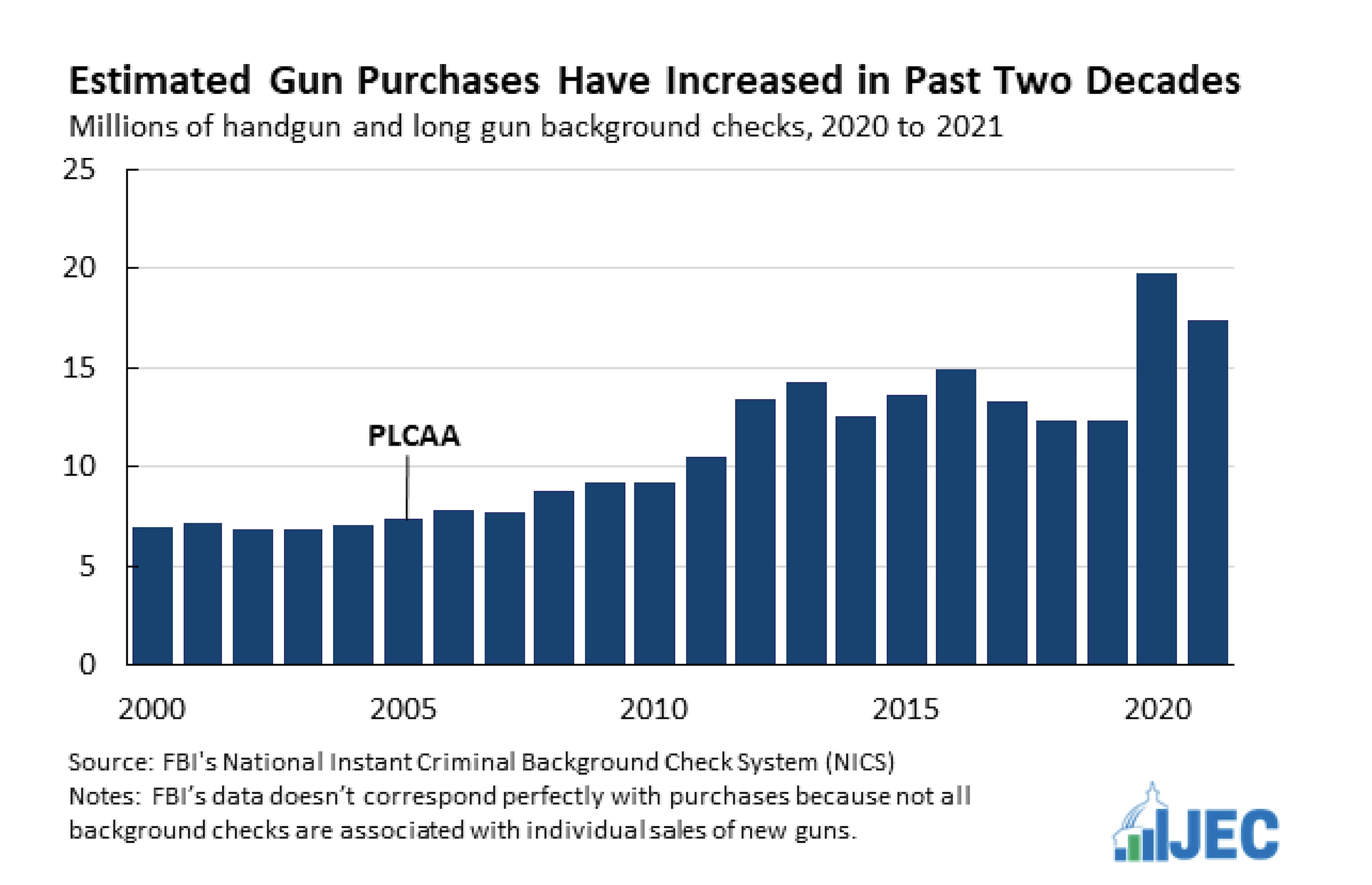 SCHOOL SYSTEMS across Virginia are also taking a financial hit as they spend increasing amounts of money to protect students from the threat of gun violence. Last year alone, the federal government spent more than $3 billion to help schools upgrade security in anticipation of more gun violence. And that's a threat that is not expected to decline anytime soon. The total is expected to increase 8 percent each year indefinitely. The recent bipartisan legislation to address gun violence last month includes $1 billion for schools to create "safe and healthy learning environments," as well as an additional $300 million for training and equipment that can help during a threat of violence.
"For children exposed to a fatal school shooting in their local area, antidepressant use increases significantly for years following an incident," said Beyer. "Students that experience these incidents experience more frequent school absences and have a greater chance of repeating a grade, and they are less likely to graduate from high school or attend college."
Although the Joint Economic Committee compiled a massive amount of research and data for the hearing last week, Beyer also pointed out that the existing research probably underestimates the toll. Since 1996, federal funds have been prohibited from going toward advocating or promoting gun control. He said that provision, known as the Dickey Amendment, prevents the Centers for Disease Control from using federal money to conduct gun violence research. As a result, he said, the true scope of the problem is unknown and probably much greater than estimated.
"We need a national health care fund for gun violence survivors that is paid for by taxes on gun and ammunition manufacturers and consumers," said Paul Friedman, founder of the gun-violence prevention group Safer Country. "It would cover all medical bills, both physical and mental, for survivors."