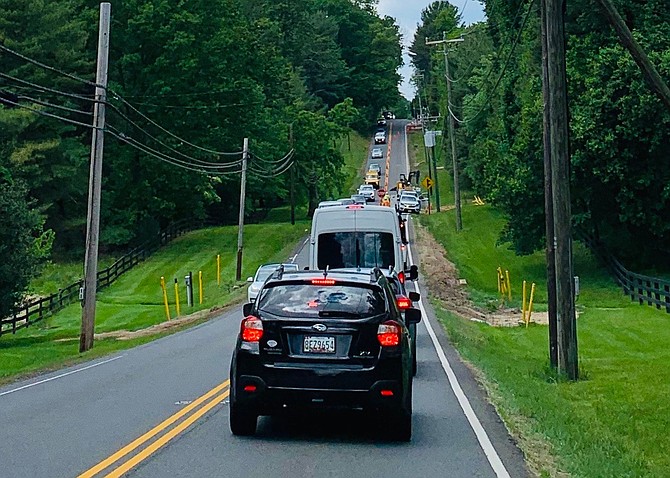 Work on a contributing structure of a property listed on the National Register of Historic Places, Reference Number 12000537- Georgetown Pike, was performed under permit but not according to plan and approval. "Washington Gas had an approved Land Use Permit through VDOT for work on their pipeline project, however, the work that was performed was not consistent with what had been proposed and approved," said Ellen Kamilakis, MPIO, assistant district administrator for communication Northern Virginia District, Virginia Department of Transportation. "VDOT did issue a stop work order," she said.
The location is on Georgetown Pike between Applewood Lane and Ellsworth Avenue in Great Falls. Georgetown Pike is the last surviving of the four prominent 19th-century Arlington and Fairfax County turnpike roads. Georgetown Pike retains the integrity of design with historic and scenic character. 
"Typically, land use permittees inform the public of their approved work," Kamilakis said. Before receiving the stop order, Washington Gas's installation of larger diameter piping caused traffic delays in mid-May. 
As of June 3, remediation work was underway to restore the road to VDOT standards, Kamilakis said. On Thursday, May 26, work crews applied asphalt patches to paved sections of the historic byway. The problem is that the temporary patches are band-aids. They cover yet to be determined impacts on the historic roadbed under the paved surfaces and the "summer road" beside it that showed disturbed dirt in its grassy areas. 
"After [the remediation work], in order for work to proceed, a new construction plan, including the removal of the previously placed pipeline, will need to be submitted, assessed, and approved by VDOT, with concurrence from Department of Historic Resources," Kamilaski said. 
According to Peter Falcone, Great Falls Citizens Association (GFCA) is concerned because the excavation of the roadway damaged the historic roadbed of Georgetown Pike. (It) is part of the basis for its designation on the National Register of Historic Places (NRHP)," Falcone said.
"Georgetown Pike was named to the National Register of Historic Places Wednesday, Aug. 22, 2012, giving the 14.4 miles of road from the Virginia-Washington, D.C. border to Leesburg Pike the recognition that many locals feel it deserves." (Source-Great Falls Connection Newspapers, Pike Named to Register, by Alex McVeigh, Sept. 11, 2012)
According to the U.S. Department of the Interior National Park Service, which manages the National Register of Historic Places registration forms, Georgetown Pike has six contributing NRHP structures on its property. One of them is "the entire original roadbed, including grading, elevation, and direction with adjacent drainage ditches and unpaved right-of-way used for foot and horseback traffic and known as summer roads," states the Pike's form.  
Even though the historic roadbed is mainly obscured from sight by being under pavement and vegetation, just like some of the other contributing historic structures on Pike property, the original stone retaining wall at Pimmit Run and the original stone, brick, and earth road bridge, now a viaduct over Bull Neck Run, the Pike's roadbed is equally valuable. It meets the National Register's Statement of Significance.