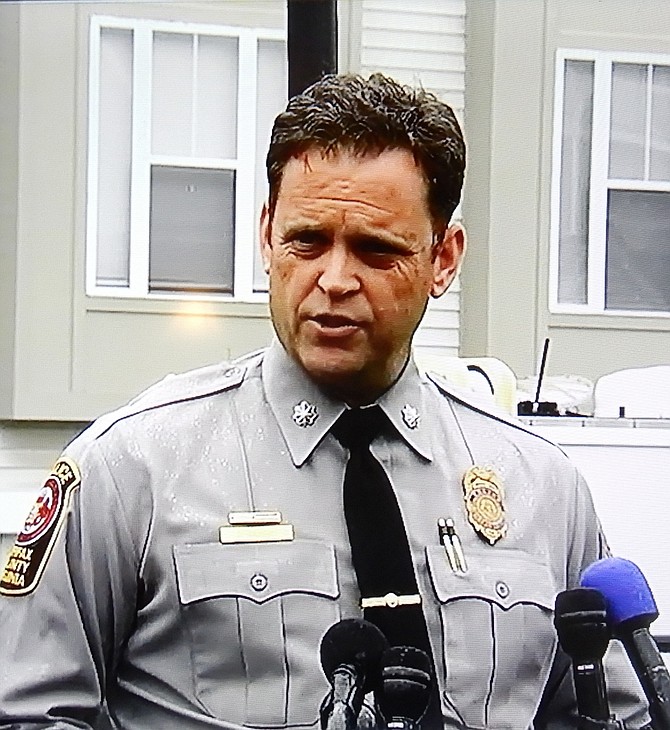 Two women and a man were found shot dead last Tuesday, June 7, in a Fair Lakes apartment. Fairfax County police say they were all roommates, and they've classified the crime as a double-murder suicide.
They've identified the women as Angelica McIntosh, 26, and Anne Lollar, 31, and believe the man to be Jose Gale Aliaga, 26. The tragedy occurred at the Camden at Fair Lakes apartment complex, off Monument Drive, in the 4200 block of Mazarin Place. 
Following the discovery of the bodies, Deputy Police Chief Brian Reilly held a press conference outside the building. He said police were alerted around 11 a.m. to go to the apartment for a welfare check, after the mother of one of the women called them. 
In a tape of her phone call that police released, the caller said, "Our daughter did not show up for work today. She's not answering her phone or her door – however, her vehicle is in the parking lot."
When officers arrived and knocked on the front door, a fourth roommate let them in and directed them to a bedroom. However, police said this person was unaware of any foul play, was not a person of interest and wasn't even there when the shooting happened.
"As we went to the back bedroom, we could not get [through] the door because it had been barricaded from the inside," said Reilly. "We asked the fire department to come out to assist us. They came with a ladder and [from the balcony], we were able to look inside that bedroom [through a window]. And inside, there were three people that appeared to be deceased."
Police say all three had sustained gunshot wounds to the upper body, and they were all pronounced dead at the scene. Officers then collected evidence from inside the apartment and also talked with nearby residents about anything they may have heard or seen that day.  
Although detectives from the Major Crimes Bureau are still investigating, police say they "found evidence to indicate McIntosh, Lollar and the man made a suicide pact. Detectives believe the man shot McIntosh and Lollar prior to shooting himself."
Police also noted that they've preliminarily identified him as Aliaga, but the Office of the Chief Medical Examiner will conduct an autopsy to officially confirm his identity. 
On Wednesday evening, June 8, county Police Chief Kevin Davis was the guest speaker at the monthly meeting of the Sully District Police Station's Citizens Advisory Committee. Mentioning this incident to attendees, he noted that, even though he's been a police officer for some three decades, what transpired in that apartment surprised even him.
"I've never seen a set of circumstances like this, in my life," he said. "They made a suicide pact."
He was also amazed by the fact that, either none of the neighbors heard the shots, or they thought the sounds were caused by something else. "One firearm was used – a bolt-action rifle," said Davis. "Four rounds were fired – in an apartment complex – but we got no 911 calls."
Meanwhile, detectives are asking anyone with information regarding this incident to call the Major Crimes Bureau at 703-246-7800 and press option 2. Tips may also be submitted anonymously via Crime Solvers by phoning 1-866-411-TIPS (866-411-8477), texting FCCS plus the tip to 847411, or going to http://www.fairfaxcrimesolvers.org/. Tipsters are eligible for cash rewards of $100-$1,000 for information leading to an arrest.