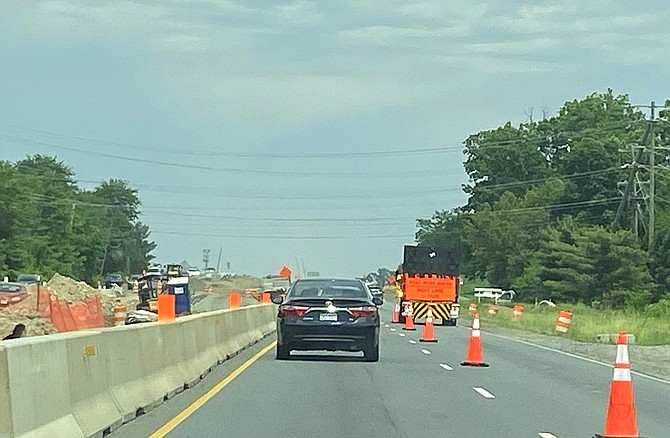 Because so many people regularly travel on Route 28 between Centreville and Manassas – and there are only two lanes in each direction – driving on it is pretty much always a slow slog. And rush hour reduces traffic to a bumper-to-bumper standstill.
But relief is on the horizon because the road is now being increased from four to six lanes between the bridge over Bull Run (south of Compton Road), at the Prince William County line, and the Route 29 Interchange in Centreville. Besides widening about 2.3 miles of Route 28, the nearly $79 million project will also yield additional lanes on the side streets to ease traffic flow. 
Intersection operations will be improved by upgrading five, existing traffic signals, plus bicycle and pedestrian crossings. New, 10-foot-wide, shared-use paths will be created on both sides of Route 28 and stormwater-management facilities will be installed.
Turn lanes, plus extra lanes on some side streets, are also planned:
* Dual left-turn lanes on northbound Route 28 at New Braddock Road; 
* Dual left-turn lanes on northbound Route 28 at Machen Road;
* Triple left turns from westbound New Braddock to southbound Route 28; and
* The addition of one lane on both westbound and eastbound Compton Road, eastbound Old Mill Road and westbound Old Centreville Road (at the north end of the project).
To get the whole project done as fast as possible, work is being performed via a design-build process. That way, the design, right-of-way, utility and construction phases may be carried out concurrently.
This Fairfax County Department of Transportation (FCDOT) project is being done in cooperation with VDOT and the Northern Virginia Transportation Authority. Shirley Contracting Co. is the design/build contractor, 
"Primarily, we've been working on the southern limits of the job," said Tripper Henson, the design/build project manager with Shirley. "But there's quite a bit more work to go in the next year-and-a-half or so."
He was speaking during a recent, online meeting where he updated the community on the project's progress and told residents what to expect in the coming months. Then Jim Beall, section chief of FCDOT's Transportation Design Division, answered attendees' questions.
While Route 28 has only enough funding to be widened to six lanes now, it's being designed for eight lanes in the future. And the land acquisition is also being done for an eight-lane road. The project requires right-of-way from 48 parcels owned by 37 people, but no homes or commercial buildings will need to be removed. "We hope to finalize all acquisitions by early fall," said Henson.
Noise-barrier walls will be erected at four points along the project corridor. Along Route 28 north, one will be north of Darkwood Drive and one will be north of Compton Road. Along Route 28 south, one will be north of Green Trails Drive and one will be north of Ordway Road.
"They'll look similar to the ones at the I-66/Route 28 intersection and will likely happen in a linear fashion," explained Henson. "It's unlikely that all four walls will be able to be completed at the same time, with right-of-way and other constructability concerns. But we're hoping to kick off construction of those elements later this year and work through the winter to get those walls up."
He said Shirley's been working on the road project's design with its designer, Dewberry, plus VDOT and the county, for quite a while now, and is "moving into the construction phase. As we're trying to get the job built, we're still managing design, along the way, so we've had a lot of moving parts. And we'll continue to try to get to the finish line as quick as possible."
Noting that the permanent roadway widening has been underway for quite some time, Henson acknowledged that "Those folks driving through the job [site], can see that work getting completed. That will continue through the project duration."
He said substantial completion, with all the roadway elements open, is anticipated in fall 2023. It will be considered finished after the last tasks – "finishing up grading, tying in some areas and doing final pavement markings" – are done. 
Henson then presented information about what will be happening over the next six months. "We'll continue working on the storm drains and structures, as well as construction of the three, above-ground, stormwater-management ponds," he said. "Excavation and paving will continue along Route 28. We're going to concentrate on getting 28 completely opened up to help the commuting traffic.
"We've placed almost all of the first-phase worth of temporary barriers from New Braddock to the south. There's a little bit more barrier [needed] in the medians – both in the northbound and southbound directions – north of New Braddock. That will happen later this summer to open up some more work areas for the widening activities and storm drains to occur."
Henson also said permanent, traffic-signal construction is well underway. "We've been working on getting some of the underground infrastructure in, as well as signal-pole foundations," he said. "And additional clearing [of vegetation] along Route 28 will continue to occur as more right-of-way is acquired."
"As we complete areas, the barriers will be relocated, and barrels will be placed so we can do asphalt buildup to strengthen the existing lanes of Route 28," continued Henson. "That work will occur under lane closures, off peak hours. It's to soften the existing grades a little and bring the roadway up to current standards."
He then discussed some lane changes drivers will encounter this summer. "Once we get the northbound and southbound lanes of the first phase built and widened to the east, the northbound to the right, and southbound as you travel to the left, look out for a couple traffic shifts onto the newly constructed lanes," he said. 
But, reassured Henson, "It won't be as complicated as what we're seeing from our neighbors up the street on I-66. It's really just shifting over 12 to 20 feet, or so, and riding on those new lanes to allow us to shift traffic and open up the rest of the [work area]. We'll give everybody advance notice of it."
As construction at each intersection is finished, work will happen on the side streets, tying in and facilitating new turn lanes to more freely move traffic along Route 28. Meanwhile, work will continue in the Route 28 median, in both directions.
"Unfortunately, it requires a significant amount of lane closures to be able to safely complete the work," said Henson. "But we try to minimize our impact on the driving public, so we also do a lot of night work."
Then Beall – who's overseeing the entire project for the county – asked motorists to "be mindful of the construction and exercise caution when driving through there." He then answered some questions.
Noting that users of the Centreville Labor Resource Center ride bikes, one person asked if there'd be bike paths for them. "We're building new, shared-use paths on both sides of the road," replied Beall. "And we'll have pedestrian crossings at all four legs of each, signalized intersection."
Another person asked what improvements would be made to the Compton Road/Route 28 intersection. "Coming eastbound on Compton, we're going to widen Compton to four lanes coming toward Route 28," said Beall. "We'll have two left-turn lanes, a through lane and a right-turn lane. Coming westbound on Compton, we're going to widen that to three lanes approaching Route 28. There'll be a through lane, a right-turn lane and a left-turn lane."
Furthermore, he said, "We're also widening both Ordway and Compton roads, back about 200 feet from the intersections, so there'll be more storage space for cars coming toward Route 28 on both Ordway and Compton. And we'll be putting in new, traffic signals at that intersection [of Ordway, Compton and Route 28]."