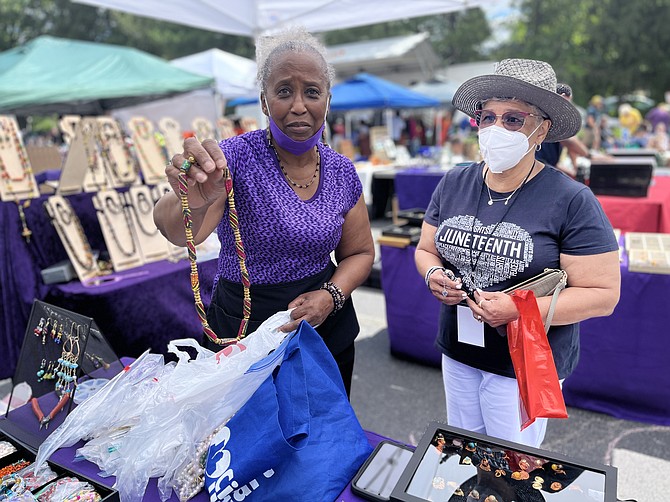 The Town of Vienna's Juneteenth Celebration, held at First Baptist Church on Saturday, June 18, from 11 a.m. to 3 p.m., kicked off the town's second annual Liberty Amendment Month.
"Over the past century and a half, Juneteenth has evolved into a day of not only celebration but of reflection," said Minister Kennard Jones, Director of Youth and Adult Engagement at First Baptist Church of Vienna, at the Opening Ceremony. 
Mayor Linda J. Colbert of the Town of Vienna introduced the guests, including U.S. Rep. Gerry Connolly; Mercury Payton, town manager of Vienna and founder of Liberty Amendments Month; and keynote speaker, Rev. Dr. Vernon C. Walton, senior pastor of First Baptist Church of Vienna.
Colbert paid tribute to the 130 Liberty Amendment Committee members, including 30 local organizations, businesses. Liberty Amendments Month started on June 18 and runs through July 19, 2022. Each week focuses on one of the Constitutional amendments—the 13th, 14th, 15th, and 19th — extending rights and liberties to U.S. citizens who were formerly excluded from the Constitution.
Colbert said that liberty is a fundamental human right. It transcends differences in race, religion, gender, and culture. "No other nation emphasizes the importance of liberty like we do, and as Mayor of Vienna, I have used the hashtag One Vienna," Colbert said that to her, it meant that even though they are individuals with differing backgrounds and personalities, they are one community that values and respects each other, supports each other, and comes together to celebrate Juneteenth and the Liberty amendments.
Ahn Phan, the Northern Virginia outreach representative for U.S. Sen. Mark Warner (D-VA), read Warner's letter. In it, he stated that Juneteenth marks the 157th anniversary of the effective end of slavery in the United States, when Union forces arrived in Galveston, Texas. The soldiers delivered the news that the enslaved were now free. Although President Lincoln signed the Emancipation Proclamation on January 1, 1863, the news did not reach Galveston until June 19, 1865.
"Today, many Americans are still waiting, waiting for this nation to reckon earnestly with our past and fully address the ways that our history of racism has harmed our present…While Juneteenth is a celebration of freedom, it is also an opportunity to reflect on our history. This reflection can and should inform our work to achieve full equality for all our citizens," Phan read on behalf of Warner.
Connolly said that Fredrick Douglas, "a brilliant orator who turned hearts all over America, black and white," spoke about the need to empower the enslaved in the four Liberty Amendments. He added that knowledge, the intellectual state, leads from slavery to freedom freeing and liberating the mind to understand better history, the good and the bad. According to Connolly, in our country, there is a movement "to suppress the teaching of that racial history." 
"That is wrong... Let's rededicate ourselves to the power of knowledge. Let's rededicate ourselves to the liberation of truth. Even if it's painful, we will be better for it, and America will be stronger," Connolly said.
Payton said that two years ago, the United States was filled with tension because many individuals' lives were cut short, and their families suffered the pain of losing a loved one. His cousin Joelle was killed and shot to death in Alexandria in 2003, so he understands the pain. It is a similar pain the nation felt in the summer of 2020.
"There was tension throughout our nation because many citizens felt as though their constitutionally guaranteed rights were not theirs still to claim. But then, here in Vienna, we began to talk to each other. Some of those conversations were painful but necessary," Payton said. He told how they began to heal by sharing frustrations and injustices in their lives. Formal and informal discussions reminded them that "we all have basic human rights," expressed in these great four amendments to the U.S. Constitution. 
The Rev. Walton said he wrestles with the "untampered celebration and unfortunate commercialization of Juneteenth." He remembers the men and women aboard slave ships who did not go voluntarily and whose remains are at the bottom of the ocean. He remembers the mothers "who watched their children snatched and separated from them." And he remembers enslaved workers who could still hear music in the air. "There must be a God somewhere," he said.
"This celebration is born out of a painful reality rooted in deceit and deception," Walton said. Walton urged everyone not to avoid difficult conversations but to use discomfort to challenge levels of unacknowledged privilege.
To have resolve, people must work together and pray together, vote on their convictions, and not the party, Walton said. People must refuse to maintain the status quo. "Diversity and inclusion will be more than words, and justice will reign." 
Walton said that he could hear an echo from Washington, D.C., the national monuments, and the National Mall that dates to August 1963, the words of Dr. Martin Luther King Jr.
"That sound sometimes keeps me up at night... Sometimes haunts me and keeps me from being able to go to sleep. That sound often breaks my heart when I realize it's not yet come to pass," Walton said, echoing King. 
Walton echoed King: "If America is to be a great nation, this must come true ... when we let freedom ring from every village and every hamlet, from every state and every city, from McLean to Alexandria, from Tysons to Gum Springs, from Great Falls to Herndon, from McMansions to tent cities, We will be able to speed up that day when all of God's children, Black men and white men, Jews and Gentiles, Protestants, and Catholics, will be able to join hands and sing in the words of the old Negro spiritual, 'Free at last, free at last.' Thank God Almighty, we are free at last."
Visit the Town of Vienna website for information on Liberty Amendments Month with in-person activities, mini-fests for all ages, and pop-up and virtual events, including self-guided walking tours, scavenger hunts, and more.