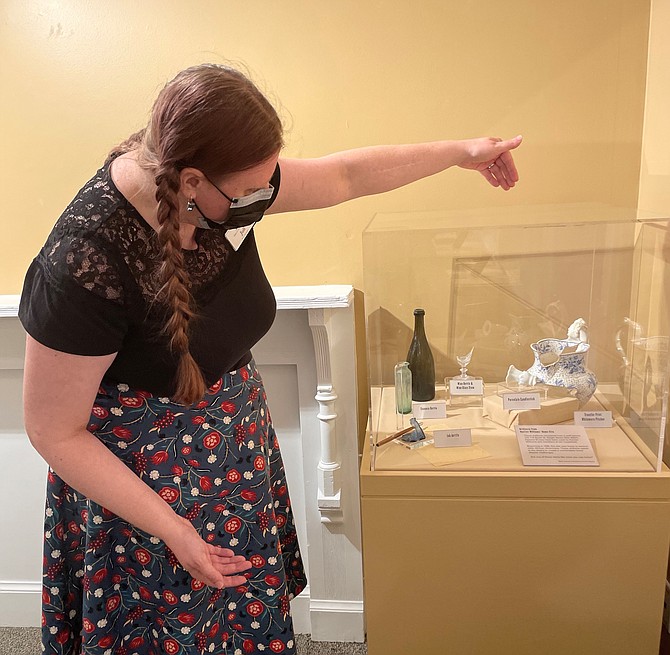 It was one of the largest slave trading companies in the country. In the mid-19
th
 century, the Franklin and Armfield Slave Pen at 1315 Duke Street trafficked thousands of slaves through Alexandria with slave traders continuously owning the property until 1861.
Now known as the Freedom House Museum, the historic site, originally built in 1812, celebrated its opening June 20 as part of the city's Juneteenth events.
"This is very exciting and the culmination of many years of work," said Audrey Davis, Director of Alexandria's Black History Museum.  "But this is just the first mile marker. We want to do so much more with the site so we are looking for a lot of community engagement and hope that people in the community will want to work with us for the next stage."
The opening celebration took place at the Shiloh Baptist Church Worship Center and featured speakers including Mayor Justin Wilson, former City Manager Mark Jinks, Northern Virginia Urban League board chair Letty Maxwell and City Poet Laureate Zeina Azzam. Virginia Del. Delores McQuinn (D-70th), a leader for the state's African American initiatives, provided the keynote address.
"I want to thank Alexandria for its preservation of history," McQuinn said. "It is only when people pause, stop and look at what has happened in the past and say 'this is worthy to be exposed' that history will be told. The city is to be applauded for what has been preserved and presented here at the Freedom House Museum."
Exhibits inside the museum depict the roles of the site, now designated a National Historic Landmark, and Alexandria in the domestic slave trade and include the 1315 Duke Street exhibit. Included are archaeological artifacts and a model of the complex.
The exhibit highlights the stories of those who were brought from the Chesapeake Bay area, moved through 1315 Duke Street, and sold into slave markets in the deep South, splitting families and taking children from their mothers.
The new first floor exhibition was designed by Washington, D.C. firm Howard+Revis Design, whose former clients include the Smithsonian Institution and the National Civil Rights Museum.
The third floor of the museum includes a reflection space with a bronze model of Alexandria's well known Edmonson Sisters sculpture by artist Erik Blome, a gift to the Office of Historic Alexandria from former City Manager Mark Jinks and his wife, Eileen Jinks.
The ceremony concluded with a recitation of names on the earliest list of men, women and children trafficked through Alexandria as attendees held candles representing each of the enslaved people.
"I think it is important for all of us as citizens to see one another, to exercise cultural humility and intellectual humility and to understand that our conditions and our existential realities may be different," said Rev. Dr. Taft Quincey Heatley of Shiloh Baptist Church. "But if we would truly see one another we could get to a place of agreement even if there is disagreement. Most important thing is to respect one another's humanity so that we can grow together and be stronger in our community."
www.alexandriava.gov/FreedomHouse