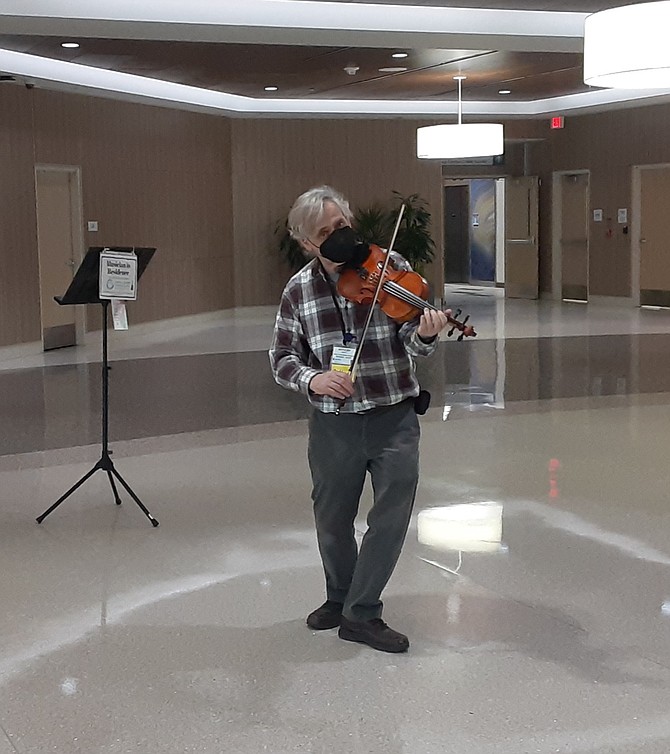 When Anthony Hyatt plays the violin at Inova's Schar Cancer Center in Fairfax, it's the soothing sounds that make something as stressful as radiation or chemotherapy a little easier.
Hyatt is part of a program at Inova called the "Arts and Healing Program," one facet of a bigger effort at Inova called Inova Life With Cancer. Musicians, visual artists, and poets perform in the lobbies at several Inova centers to deliver this type of treatment for their patients.
Life with Cancer's purpose is to enhance the quality of life of those affected by cancer by providing evidence-based education, support, wellness programs and integrative therapies, the Inova information said. This program at Inova started in 1988 when Nando Di Filippo's wife died of cancer so he looked for resources to help him and his children understand and cope with their emotions and their changed life. From his donation, Inova started the program, and put the word out to artists and musicians.
Inova representatives worked with other hospitals that have similar programs and talked to arts foundations such as the South Center Partner for the Arts, to connect with the artists. 
"When designing the program, we traveled around to see how other hospitals' arts' were being used," said Jennifer Bires, the executive director of Life with Cancer and Patient Experience.
As part of Inova's program, there are 17 musicians, storytellers, poets and visual artists that participate in Inova's cancer centers.
Live Performance Has Value
The American Cancer Society lists music as a "complementary method that has been studied and shown to help people feel better while they're undergoing standard cancer treatment under a doctor's care." They call it "Our Joyful Noise" series, said Vivienne Stearns-Elliott of  American Cancer Society northeast region. Also on the list is acupuncture, massage therapy, prayer and spirituality, tai chi and yoga.
Hyatt has been playing violin since he was eight years old. He started working as a Teaching Artist working independently and with the Maryland based Arts for the Aging organization and continued with Artist in Residence programs at the MedStar Georgetown University Hospital in Washington, D.C. 
"I was pleased to be invited to be a founding Artist-in-Residence for the Smith Center for Healing and the Arts at the Inova Schar Cancer Institute," Hyatt said.
In the hospital lobby, the music could come from their sound system, but the value of a live musician over a recorded one has many benefits. "I am able to respond to what is going on and to adjust continuously," Hyatt said. "I continuously change my selections, timbre, volume and tempo in an effort to provide healing experiences for our patients, caregivers and staff members." He said that this requires enhanced awareness and multitasking, constantly monitoring the environment and people there. "I am very happy when my music is able to provide a soothing experience for people who are stressed while dealing with difficult circumstances. When I am working I always look for opportunities to deliver that result," he said.
Hyatt is currently working on a book about his Arts in Healthcare experiences.