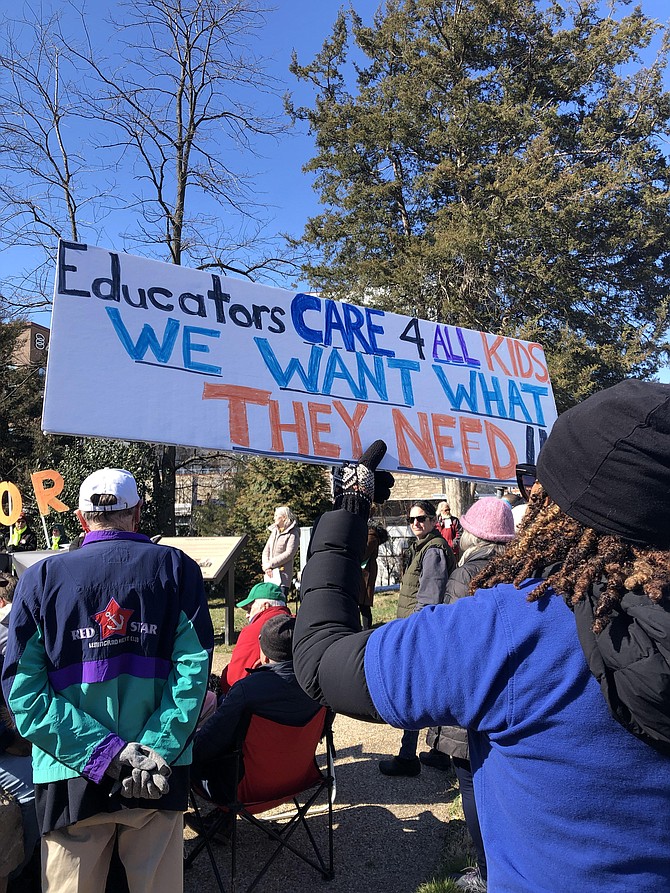 Durann Thompson wonders why she keeps on coming back to teach school in Fairfax County.  "I am 
tired of having to work nights and weekends. It's a job that in no way matches the compensation. But I left twice and came back twice. I taught summer camp. I even coached.  So what's wrong with me?" she laughs. "Because I am still brought to tears when I remember my students." 
Recently, Thompson got a letter from a student she had taught in the third grade. "She told me she was always in trouble. She thought I must have viewed her as the worst student I could ever have.  She told me she got kicked out of two schools. But she wanted me to know that after all that,  she went to nursing school, and was about to become a nurse, all because of her third grade teacher." Thompson said, "Teachers do so much more than teach our students academics. We see a future for them when they don't see it for themselves."
TEACHERS, STUDENTS and parents in Fairfax and Arlington stood in the cold on Sunday, March 13, 2022 to protest the new governor's campaign to control content in schools. The kick-off rally for "Stand and Deliver Virginia"  was emceed by Pat Hynes, a classroom teacher and former Fairfax County School Board member, and Micaela Pond, an Arlington teacher. The event gave voice to the many Arlington and Fairfax county parents, students, and teachers who have been made deeply uncomfortable by the first executive order issued by Governor Youngkin, which prohibits the teaching of "inherently divisive concepts," including critical race theory, an academic concept which examines the ongoing effects of racism in American policies and institutions. 
The executive order was followed by the state rescinding a wide range of policies, memos and programs established to promote diversity, equity and inclusion in schools. Virginia Superintendent of Public Instruction Jillian Balow said she was rescinding equity policies in obedience to the executive order from Gov. Glenn Youngkin.  
Adele McClure, Executive Director of the Virginia Legislative Black Caucus, and a candidate for the House of Delegates (in the new District Two) in Arlington, spoke out against the tip line, which the governor installed to allow parents and students to complain anonymously about teachers who talked about race, gender, or any issue that could be perceived as divisive.  McClure was even more concerned about the removal of equity policies from public schools. "This was done without input from the schools," she said. In addition, she decried the possibility of public dollars being taken away from public schools to fund private schools. 
Sophia Lander got up to speak. The Arlington high school student told the crowd, playing off the governor's pledge to return excellence to the schools, "I can assure you excellence was in full display when our gym teacher taught us from her hospital bed when she was about to give birth, that's how dedicated she was." She zeroed in on the issue of teaching about racial and gender discrimination, "I fail to understand how it is harmful to students to talk about the past. Students will learn about our painful past, whether it is taught in schools or not.  And I think we can all agree it's better to learn from teachers than from Instagram." Lander continued, "The governor has placed the blame on teachers for bringing up 'difficult or upsetting' topics. I understand that some things can be upsetting but should I not apply for college because it frightens or upsets me?"
Kyungsup Hwang and her twin brother Theodore Hwang made reference to the "Don't Say Gay" policy in Florida and noted that efforts to quash discussion of LGBTQ issues threatened Virginia students. They had organized a successful walk-out over the Florida policy at their school, and experienced harassment and name-calling in the process of standing up for the rights of transgender and gay students. Were they upset about the slurs being hurled at them by some students? "The students weren't born knowing these words," Kyungsup Hwang said. "They learned them." The siblings stressed the importance of schools in teaching the origin of slurs that harm the LGBTQ community, the history of discrimination, and other lessons of tolerance. "Educators need to help us face issues head on."
Luisa Boyarski of the Virginia Grassroots Coalition said as a professor at Georgetown University, she teaches the importance of public policy being formed with inputs from those affected. The new policy banning "equity" as part of the school program wasn't broached with the superintendents. That is why a letter from all VASS (Virginia Association of  Superintendents of Schools) and the Virginia Parent Teacher Association asked the governor for equity programs to be reinstated. "We need our opinions heard in important policy decisions," Boyarski said.  
Speakers queried:
"We wonder as teachers what will be legal to teach in Virginia?" 
"How do you define divisive? What if it's divisive for some but not for others?" 
"How did teachers become a threat?" 
"Why would we continue to teach in Virginia with these kinds of policies making our already difficult jobs unbearable?"  
"I LEFT LAW practice to teach," Monte Jourbaily told the crowd. "My goal is to teach my students opposing views and let them decide what they believe. I ask my students to examine, for instance, the demographics of our representation in the U.S. Congress over the years, and decide whether the shortage of women representatives would have led to legislation that was less favorable to women. This might lead my students to conclude that women have been discriminated against in our country: what am I to do? I've just broken a rule?"
Former teacher Ethan Fayne said he was talked down to as a black student in the county, and then as a teacher in the county.  As a kid, when he moved to a new school which was primarily white, he was called the "N" word and the teacher did nothing. In the seventh grade, he was in honors history. "I had a teacher who besides constantly asking me if I belonged in honors history, one day told our class that the KKK wasn't all that bad. They were actually a social group that did nice things for the community, and they even let some black people join."  
Fayne said he got tired of being treated poorly in the Arlington Public Schools system and opted out of teaching to get his doctorate in psychology.  He no longer felt safe being a teacher. 
NEWLY FORMED organization Stand and Deliver Virginia is three weeks into its mission of giving teachers, parents, and students a voice to take back the narrative from the anti-teacher, anti-truth, anti-public schools statements emanating out of Richmond since Youngkin's inauguration. For many parents who have monitored the changes since January, particularly the "tip" line, it was about time someone spoke up to defend teachers against policies which force them to walk a tight-rope in a job which is already one of the most demanding careers in the country.
To learn more about Stand and Deliver Virginia, see on Twitter, @Stand_DeliverVA