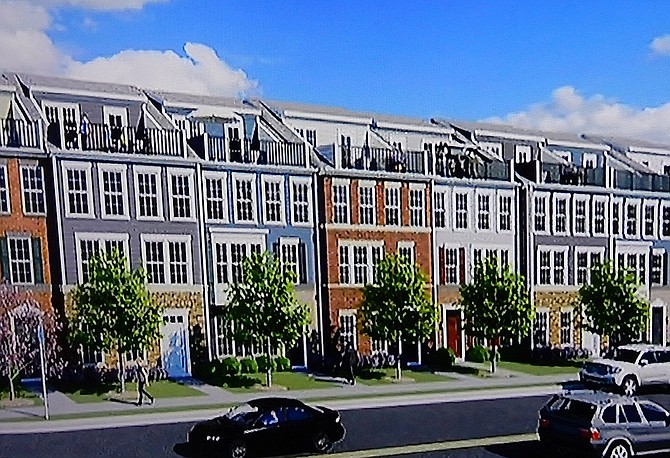 They say everything has its price – and apparently for Fairfax City, it's a shiny, new, mixed-use project to replace an eyesore motel, plus money for future affordable housing. But there's also a cost – and in this case, it's a human one since it'll displace more than 100 people from their homes.
Last Tuesday, Fairfax City Council approved Pulte Home Co.'s plan to demolish the Breezeway Motel on Fairfax Boulevard and the Fairfax Gardens Apartments on Cedar Avenue. And it gave Pulte the go-ahead for construction of townhouses, two-over-two condos and a commercial building in their place.
But it was a hard-fought victory for Pulte, with Council members split on their vote and the mayor breaking the tie. They all acknowledged that Pulte builds quality homes. But, explained Councilmember Sang Yi, "What's really meaningful is the impact this will have on the people who'll have to move out. I don't feel good about that."
During the March 8 Council meeting, the City's Albert Frederick, a planner, presented details of this project bounded by Fairfax Boulevard, Cedar Avenue and Walnut and Oak streets. It also entails a property rezoning to planned development/mixed use.
Planned are 60 homes with 141 parking spaces; they're comprised of 40 townhouses, 40 feet high, with 80 parking spaces, and 20 condos, 51 feet high, with 40 parking spaces, plus 21 surface spaces, for a density of 13.1 units/acre. Also earmarked are 8,000-10,010 square feet of commercial space with 44 parking spaces.
This project has been in the making for a few years and has gone through several iterations. Just since January, two units on Walnut Street were deleted from the plan, Cedar Avenue parking was relocated, and open space was increased from 20.2 percent to 23.9 percent.
"Utilities will be underground, there'll be a playground and picnic area, plus four areas of open space – three, accessible to the public," said Frederick. "Each unit has a sidewalk connecting to the street, and there'll be a 10-foot-wide sidewalk/multi-use trail on Fairfax Boulevard, connection from the multifamily homes to the future commercial development, as well as crosswalks on the adjoining public streets."
Access points to the commercial part of the site are from Fairfax Boulevard and Walnut Street. There's also entry from Walnut Street to the condos, and access from Oak to the townhouses, plus emergency access to the townhomes from Cedar. There'll be a Metro bus stop on Fairfax Boulevard, and Frederick said traffic impact from the project is expected to be "minimal."
Work will be done in four phases. Phase One is demolition of the 50-room motel, 38-unit apartment building and four, single-family homes. Phase Two is the residential construction and its associated improvements, including traffic calming measures and on-street, parallel-parking spaces. The condos will have tandem parking – one vehicle in the garage and another on the driveway.
Phase Three entails interim improvements for buildout of the commercial site, such as clearing, grading and seeding of the former motel site, plus landscaping on the parcel's southern portion. Afterward, food trucks operated by a third party could be there as an interim use, until construction begins on the commercial building. 
Phase Four would be that building, including all associated infrastructure, underground utilities and stormwater management.
"The applicant wants occupancy of all residential units [allowed] before development of the commercial building," said Frederick. "The City ordinance says no more than 66 percent." However, he said Pulte committed to limiting the types and intensity of the commercial uses and will make a voluntary contribution of $417, 524 to the City's Affordable Housing Trust Fund.
Pulte's tenant-relocation assistance plan is to give $500/unit to longtime occupants of 16 units at the Breezeway Motel, for a total of $8,000. Fairfax Gardens Apartments residents would receive $1,500 for a one-bedroom unit and $1,800 for two- and three-bedroom apartments, plus 180 days' notice to relocate.
Councilmember Tom Ross asked how long the food trucks would be on site. "There's not a time limit, while the applicant seeks a commercial buyer," replied Brooke Hardin, Director of Community Development and Planning. 
Yi asked if there'd be any gain or loss of green space, and Frederick said there'd be more. Yi wondered the same thing about impervious surface, and Frederick said it would increase. But, he added, "There are no existing stormwater facilities for this site, so it would gain stormwater improvements."
Yi then asked, "Is the existing multifamily housing there now the most affordable in the City of Fairfax?" Hardin answered that Fairfax Gardens Apartments has the lowest rental rates for one- and two-bedroom apartments in the City. Yi wondered how many people currently live there, and Hardin didn't know, but said there are 18 one-bedroom units and 20 two-bedroom.
Councilmember So Lim said 26 tenants "have lived there a long time – 16 of them, for more than 12 months – and one, since 2013."
"How many mature trees would we lose?" asked Yi. Frederick said 121 – of which, 54 are in poor or worse condition – but said Pulte proposes planting 198 new trees."
Representing Pulte, attorney Bob Brant said, "It's been a long journey over the past 3-1/2 years. I firmly believe [this] proposal is better because of all the input it's received. We removed our request to vacate the right-of-way at the Walnut/Cedar intersection but will still reconfigure that intersection to make it safer. And we replaced some townhouses with green space. 
"We increased the widths of some internal streets for better access by fire vehicles and increased the affordable-housing contribution to almost double the original proposal. This project will serve as a considerable catalyst to redevelopment in that corridor, and it'll bring nearly $300,000 in net, annual revenue to the City. It'll be a project the City will be proud of for generations."