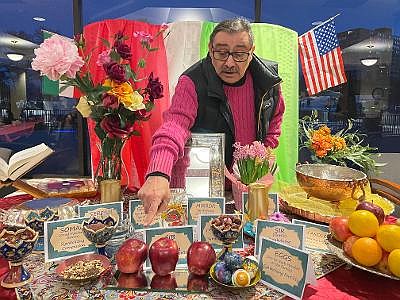 Residents of the Watergate at Landmark gathered March 12 to participate in the traditional Persian New Year celebration called Nowruz, officially set to begin on the first day of Spring.
"Nowruz celebrates what is generally referred to as the Iranian New Year but it is also celebrated by many nations," said organizer Zohreh Khoshnamak. "It has been recognized by the United Nations and by Congress."
This was the second Nowruz celebration and was sponsored by the Watergate at Landmark Youth Committee.
"This is for all our neighbors in trying to bring together different nationalities," Khoshnamak said. "This event is not religious, it is our New Year and is celebrated by different countries on March 21. We started it two years ago so everybody can come and see how we are celebrating our New Year and the beginning of Spring."
According to Khoshnamak, more than 300 million people from northwest China, India, Afghanistan, Iran, Turkey and Egypt celebrate Nowruz on the Spring equinox, symbolizing renewal.
"It is a joyous celebration filled with flowers, sweets and the sound of laughter of children," she said.
Central to the celebration is the Haft-sin or Haft-seen table, an arrangement of seven symbolic items whose names start with the letter "s," the 15th letter in the Persian alphabet.
"All the Persian ladies have cooked this delicious food," said Watergate resident Pat Espinet. "Zohreh runs herself crazy putting everything together but this is a lovely gathering to bring different cultures together."
Candle jumping took the place of outdoor fire jumping to bring good health and fortune in the New Year and an activity corner was set up for younger attendees.
"As the UN declaration says, Nowruz promotes values of peace and solidarity between generations, is a time of reconciliation and neighborliness, and contributes to cultural diversity and friendship among people of different communities," Khoshnamak said. "That is what we try to do here."